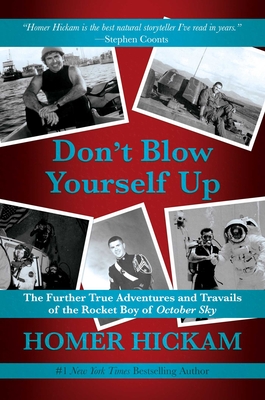 Don't Blow Yourself Up
The Further True Adventures and Travails of the Rocket Boy of October Sky
Hardcover

* Individual store prices may vary.
Description
From Homer Hickam, the author of the #1 bestselling Rocket Boys adapted into the beloved film October Sky, comes this astonishing memoir of high adventure, war, love, NASA, and his struggle for literary success.

Homer Hickam's memoir Rocket Boys and the movie adaptation October Sky have become one of the most popular stories in the world, inspiring millions to pursue a better life. But what happened to Homer after he was a West Virginia rocket boy? In his latest memoir, Homer recounts his life in college where he built the world's biggest, baddest game cannon, fought through some of the worst battles in Vietnam, became a scuba instructor, discovered sunken U-boats, wrote the definitive account of a World War II naval battle, befriended Tom Clancy, made a desperate attempt to save the passengers of a sunken river boat, trained the first Japanese astronauts, taught David Letterman to scuba dive, helped to fix the Hubble Space Telescope, wrote his number one bestselling Rocket Boys, and was on set during the making of October Sky. Although told with humor and wit, Hickam does not shy away from the pain and hardship endured and the mistakes he made during the tumultuous decades since his life in the town he made famous—Coalwood, West Virginia.
Praise For Don't Blow Yourself Up: The Further True Adventures and Travails of the Rocket Boy of October Sky…
"West Virginia's favorite son is also its most beloved writer, The Rocket Boy's Homer Hickam. In the summer after he graduated from high school, he realized he had forgotten to apply to a college. Not to worry, his mother did it for him...and got him admitted too. Hmm. This boy was obviously destined for great things. In this memoir Hickam the raconteur takes us along on his adventures: college, a cannon, the army, Vietnam, underwater exploration, NASA engineer, and best-selling writer. It's a helluva journey, a triumph of the spirit. Don't Blow Yourself Up is destined to become a classic."
— Stephen Coonts, author of "Flight of the Intruder" and "Liberty's Last Stand"

"Just lovely. I cannot recall when I laughed out loud, and wanted to cry, and held my breath, and just thoroughly enjoyed the true story of a man's life. Homer Hickam by God lived some things, across the fields of a war, under the sea, and in the clouds. He even survived Richard Nixon. Top that."
— Rick Bragg, Professor of Writing, University of Alabama, Journalism Department

"If you've read his bestselling memoir Rocket Boys and think you know Homer Hickam, think again. Not only is Homer a man for all seasons and the true definition of a Renaissance man, but he is, without a doubt, one of the great storytellers of our time. In the pages of Don't Blow Yourself Up, you'll travel the world with Homer, all the while asking yourself, 'Is there anything this man can't do?' One thing is for certain—West Virginia's favorite son sure knows how to write a memoir that will keep you captivated from the first page to the last."
— Dreama Denver, award-winning author and wife of Gilligan's Island star, the late Bob Denver

"Homer Hickam brings us on a wonderful journey through his truly extraordinary life. Providing a beautiful account of his dreams, service, and adventure that led to contributions to the space program and the literary worlds, Homer takes us from rocket boy to rocket man to bestselling author. He writes about his experiences with an engineer's precision and a poet's emotions, not only sharing the details of the times in which he has lived, but also the deep inner feelings of his life's successes and disappointments in a most personal and incredibly honest way. This is way more than a collection of stories from one man's life, it is an inspirational guide to how a person with an adventurous spirit and a good heart can live life to the fullest. Read this book and be inspired to reach for the stars."
— Mike Massimino, former NASA Astronaut
Post Hill Press, 9781642938241, 416pp.
Publication Date: October 26, 2021
About the Author
Homer Hickam is the author of many books including the acclaimed memoir Rocket Boys that was adapted into the film October Sky. His awards for writing are many and include the University of Alabama's Clarence Cason Award and Shepherd University's Appalachian Heritage Author's Award. He was raised in the coalfields of West Virginia and graduated from Virginia Tech. He is also a Vietnam veteran, a scuba instructor, a retired NASA engineer, an amateur paleontologist who has discovered numerous dinosaurs, serves on the boards of the United States Space & Rocket Center (Space Camp) and the Museum of the Rockies, and was appointed in 2019 as an advisor to the National Space Council. He also volunteers for feral cat rescue programs.

Homer and his wife share their time between homes in Alabama and the U.S. Virgin Islands.