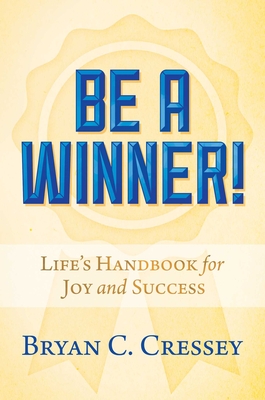 Be a Winner!
Life's Handbook for Joy and Success
Hardcover

* Individual store prices may vary.
Description
One of the nation's most influential business minds and investors shares his secrets for business, personal, and financial success.

Bryan C. Cressey has built major investment firms, created a pathbreaking enterprise that helps the homeless and addicted positively transform their lives, and assisted in creating companies who are improving our nation's healthcare. He spent ten years compiling what he has learned and the tools he uses so you can turn your life into what you wish.

At the heart of the book, Cressey wants you to know how to:

• Describe your dreams and move toward attaining them
• Turn entrepreneurial ideas into reality
• Diagnose the future of a company you may want to work for
• Find joy and fulfillment in your life along with success
• Connect more enjoyably and deeply with people
• Eliminate the usual barriers to success
• Create success tailwinds
• Invest most wisely
• Become creative and utilize the powers generated from your ideas
• Negotiate, especially when making important, high stakes, long-term buying and selling decisions
• Assess a company—whether to purchase it or join as an employee—illustrated with examples from his four decades
• Grow a company, including the most important metrics and strategies he employs in the companies his firm owns
• Evaluate a CEO or manager, and know whether that person is a good fit for the role
Post Hill Press, 9781642938944, 192pp.
Publication Date: September 21, 2021
About the Author
Bryan C. Cressey, a pioneer in the field of private equity investing and one of the most influential investors of our time, has managed billions of dollars of private capital, founded multiple leading firms, and has long been recognized as one of the most important forces and thought leaders in the investing and the healthcare industry.

In 2015, he co-founded First Cressey Ventures with his longtime friend and partner, Senator Bill Frist. Mr. Cressey is an expert in the healthcare industry where he has invested for more than three decades. Featured in TIME Magazine's special edition "American Best" as one of four "rising young stars in venture capital," Cressey has also been featured in Fortune, and speaks nationwide on healthcare and private equity investing.

In addition to his business interests, Mr. Cressey is a leader in philanthropy, including his role as chairman of the board of trustees of the Adler Planetarium. Most recently, Mr. Cressey founded the Above and Beyond Recovery Center, an addiction treatment facility that aims to innovate new, effective treatment strategies and provide free services to the homeless and uninsured.