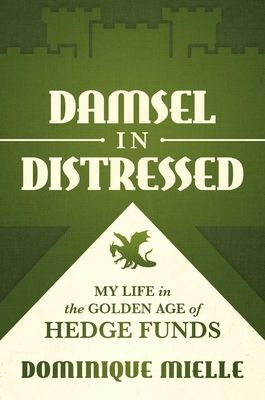 Damsel in Distressed
My Life in the Golden Age of Hedge Funds
Hardcover

* Individual store prices may vary.
Other Editions of This Title:
MP3 CD (7/5/2022)
Compact Disc (7/5/2022)
Description
The hedge fund industry is a boys' club, with hardly any female success stories to turn to. Damsel in Distressed is one of those rare, humorous, and inspiring stories.

In 1998, Dominique Mielle joined Canyon Partners—a small, little-known hedge fund. The job was trading distressed securities and high yield bonds, known back then, respectively, as vulture investing and junk bonds.

Over the span of two decades, she rose to the top of the firm as the only female partner and senior portfolio manager—in what became one of the largest hedge funds in the U.S. Damsel in Distressed explores the innerworkings of hedge funds while exposing what it takes to succeed as a woman investor.

"Damsel in Distressed is an often-hilarious romp through the jungles of high finance...I suspect it will become a classic of the genre." —Wall Street Journal
Praise For Damsel in Distressed: My Life in the Golden Age of Hedge Funds…
"Damsel in Distressed is an often-hilarious romp through the jungles of high finance...I suspect it will become a classic of the genre."
— Wall Street Journal

"One of the first woman traders in the hedge fund industry has written a lively and witty memoir that captures what it's like to work—and succeed—in the male-dominated eat-what-you-kill profession."
— Hedge Fund Alert

"This is a witty and wise story of a woman who found success and satisfaction working as an investor in the pointy-end of the finance industry—hedge funds. Dominique tells it all, in a way that entertains and inspires both the veteran investor and the aspiring novice."
— Amanda Pullinger, Chief Executive Officer of 100 Women in Finance

"Dominique Mielle tells the story of her hedge fund career with humor and élan, in a way that illuminates both twenty years of hedge fund history and what it took to be one of the few women of her generation to reach the top ranks of finance."
— Professor Jonathan Levin, Dean of the Stanford Graduate School of Business, Philip H. Knight Professor, Senior Fellow at the Stanford Institute for Economic Policy Research

"With her impeccable style, good humor, and an immigrant's common sense, Dominique Mielle treats us to her story—how she made money, and her mark, as one of the country's few women hedge fund investors. A funny, fearless frolic."
— Meridee Moore, Founder and Chief Investment Officer of Watershed Asset Management and Board Member of BlackRock Capital

"Dominique Mielle delivers a witty and inspiring must-read primer on hedge funds. To any woman considering a finance career, and to anyone invested or interested in hedge funds...read this book."
— Mariam Naficy, Serial Entrepreneur, Founder and CEO of Minted, Author of "The Fast Track: The Insider's Guide to Winning Jobs in Management Consulting, Investment Banking, & Securities Trading"

"A funny account of the inner workings of the hedge fund industry from a unique female voice, helpful to both asset management practitioners and aspiring investment professionals."
— Simon Lack, Author of "The Hedge Fund Mirage," Founder of SL Advisors and the JPMorgan Incubator
Post Hill Press, 9781642939729, 208pp.
Publication Date: September 7, 2021
About the Author
One of the only senior women in the hedge fund business, Dominique Mielle was a partner and senior portfolio manager at Canyon Capital, a $25 billion fund, where she worked for twenty years. Ms. Mielle was named one of the "50 Leading Women in Hedge Funds" by The Hedge Fund Journal in association with EY in 2017, and she currently serves on five public and private corporate boards. She is a contributor to Forbes.