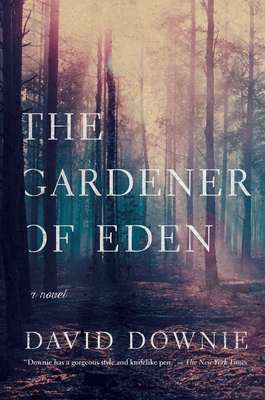 The Gardener of Eden
Hardcover

* Individual store prices may vary.
Other Editions of This Title:
Digital Audiobook (10/8/2018)
Compact Disc (3/3/2020)
MP3 CD (3/3/2020)
Description
A haunting and luminous novelthat explores the dark secrets lurking beneath the stunning natural beauty of a dying timber town.

A mysterious beachcomber appears one day on the coastal bluffs near Carverville, whose best days are long behind it. Who is he, and why has he returned after nearly forty years?

Carverville's prodigal son, James, serendipitously finds work at the Eden Seaside Resort & Cottages, a gentrified motel, but soon finds his homecoming taking a sinister turn when he and a local teenager make a gruesome discovery, which force him to reckon with the ghosts of his past—and the dangers of the present. Rumors, distrust, and conspiracies spread among the townsfolk, all of them seemingly trapped in their claustrophobic and isolated world. But is there something even more sinister at work than mere fear of outsiders?

In The Gardener of Eden, David Downie weaves an intricate and compelling narrative of redemption, revenge, justice, and love—and the price of secrecy, as a community grapples with its tortured past and frightening future.
Praise For The Gardener of Eden…
"The tension ratchets up and the mysteries begin to unravel as Downie expertly captures the powerlessness and courage of those in peril."
— Booklist

"Part mystery, part family drama, David Downie's richly imagined plot and masterful handling of details hooked me in from the start. His vivid and unforgettable characters, lush settings and page-turning narrative had me reading all night. Compelling and bittersweet. The Gardener of Eden lingered in my mind long after I finished it."
— Tatiana de Rosnay, internationally best-selling author of 'Sarah's Key'

"The Gardener of Eden is a novel of great originality—lively, engaging, unexpected, sharp, and poetic. Downie is a master of the eerie and bizarre, and his character Beverley is one of the great literary creations of the century."
— Elizabeth McKenzie, author of The Portable Veblen, longlisted for the National Book Award

"David Downie evokes the fierce beauty of America's northwest coast, peoples it with an assortment of appropriately offbeat characters and plunges them into a mystery that is pitch-perfect for the time and place. A compelling read that is more than a little ominous."
— Patricia Bracewell, author of the "Emma of Normandy" Trilogy

"An admirable and ambitious novel."
— John Teel

"David Downie writes like a poet. Not only will his evocative, lyrical style sweep you up in his story, but his characters will live in your head long after you've finished reading."
— Ellen Crosby, author of 'Harvest of Secrets'

"A deftly crafted and engagingly entertaining novel about redemption, revenge, justice, love, and the eroding price of secrecy as a man and a community grapple with tortured pasts and a frightening future."
— Midwest Book Review

"A haunting, skillfully-woven tale of love, loss, redemption and revenge, set in a small town with a very, very dark secret."
— Tim Utton, author of 'Lies'

"Downie's characters are so real and his descriptions so detailed, I felt I was actually in the story—a helpless bystander. A perfect mix of sociopolitical commentary, suspense, and love."
— Angela Scipioni, co-author of the 'Iris & Lily' series and author of 'Gently, Jolene'

"Graceful writing energized by a passionate undercurrent, overt or subtly and elegantly woven into the story. In The Gardener of Eden, Downie is at the top of his game."
— Janet Hulstrand, author of 'Demystifying the French'

"Zowie! When we think of David Downie, we probably flash on Paris or Rome. He kind of owns those places, so it's okay. His newest is something completely different, however. Completely. A moving and haunting fiction, set in a place no sybarite, no globe-trotter, would ever go. The kind of place where the resources that really matter are to be found within yourself."
— Elatia Harris, writer, editor, freelance chef and artiste extraordinaire

"Like a path through the forest, the story twists abruptly, from strange discoveries to terrifying encounters, to a welcome late-in-life love story. With surprises and memorable characters at every turn, it's an exhilarating ride."
— Joanna Biggar

"If you squint, you can see the dystopian world Downie conjures in The Gardener of Eden. Anyone who has lived in a small town may have seen Carverville, Downie's fictional Cannery Row. The characters sparkle. The Eden Resort, its crumbling old pier on the Pacific, the pile of rusting cages on its lawn, and its menacing feral hogs bring the true horror of Carverville into focus. Five stars—exceptional."
— John Pearce, author of 'Treasure of Saint-Lazare', 'Last Stop: Paris', and 'Finding Pegasus'

"A haunting, luminous novel. This chilling yet lyrical page-turner explores the dark secrets lurking beneath the stunning natural beauty of Carverville, a dying timber town. Downie weaves an intricate and compelling narrative of redemption, revenge, justice, and love-and the price of secrecy-as a community grapples with its tortured past and frightening future. If Alfred Hitchcock were alive today, he would make the movie."
— Paris Voice

"Tense, yet surprisingly emotional, a literary triumph that deserves widespread attention, both as a piece of fantastic writing and as a warning to the inhumanities of the populist movement."
— Jamie Brackell
Pegasus Crime, 9781643130040, 272pp.
Publication Date: March 5, 2019
About the Author
David Downie, a native San Franciscan, lived in New York, Rome, and Milan before moving to Paris. Downie's travel, food and arts features have been published worldwide. He is the author of two previous novels and over a dozen nonfiction history, travel and food books, including the highly acclaimed Paris, Paris; A Passion for Paris; Paris to the Pyrenees; and A Taste of Paris. He divides his time between France and Italy with his wife, the photographer Alison Harris.
or
Not Currently Available for Direct Purchase