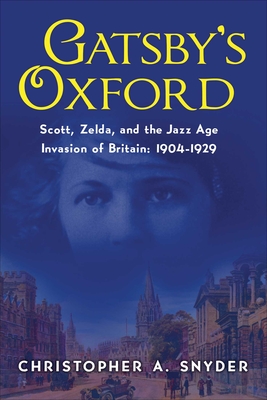 Gatsby's Oxford (Hardcover)
Scott, Zelda, and the Jazz Age Invasion of Britain: 1904-1929
Pegasus Books, 9781643130095, 368pp.
Publication Date: April 2, 2019
* Individual store prices may vary.
Description
The story of F. Scott Fitzgerald's creation of Jay Gatsby—war hero and Oxford man—at the beginning of the Jazz Age, when the City of Dreaming Spires attracted an astounding array of intellectuals, including the Inklings, W.B. Yeats, and T.S. Eliot.
The poet T.S. Eliot.  The polo star Tommy Hitchcock.  F. Scott and Zelda Fitzgerald.  This diverse group of Americans came to Oxford in the first quarter of the twentieth century—the Jazz Age—when the Rhodes Scholar program had just begun and the Great War had enveloped much of Europe.  Scott Fitzgerald created his most memorable character—Jay Gatsby, the Oxford man in the pink suit—shortly after his and Zelda's visit to Oxford. Fitzgerald's creation is a cultural reflection of the aspirations of many Americans who came to the University of Oxford seeking beauty, wisdom, and social connections.
Beginning in 1904, when the first American Rhodes Scholars arrived in Oxford, this book chronicles the experiences of Americans in Oxford through the Great War and the years of recovery to 1929, the end of Prohibition and the beginning of the Great Depression.  This period is interpreted through the pages of The Great Gatsby, producing a vivid cultural history.  It shows just how much Fitzgerald, the quintessential American modernist author, owes a debt to the medieval, the Romantic, and the European historical tradition.  Archival material covering the first American Rhodes Scholars who came to Oxford during Trinity Term 1919—when Jay Gatsby claims he studied at Oxford—enables the narrative to illuminate a detailed portrait of what a "historical Gatsby" would have looked like, what he would have experienced at the postwar university, and who he would have encountered around Oxford—an impressive array of artists including Eliot, W.B. Yeats, Virginia Woolf, Aldous Huxley, Evelyn Waugh, Winston Churchill, J.R.R. Tolkien, and C.S. Lewis.  
About the Author
Christopher A. Snyder  is Founding Dean of the Shackouls Honors College at Mississippi State University. He is also a Visiting Research Fellow at the University of Oxford in England. He is the author of The Making of Middle-earth: A New Look Inside the World of J.R.R. Tolkien and Gatsby's Oxford: Scott, Zelda, and the Jazz Age Invasion of Britain: 1904–1929.
Praise For Gatsby's Oxford: Scott, Zelda, and the Jazz Age Invasion of Britain: 1904-1929…
Entertaining and informative. [Snyder's] work of popular scholarship reminds us that The Great Gatsby more than lived up to Fitzgerald's initial intention to 'write something extraordinary and beautiful and simple.'
— Michael Dirda, Washington Post

Snyder vividly recreates the people and places Gatsby might have encountered during his brief stay there, in 1919. Snyder's captivating study offers a fresh reading of Fitzgerald's masterpiece as a novel about the American Dream, wrapped in medieval colors.

A triumphal tour de force of intellectual, cultural, biographical, and emotional historicism, Dr. Snyder accomplishes the rarest of reading pleasures. Epic and yet page-turner spritely, Gatsby's Oxford transports the reader to the most enchanting, enduring, and unique artistic slice of life at the sui generis institution, populated with transformative Great Thinkers.

— Mary Matalin, New York Times bestselling author of 'Love & War' and 'All's Fair'

Snyder exhaustively uncovers the lives, longings, and enchantments that gave the world Gatsby. This is a must read for anyone interested in how western culture renewed itself in the wake of the unfathomable horrors of the Great War.
— Brian Boeck, author of 'Stalin's Scribe'

Christopher Snyder explores our enduring fascination with Oxford, the 'City of Dreaming Spires,' through the lens of F. Scott Fitzgerald and his iconic fictional alter-ego, 'Oxford man' Jay Gatsby. Skillfully weaving biographical and literary excerpts, Snyder offers fresh insights into Scott Fitzgerald and the pre-WWI Oxonian literary giants who inspired him—from Shelley and Yeats to Ruskin to Wilde. A fascinating look at the impact of one remarkable place and its medieval and Romantic traditions on the imagination and literature of Britain and the United States.
— Susan Jaques, author of 'Caesar of Paris'

This is a deeply researched, highly detailed, and scholarly historical study in which Christopher Snyder has explored F. Scott Fitzgerald's literary creation, in his most celebrated novel, of Jay Gatsby in Oxford. He has done so against the historical background of the first quarter of the twentieth century—a period stretching from the beginning of the Oxford Rhodes Scholar program, through the horrors of World War I to the end of Prohibition, the Jazz Age—when Scott Fitzgerald, T. S.  Eliot, and many other leading American literary and intellectual figures came to, and were enchanted by, Oxford, the City of Dreaming Spires, a period and ambience which Dr. Snyder describes and evokes so vividly in these pages.
— Dr. Tudor Jones, Tutor in Political History, Oxford University