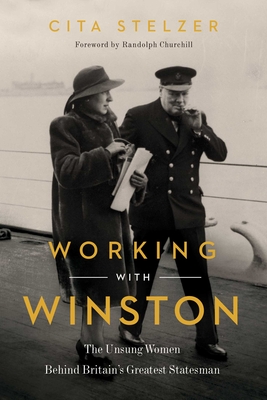 Working with Winston
The Unsung Women Behind Britain's Greatest Statesman
Hardcover

* Individual store prices may vary.
Other Editions of This Title:
Digital Audiobook (2/24/2020)
Digital Audiobook (1/12/2020)
MP3 CD (2/25/2020)
Compact Disc (2/25/2020)
Description
An original and insightful look at Winston Churchill through the eyes of those who knew him best—the women who worked with him throughout his life.

All politicians adopt a public persona that they believe contributes to electoral success. Though they might reflect the character of the politician, they reveal only a part of the man. What we know less about are the characteristics that Winston Churchill revealed when he was out of the public eye.

Much has been written about Churchill, and of the important world leaders, politicians, high-ranking military personnel with whom he interacted. But Churchill also required a vast staff to maintain the intense pace at which he worked. When Churchill strode the world stage, the secretarial and support staff positions were inevitably filled by women. Though extraordinarily talented and valuable to Churchill and his work, these women remain unheralded. He was not an easy employer. He was intimidating, with never-ending demands who would impose his relentless and demanding schedules on those around him. And yet these women were devoted to him, though there were times in his political career in which he was decidedly unpopular. Many reflect upon their years working for him as the best years of their lives.

Intelligent and hard-working, these women were far from sycophants. Just as Churchill was no ordinary Prime Minister, these women were not ordinary secretaries. Indeed, in today's terms their titles would be much grander, as their work encompassed ultra-secret documents and decrypting and reading enemy codes.

A treasure trove of insight and research, Working with Winston reveals the man behind the statesman and as well as brings long-overdue recognition to the "hidden army" that, like Churchill, was never off-duty.
Praise For Working with Winston: The Unsung Women Behind Britain's Greatest Statesman…
"Working with Winston is a wonderful tour behind the scenes of history and its vignettes portray a very human and attractive man."
— Times (London)

"Stelzer offers a unique and specific perspective by providing biographical profiles of the group of young women who played a great service to the British war effort by serving as secretaries and typists working closely with Churchill in his day-to-day preoccupations as he directed the war effort. It is truly a pleasure to meet these dedicated women and to herald the arrival of a new, worthwhile, lens-widening addition to the shelf of Churchill biographies."
— Booklist

"They say that no man is a hero to his valet. The people who knew Winston Churchill most intimately outside his own family—his secretaries and personal assistants—did think him a hero. Cita Stelzer explains why and floods fresh light on the man and his working practices.... A well-researched, well-written and hugely enjoyable book, which I highly recommend."
— Andrew Roberts, author of Churchill: Walking With Destiny

"Cita Stelzer has found an intimate way to reveal the secrets of this great man's life with exceptional skill and flair, giving voice to the silent army the helped him to lead the nation."
— Sarah Baxter, Deputy Editor of the Sunday Times (London)

"Stelzer offers up a revealing behind-the-scenes view of Winston Churchill. Churchill devotees will delight in yet another view of the British leader."
— Publishers Weekly

"A gripping read that tells the story of the extraordinary women, and one man, who were Churchill's secretaries. Out of their fascinating personal accounts emerges a brilliantly original and at times deeply touching account of Winston in all his multiple moods, colours and breath-taking accomplishment."
— Julia Boyd, author of Travelers in the Third Reich

"A sure bet for Churchill aficionados. Readers interested in the role of women's work during World War II might also find much intriguing information here."
— Library Journal

"An absorbing, intriguing, and utterly fascinating study of the women who supported Churchill during the most challenging of his endeavors, from leading—and inspiring—Britain and the west during WWII to writing innumerable speeches and books of enormous importance on the most consequential political, historical, and social issues of Churchill's time. A masterful work!"
— General David Petraeus (US Army, Ret.), former commander of coalition forces in Iraq and Afghanistan and US Central Command, and former Director of the CIA

"In his darkest hours Winston Churchill depended on his supporting cast: those who took down his words, managed his affairs, and provided the machinery to channel his prodigious energy to maximum effect. They were far more than secretaries, and Cita Stelzer has done us a great service in bringing them out of the shadows and putting them centre stage."
— Allen Packwood, Director of the Churchill Archives, Churchill College, Cambridge

"That was what it was like working for Churchill, as Cita Stelzer's glorious new book, weaving together first-hand recollections by his secretaries, shows. You'd be summoned to the Presence—and if it was the morning, he'd be sitting in bed in his brocade dressing-gown, lighting his cigar from a candle, with his cat as a hot-water bottle, all nine daily papers strewn over the eiderdown and a whisky and soda to take him through to lunchtime."
— Daily Mail
Pegasus Books, 9781643130194, 416pp.
Publication Date: May 14, 2019
About the Author
Cita Stelzer served as special aide to Mayor John Lindsay and to Governor Hugh Carey before joining an economic consulting firm. She is an advisor to the Churchill Archives Centre at Churchill College, Cambridge; a member of the Board of Advisers of the International Churchill Society; and a former trustee of Wigmore Hall. Her prior publications, Dinner with Churchill and Working with Winston, are both available from Pegasus Books. She lives near Phoenix, Arizona.

Randolph Churchill is the great-grandson of Sir Winston Churchill. After attending Harrow, Randolph served in the Royal Navy and subsequently attended Buckingham University. He is a Trustee of the Winston Churchill Memorial Trust, Honorary Fellow of Churchill College, Cambridge, Director of the Armed Services Charities Advisory Company, and Trustee of the Churchill Centre in both the United States and United Kingdom. A regular speaker at Churchill conferences and dinners, Randolph and his wife have four children and live close to Sir Winston's home at Chartwell in Kent.
or
Not Currently Available for Direct Purchase