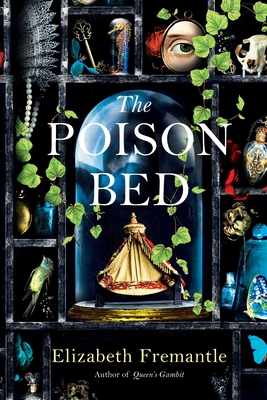 The Poison Bed
A Novel
Hardcover

* Individual store prices may vary.
Other Editions of This Title:
Digital Audiobook (4/1/2019)
Compact Disc (4/2/2019)
Paperback (9/7/2021)
MP3 CD (4/2/2019)
Library Binding, Large Print (6/26/2019)
Description
A spellbinding thriller set in the Jacobean Court of 1615 surrounding a famed couple imprisoned on suspicion of murder—but was it Lord Robert or Lady Frances who committed the crime?

A marriage. A murder. One of them did it. Which of them will die for it?

In the autumn of 1615, scandal rocks the Jacobean court, when a celebrated couple, Robert and Frances Carr, are imprisoned on suspicion of murder. Frances is young, captivating, and from a notorious family. She has been rescued from an abusive marriage by Robert, and is determined to make a new life for herself. Whatever the price.

Robert is one of the richest and most famous men in the kingdom. He has risen from nothing to become one of the country's most powerful men. But to get to the top, you cannot help making enemies.

Some believe she is innocent; others think her wicked or insane. He claims no knowledge of the murder. The king suspects them both, though it is his secret at stake. Now a man is dead. And someone must pay with their life.

Who is telling the truth? Who has the most to lose? And who is willing to commit murder?
Praise For The Poison Bed: A Novel…
"Like all the best writers of historical thrillers, Elizabeth Fremantle weaves together documented fact with sensitively imagined fiction to create a novel that helps us understand a time and place better. It doesn't matter if you guess whodunit, early or late. The tale is in the telling, and so is the readerly enjoyment. If your idea of a great summer read is closer to The Miniaturist than Gone Girl, I highly recommend The Poison Bed."
— NPR

"Engaging. The novel's depiction of the Jacobean age has the vivid, cleverly constructed and always faintly unreal quality of a stage set."
— New York Times Book Review

"Fremantle is one of the most electric writers working in the historical space today."
— CrimeReads

"Rich in historical detail. Bound to please fans of court intrigue."
— Booklist

"Set in England during the reign of James I, this craftily constructed historical from Fremantle makes deft use of a real-life crime. Fremantle does a masterly job of recreating the feel of the period, along with making the atmosphere of suspicion and plotting palpable. Readers will eagerly await her next historical."
— Publishers Weekly (starred)

"A thoroughly compelling tale of sexually-charged intrigue and murder. Once started, impossible to put down."
— Minette Walters

"Fremantle has taken the love story of Lady Frances Howard and Robert Carr in 1615 England and made it indelible. Fremantle's gift is in reimagining the emotions and circumstances of Frances and Robert. Will stick with you long after you turn the last page."
— Mystery Scene

"Gripping and fascinating. Fremantle is a master."
— Santa Montefiore, author of 'The Daughters of Ireland'

"A Jacobean Gone Girl—dark and deeply satisfying, The Poison Bed is a tale of monstrous intrigue and murder."
— Miranda Carter, author of 'George, Nicholas, and Wilhelm'

"A riveting tale, giving us a new take on an old mystery, with her unique, accomplished skill. Her characters live, an age is evoked, and the story surges on with vivid pace. I cannot recommend this highly enough."
— Alison Weir, New York Times bestselling author

"Deliciously sinister. A toxic blend of glamour, intrigue, and ambition."
— Andrew Taylor, author of 'The Fire Court'
Pegasus Crime, 9781643130248, 416pp.
Publication Date: April 2, 2019
About the Author
Elizabeth Fremantle is the acclaimed author of Sisters of Treason, Queen's Gambit, and Watch the Lady, and she has contributed to Vogue, the Wall Street Journal, Vanity Fair, and the Sunday Times (London). She lives in London.