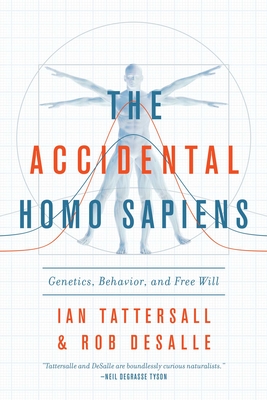 The Accidental Homo Sapiens
Genetics, Behavior, and Free Will
Hardcover

* Individual store prices may vary.
Other Editions of This Title:
MP3 CD (5/28/2019)
Description
What happens now that human population has outpaced biological natural selection? Two leading scientists reveal how we became who we are—and what we might become.

When we think of evolution, the image that likely comes to mind is the iconic, straight-forward image of a primate morphing into a human being. Yet random events have played huge roles in determining the evolutionary histories of everything from lobsters to humans. However, random genetic novelties are most likely to "stick" in small populations. It is mathematically unlikely to happen in large ones.

With our enormous and seemingly inexorably expanding population, humanity has fallen under the influence of the famous (or infamous) "bell curve." This revelatory new book explores what the future of our species could hold, while simultaneously revealing what we didn't become—and what we won't become.

A cognitively unique species, our actions fall on a bell curve as well. Individuals may be saintly or evil, narrow-minded or visionary. But it is possible not just for the species, but for a person to be all of these things—even in a single day. We all fall somewhere within the giant hyperspace of the human condition that these curves describe.

The Accidental Homo Sapiens shows readers that though humanity now exists on this bell curve, we are far from a stagnant species. Tattersall and DeSalle reveal how biological evolution in modern humans has given way to a cultural dynamic that is unlike anything else the Earth has ever witnessed, and that will keep life interesting—perhaps sometimes too interesting—for as long as we exist on this planet.
Praise For The Accidental Homo Sapiens: Genetics, Behavior, and Free Will…
"A lively addition to the literature on the 'unfathomable mystery' of human beings. Tattersall and DeSalle deliver a highly learned lesson in what we do and don't inherit from our parents. A concise and useful book of evolutionary science."
— Kirkus Reviews

"Looking at the role of chance in human evolution, the authors argue that the species has tremendous potential to change its behavior."
— New York Times Book Review

"Admirable and lucid. A necessary corrective to the notion that the human individual is fully subordinate to genes and evolution."
— Shelf Awareness

"Tattersall and DeSalle are boundlessly curious naturalists."
— Neil deGrasse Tyson (Past praise for Ian Tattersall and Rob DeSalle)

"A brilliant and engaging account that illuminates and inspires. Read Tattersall and you will not see yourself, let alone our entire species, in the same way again."
— Neil Shubin, author of Your Inner Fish (Past Praise for Ian Tattersall)

"Quietly magnificent."
— The Atlantic, runner-up for the Best Book of the Year (Praise for Masters of the Planet)
Pegasus Books, 9781643130262, 240pp.
Publication Date: April 2, 2019
About the Author
Ian Tattersall is Curator Emeritus in the Division of Anthropology of the American Museum of Natural History in New York City. The author of many books, including the widely praised Masters of the Planet, he is often interviewed about human evolution in the media and speaks around the world. He is the winner of numerous awards, and lives in Greenwich Village.

Rob DeSalle is a curator in the Sackler Institute for Comparative Genomics and professor at the Richard Gilder Graduate School at the American Museum of Natural History. He is the author of The Science of Jurassic Park and the Lost World (with David Lindley, 1997) and the coauthor of Welcome to the Microbiome: Getting to Know the Trillions of Bacteria and Other Microbes In, On, and Around You (2015), among others.
or
Not Currently Available for Direct Purchase