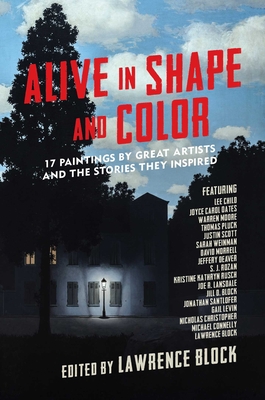 Alive in Shape and Color (Paperback)
17 Paintings by Great Artists and the Stories They Inspired
Pegasus Books, 9781643130354, 288pp.
Publication Date: March 12, 2019
Other Editions of This Title:
Hardcover (12/5/2017)
* Individual store prices may vary.
Description
In his brilliant follow-up to In Sunlight or In Shadow, Lawrence Block has gathered together the best talent from popular fiction to produce an anthology as inventive as it is alluring, including Joyce Carol Oates, Lee Child, Michael Connelly, David Morrell, and Jeffery Deaver.
Even before Lawrence Block could rest on his laurels from
In Sunlight or In Shadow
, a question arose. What would he do for an encore?
Any number of artists have produced evocative work, paintings that could trigger a literary response. But none came to mind who could equal Hopper in turning out canvas after canvas. If no single artist could take Hopper's place, how about a full palette of them? Suppose each author was invited to select a painting from the whole panoply of visual art—From the cave drawings at Lascaux to a contemporary abstract canvas on which the paint has barely dried.
And what a dazzling response! Joyce Carol Oates picked
Le Beaux Jours
by Balthus. Warren Moore chose Salvador Dali's
The Pharmacist of Ampurdam Seeking Absolutely Nothing
. Michael Connelly, who sent Harry Bosch to Chicago for a close look at
Nighthawks
, has a go at
The Garden of Earthly Delights
by Harry's namesake Hieronymous Bosch. S. J. Rozan finds a story in Hokusai's
The Great Wave
, while Jeffery Deaver's "A Significant Find" draws its inspiration from—yes—those prehistoric cave drawings at Lascaux. And Kristine Kathryn Rusch moves from painting to sculpture and selects Rodin.
In artists ranging from Art Frahm and Norman Rockwell to René Magritte and Clifford Still, the impressive concept goes on to include Thomas Pluck, Sarah Weinman, David Morrell, Craig Ferguson, Joe R. Lansdale, Jill D. Block, Justin Scott, Jonathan Santlofer, Gail Levin, Nicholas Christopher, and Lee Child, with each story accompanied in color by the work of art that inspired it.
About the Author
Lawrence Block has been writing award-winning mystery and suspense fiction for half a century. His novels include The Girl With the Deep Blue Eyes, The Burglar Who Counted the Spoons, Hit Me, and A Drop of the Hard Stuff, featuring Matthew Scudder. He's well known for his books for writers, including the classic Telling Lies For Fun & Profit and Write for Your Life, and he has recently published The Crime of Our Lives, a collection of his writings about the mystery genre and its practitioners.
Praise For Alive in Shape and Color: 17 Paintings by Great Artists and the Stories They Inspired…
The fascinating premise has yielded some dark gems.
An imaginative collection bristling with surprises. Block has masterminded another delectably provocative union of art and suspense.
If a picture is worth a thousand words, any of Edward Hopper's paintings of American loneliness is worth an entire short story. Ekphrasis—seeing a story in a picture—was seldom so much fun.
Several [stories] capture every hue, tint, and tone of what makes a story captivating. Over the past few years, Lee Child's short fiction has become my favorite of his work, and 'Pierre, Lucien, and Me' is an example of why. 'Charlie the Barber' by Joe R. Lansdale is a hard- boiled, richly detailed and violent story. The anthology's only reprint, David Morrell's 'Orange Is for Anguish, Blue for Insanity,' is also my favorite.
This absolutely superb anthology starts out with two advantages: a true legend at the helm in crime writer Lawrence Block, and a fascinating concept. Every story is superlative. Hopper, America's great mournful lyric realist, deserves a tribute of this grace and sensitivity.
For anyone who has puzzled over the vividly evocative works of the beloved Edward Hopper, this little volume is the perfect gift. Short stories by 17 writers dramatically start where the paintings leave off.
A great collection. These stories are suspenseful and display masterful writing ability.
Belongs on the reading table of all crime and mystery fans. Allows readers the unique opportunity to directly experience the motivation of each story and follow where the artwork took each author.