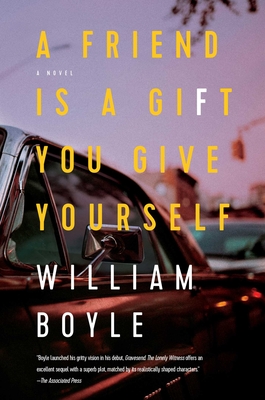 A Friend Is a Gift You Give Yourself
Hardcover

* Individual store prices may vary.
Other Editions of This Title:
Paperback (2/11/2020)
MP3 CD (5/28/2019)
Description
Goodfellas meets Thelma and Louise when an unlikely trio of women in New York find themselves banding together to escape the clutches of violent figures from their pasts.

After Brooklyn mob widow Rena Ruggiero hits her eighty-year-old neighbor Enzio in the head with an ashtray when he makes an unwanted move on her, she embarks on a bizarre adventure. Taking off in Enzio's '62 Impala, she retreats to the Bronx home of her estranged daughter, Adrienne, and her granddaughter, Lucia, only to be turned away by Adrienne at the door. Their neighbor, Lacey "Wolfie" Wolfstein, a one-time Golden Age porn star and retired Florida Suncoast grifter, takes Rena in and befriends her.

When Lucia discovers that Adrienne is planning to hit the road with her ex-boyfriend Richie, she figures Rena's her only way out of a life on the run with a mother she can't stand. But Richie has massacred a few members of the Brancaccio crime family for a big payday, and he drags even more trouble into the mix in the form of an unhinged enforcer named Crea. The stage is set for an explosion that will propel Rena, Wolfie, and Lucia down a strange path, each woman running from something and unsure what comes next.

A Friend is a Gift You Give Yourself is a screwball noir about finding friendship and family where you least expect it, in which William Boyle again draws readers into the familiar—and sometimes frightening—world in the shadows at the edges of New York's neighborhoods.
Praise For A Friend Is a Gift You Give Yourself…
"Comic crime capers are fun. Comic crime capers starring women are even more fun. William Boyle delivers some choice laughs and a terrific trio of felons. A road trip that's so much fun you don't want it to end."
— Marilyn Stasio

"Part Martin Scorsese's Goodfellas and part Mario Puzzo's La Mamma, A Friend Is a Gift You Give Yourself is a funny, gritty, touching narrative about the strength of three New York women caught in a world of abusive men, broken families, and mob violence. Friend is a rarity; a fresh novel about New York's underbelly. Crime fiction usually stays within the confines of the genre, but Boyle breaks away from those restrictions."
— NPR

"Boyle's work is some of the finest in crime fiction and while he ticks every box each time out, the emphasis changes. Character and nonstop action are gloriously on the rampage here, as three very different women join forces to survive high-speed car chases, crashes, shootings, violent men and general bedlam. Boyle's dialogue snaps and his sense of place is top-notch. This roller-coaster madcap tragicomedy is a great gift to give yourself."
— Shelf Awareness

"Boyle's follow-up to the well-received The Lonely Witness is being promoted as Goodfellas meets Thelma and Louise. The novel incorporates the snappy timing of both those films, and the Elmore Leonard–like cinematic prose begs for a film adaptation. Recommend this triumph of moral ambiguity to fans of black humor, including that of Carl Hiaasen and Dennis Lehane, in addition to Leonard."
— Booklist (starred)

"An addictive hardboiled crime novel. Boyle skillfully mixes a classic Westlake/Leonard–style caper with the powerful tale of three women facing the ghosts of their pasts."
— Publishers Weekly (starred)

"This all sounds a little bit loopy, along the lines of Carl Hiaasen or Tim Dorsey, and there is indeed a surreal element to this caper. But there is also more than a little Thelma & Louise in Boyle's terrific tale, which has some of the most stylish noir prose to grace the page in some time."
— BookPage

"Boyle is one of noir's most exciting voices, and with his newest book he injects a madcap road trip energy into his finely-tuned criminal world."
— CrimeReads

"Deploying an inimitable tone that packs sardonic storytelling atop action and adventure, with a side of character development, Boyle's voice works even when it feels like it shouldn't. It's just the right kind of too much."
— Kirkus Reviews

"A native of the borough, the author writes with an intimate knowledge of the place and its people. Boyle's characters don't just come alive on the page—they have lived there as well."
— Mystery Tribune

"A brilliant and nasty piece of joyful ambiguity that I Ioved deeply. What a marvelous and unexpected bunch of female characters, in particular. With this one, William Boyle vaults into the big time, or he damn sure should."
— Joe R. Lansdale, author of the Hap & Leonard series

"As wildly funny and sweet as it is frenetic and harrowing, William Boyle's A Friend Is a Gift You Give Yourself is full of dark splendor. And the three wondrous and resilient women at its center are so richly etched, so powerfully voiced, you'll find yourself wanting to pull up to the dinner table with them, grab a glass, and tuck in. Imagine Martin Scorsese and David O. Russell collaborating with Gena Rowlands and Ellen Burstyn and making magic."
— Megan Abbott, author of 'You Will Know Me' and 'The Fever'

"One thing to appreciate about William Boyle's process is that, not unlike the late, great Charles Willeford, he takes his time, he doesn't rush the reader. This is a significant trait, more important than it sounds, the method of a confident writer. He builds his characters patiently, allowing them to adjust to one another, not merely throw lines to titillate the reader. In A Friend Is a Gift You Give Yourself, Wolfie Wolfstein is as comfortably intact a creature as any crime writer of recent vintage has put together. I gleefully anticipate the coming of a movie or better yet a TV series in her name."
— Barry Gifford, author of 'Sailor & Lula: The Complete Novels' and 'The Cuban Club'

"Although William Boyle's new novel is clearly a love letter to his Brooklyn roots, (New York being one of the more prominently featured players in the book) the real "Gift" here is his prose. The writing is so casual and honest that as a reader, you have no idea how much you have invested in these characters until it's too late to turn back. Your heart starts to race and you forget about the time. By the midway point of the book, I was rooting out loud for these characters. The balance Boyle achieved of warmth between friends and the darkness that comes calling for them is nothing short of brilliant. I also love books with strong female leads, and with A Friend, you get three of them, moved along by dialogue that is second only to the master himself, Elmore Leonard. Hellova' story. Hellova' cast. Hellova writer."
— Brian Panowich, author of 'Like Lions' and 'Bull Mountain'

"Heartfelt, evocative, and bursting with indelible characters, William Boyle's A Friend Is a Gift You Give Yourself is not only an unpredictable and off-the-wall noir, but a meditation on the true meaning of friendship and family. Boyle has created another potent jolt of can't-miss New York crime fiction."
— Alex Segura, author of the Anthony Award-nominated Pete Fernandez Miami Mystery series

"It's the women who make this novel such a great read. They are glorious and mad, vulnerable, so human, and very, very funny."
— Roddy Doyle, author of 'The Commitments,' 'The Van,' 'Paddy Clarke Ha Ha Ha,' 'The Woman Who Walked Into Doors,' and 'Smile'

"A Friend Is a Gift You Give Yourself is a thunderous locomotive of a novel, driven by remarkable characters and sparkling dialogue. A treat for fans of neo-noir, it's brimming with dark wit and piercing insight. Highly recommended."
— Stuart Neville, national bestselling author

"Yowza, did I just maybe read a future crime fiction classic? Possibly. It has all the right elements. Great characters—two ex-porn stars, a 14-year-old girl, and a psycho with a sledgehammer—dialogue that tickles the ear, and a sense of place so vivid I thought I was reading in 3-D. And the plot! I'm not going to say anything other than 500,000 dollars in a briefcase and a frisky octogenarian are involved. My only regret? I read the book way too fast, just couldn't stop turning the pages. Oh well, there are worse things in life."
— Pete Mock, McIntyre's Fine Books

"Boyle's latest novel is an Elmore Leonard-style caper that hits the ground running. With vintage car chases, warp speed energy and female bonding, this is funny, touching and exhilarating in all the right places."
— The Guardian (UK)

"An exquisite tale of female friendship combining thrills galore, dark humor, sparkling repartee, highly unpredictable twists at every turn of the meandering road, and a glorious sense of the ridiculous. Will have you chuckling from page to page."
— Crime Time (UK)

"Like tasty breadcrumbs through a sinister forest, Boyle strews his narrative with welcome cultural markers and references and more than a little bit of straight-talking philosophy. Boyle's noir novel is an appropriately dark tale of gangster life; it also shimmers with friendliness, affection, humor, and the myriad stories people tell themselves and others in order to survive."
— Seattle Review of Books

"A crime caper worthy of Barry Gifford at his most lurid, set in a lawless world. A Friend is a Gift is screwball noir with real heart."
— The Irish Times

"Boyle's fiction rises above the stereotypes of urban noir, not so much for the plot as for the quirky, flawed female characters with rich inner lives, the gritty dialog, and atmospheric street settings, in which authentic details abound. Offbeat humor leavens the mix and adds to the fun."
— Library Journal
Pegasus Crime, 9781643130583, 320pp.
Publication Date: March 5, 2019
About the Author
William Boyle is from Brooklyn, New York. His novels include: Gravesend, which was nominated for the Grand Prix de Littérature Policière in France; The Lonely Witness, which was nominated for the Hammett Prize and the Grand Prix de Littérature Policière; A Friend Is a Gift You Give Yourself, an Amazon Best Book of the Year; and, most recently, City of Margins, a Washington Post Best Thriller and Mystery Book of 2020. He lives in Oxford, Mississippi.
or
Not Currently Available for Direct Purchase