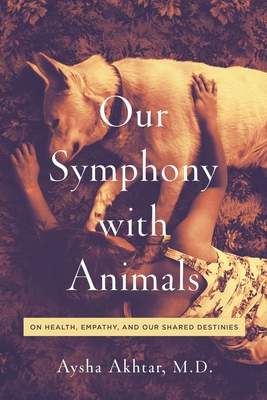 Our Symphony with Animals
On Health, Empathy, and Our Shared Destinies
Hardcover

* Individual store prices may vary.
Other Editions of This Title:
Digital Audiobook (10/28/2019)
Paperback (5/11/2021)
Description
A leader in the fields of animal ethics and neurology, Dr. Aysha Akhtar examines the rich human-animal connection and how interspecies empathy enriches our well-being.

Deftly combining medicine, social history and personal experience, Our Symphony with Animals is the first book by a physician to show that humans and animals have a shared destiny—our well-being is deeply entwined.

Dr. Akhtar reveals how empathy for animals is the next step in our species' moral evolution and a vital component of human health. When we include animals in our circle of empathy, we not only liberate animals, we also liberate ourselves. Drawing on the accounts of a varied cast of characters—a former mobster, a pediatrician, an industrial chicken farmer, a serial killer, and a deer hunter—to reveal what happens when we both break and forge bonds with animals.

Interwoven is Dr. Akhtar's own story, an immigrant who was bullied in school and abused by her uncle. Feeling abandoned by humanity, it was only when she met Sylvester, a dog who had also been abused, that she find the strength to sound the alarm for them both.

Humans are neurologically designed to empathize with animals. Violence against animals goes against our nature. In equal measure, the love we give to animals biologically reverberates back to us. Our Symphony with Animals is the definitive account for why our relationships with animals matter.
Praise For Our Symphony with Animals: On Health, Empathy, and Our Shared Destinies…
Our Symphony with Animals is a beautiful, compassionate, and important book. Dr. Akhtar deftly weaves her personal and professional experiences into the scientific story of how humans are designed to bond with animals--and the cost, to us and to the rest of animate creation, of breaking that bond. Her wonderful book is at once intimate and global, and its message is crucial: empathy with our fellow animals is vital for the health of humans and non-humans alike.
— Sy Montgomery, author of How to Be a Good Creature

"A heartfelt call for compassion for all living species."
— Kirkus Reviews

"Akhtar uses personal childhood trauma to launch a thoughtful discussion of the extent of, and limits to, human empathy toward animals. Akhtar's book draws a sobering but hopeful picture of what has been done and what remains to be done to improve animals' lives."
— Publishers Weekly

"In her eye-opening and touching account, Aysha Akhtar takes us from one example to another of animals making our lives better. Being there for us without judgment regardless of the circumstances, animals have an immense healing power that science is only beginning to grasp."
— Frans de Waal, author of Mama's Last Hug: Animal Emotions and What They Tell Us about Ourselves

"An important and illuminating work."
— Booklist

"After reading Our Symphony with Animals, I suggest you spend some time having a friendly talk with a sweet dog like Akhtar's childhood friend Sylvester. It will do both of you good."
— Washington Independent Review of Books

"A timely and necessary book that sheds light on how far animals will go to help us, and how much better we need to treat them in return. This deeply affecting book reveals just how important animals are to human health and happiness."
— Shelf Awareness

"A memoir, an informational text, and a paean to the joys of sharing our lives with animals."
— Bookreporter

"This is a superb, captivating book. Combining memoir, investigative journalism, and science, Aysha Akhtar has produced a marvelous exploration of our troubled, evolving relationship with animals. Themes of vulnerability, injustice, redemption, and love are woven into a moving narrative that drew me in and kept me hungrily turning the pages."
— Jonathan Balcombe, author of What a Fish Knows: The Inner Lives of Our Underwater Cousins

"In her deeply personal and highly readable book, full of stories that surely will move readers all over the place, Dr. Aysha Akhtar seamlessly weaves humorous and touching moments along with the latest research on animal-human relationships. She shows why the development of close relationships with other animals that are filled with trust, respect, compassion, empathy, and love are mutually beneficial and a win-win for all. Highly recommended for a global audience."
— Marc Bekoff, co-author of The Animals: Agenda: Freedom, Compassion, and Coexistence in the Human Age

"In a heartfelt and urgent call to action, Aysha Akhtar shows how the lives of humans and animals are intertwined."
— Gregory Berns, author of How Dogs Love Us
Pegasus Books, 9781643130705, 336pp.
Publication Date: May 7, 2019
About the Author
Aysha Akhtar, M.D., M.P.H., is double Board-Certified in both Neurology and Preventive Medicine and is the Deputy Director of the Army's Traumatic Brain Injury Program. Previously, she worked for the Office of Counterterrorism and Emerging Threats of the Food and Drug Administration. She is a Lieutenant Commander in the U.S. Public Health Service, is a Fellow of the Oxford Centre for Animal Ethics, and is a Consultant Editor for the Journal of Animal Ethics. She is the author of Animals and Public Health and lives in Maryland with her husband Patrick and their ornery feline, Silos.

Carl Safina's work has been recognized with MacArthur, Pew, and Guggenheim Fellowships, and his writing has won Orion, Lannan, and National Academies literary awards and the John Burroughs, James Beard, and George Rabb medals. He has a PhD in ecology from Rutgers University and he hosted the 10-part PBS series Saving the Ocean with Carl Safina. He is the author of seven books, most recently Beyond Words: What Animals Think and Feel.
or
Not Currently Available for Direct Purchase