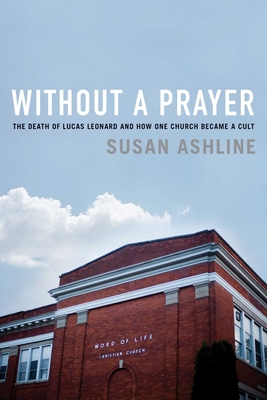 Without a Prayer
The Death of Lucas Leonard and How One Church Became a Cult
Hardcover

* Individual store prices may vary.
Other Editions of This Title:
Compact Disc (1/14/2020)
MP3 CD (1/14/2020)
Description
The horrifying true story of a fatal encounter inside the secluded Word of Life Christian Church, a parish-turned-cult in upstate New York.

Teenager Lucas Leonard made shocking admissions in front of the altar—he'd practiced witchcraft and conspired to murder his parents, among other horrific crimes. The confessions earned him a brutal beating by a gang of angry church members, including his parents and sister. Lucas arrived at the hospital dead, awakening the sleepy community of Chadwicks, New York, to the horror that had been lurking next door.

Nine members of Lucas' church would eventually find themselves facing murder-related charges. But how did they get to that point? And what made Lucas confess? The full story has never been told—until now.

Emmy-nominated journalist Susan Ashline delves deep into the Leonard family history, the darkness within the Word of Life Christian Church, and what led Lucas, his family, and his community to that fateful night.
Praise For Without a Prayer: The Death of Lucas Leonard and How One Church Became a Cult…
"An excellent debut. Meticulously researched, this is a gripping account, but it's not for the faint-hearted."
— Publishers Weekly (starred)

"Basing her work on extensive interviews with former churchgoers, as well as police, prosecutors, and public documents, Ashline skillfully unfolds the events in a compassionate, thoughtful voice. Readers interested in true crime and cults will be enthralled by this expertly rendered tale of extremism."
— Library Journal (starred)

"An in-depth portrait of a cult and its downfall after the murder of one of its members. Readers looking for a cult origin story will find this a captivating read."
— Booklist

"A fascinating, heartbreaking, and fraught page-turner. Ashline avoids easy judgments in favor of letting the story unfold and the evidence speak for itself. A powerful and absorbing contribution to the libraries of true crime, sociology and long-form journalism."
— BookReporter

"There was something sinister going on behind the walls of the Word of Life Christian Church outside Utica, New York. In her debut book, Without a Prayer, Susan Ashline removes those walls brick by brick, revealing a terrifying world of religion gone awry, a congregation whose collective willingness to believe overwhelmed their ability to think, a cult whose members blindly followed a madman with horribly violent results. Ashline not only explains with clarity what happened, but even more impressively offers a psychologically satisfying answer to the question of why."
— Michael Benson, author of 'Nightmare in Rochester' and 'The Devil at Genesee Junction'

"Susan Ashline tells a terrifying true tale in Without a Prayer. Not long ago, in upstate New York, a self-ordained pastor, spewing twisted scripture and claiming a direct line to God, entered the minds of his flock and led them into a world of unrelieved malice and ultimately violence. What shocks is how swiftly he was able to enter the minds of his followers who came to believe that he alone knew what was right and what they must do to enter the Kingdom of Heaven. Without a Prayer will haunt you with its disturbing evidence of the fragility of civilized norms and the power of madmen in their absence."
— Mary Cummings, author of 'Saving Sin City'

"Susan Ashline's narrative of group pathology is a cautionary tale of toxic mind control over a vulnerable religious flock. The consequences include unwarranted inhumane treatment for many—and a life of torment punctuated by death for one, the youth Lucas Leonard. The nightmare doesn't quite reach the nadir of the Jim Jones mass tragedy, but it's enough to inspire a series of Stephen King horror stories. The moral: If someone claims he or she has a direct line to God and you must obey whatever you're ordered, RUN! For your life."
— James Presley, author of 'The Phantom Killer' and 'A Saga of Wealth'

"This book feels compelled by compassionate outrage, all the more so for being written with such cool and controlled precision. With her sharp instinct for the right detail Susan Ashline brilliantly conjures the small town setting in which the Word of Life cult managed to flourish, and makes the ensuing horror story seem quite alarmingly real. She also shows how evil can live among us, banal for all its excesses, bizarrely consoling to those who fall under its spell."
— Laura Thompson, author of 'A Tale of Two Murders' and 'Agatha Christie: A Mysterious Life'
Pegasus Crime, 9781643130729, 400pp.
Publication Date: August 6, 2019
About the Author
Susan Ashline's journalism career spans more than 25 years. Her work has received major awards, including an Emmy nomination for a public broadcasting societal concerns program, a first place Associated Press award for general excellence in individual reporting, and a Gold Medal Award for Democrat and Chronicle online excellence. She lives in Rochester, New York.
or
Not Currently Available for Direct Purchase