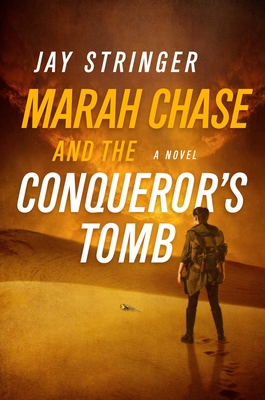 Marah Chase and the Conqueror's Tomb
A Novel
Hardcover

* Individual store prices may vary.
Other Editions of This Title:
Digital Audiobook (2/17/2020)
Compact Disc (2/18/2020)
MP3 CD (2/18/2020)
Description
Rogue archeologist Marah Chase is approached by MI6 with an impossible mission: to help them recover a dangerous treasure lost after the death of Alexander the Great.

Once a rising star in the field of archaeology, Marah Chase is now a black-market treasure hunter. But when she's caught "rescuing" relics in Syria, an MI6 officer named Joanna Mason approaches her with an offer she can't refuse: help save the world or rot in prison. All Chase has to do is find Alexander the Great's lost tomb to recover an ancient weapon of mass destruction and destroy it before any number of adversaries can get it.

Chase can't resist a challenge—or the British spy recruiting her. There's just one problem. If Chase has any hope of unearthing Alexander's tomb before the forces hot on her heels do, she'll need the help of the one person she's been afraid to see since her fall from grace: Zoe Forrester, the heir to a hidden journal that holds the key—and Chase's ex-girlfriend.

A contemporary homage to the best adventure stories of literature, television, and film, Marah Chase and the Conqueror's Tomb is an action-packed, globe-trotting quest, perfect for anyone who's ever thought Indy really ought to be Jewish, female, and gay.
Praise For Marah Chase and the Conqueror's Tomb: A Novel…
"Stringer, author of the Sam Ireland and Eoin Miller mysteries, has a winner here with Marah Chase—pulse-pounding adventure, in the best Indiana Jones tradition, with a charismatic gay woman fueling the action."
— Booklist (starred)

"This action-packed adventure, fast paced from page one, will remind readers of the drama of Indiana Jones and James Bond as Marah and Joanna try to save the world from a radical group. Fans of car chases, flawed, courageous protagonists, and save-the-world adventures should grab this exciting page-turner featuring two take-charge women. Their dangerous quest is as daunting and riveting as any in movies or thrillers."
— Library Journal (starred review, Pick of the Month)

"A fun ride."
— Publishers Weekly

"Stringer effortlessly weaves a complex web of espionage and betrayal around a rip-snorting, larger-than-life adventure in the spirit of Indiana Jones."
— Antony Johnston, creator of 'Atomic Blonde' and 'The Exphoria Code'

"If you merged Ocean's Eleven with Indiana Jones, you'd get Marah Chase and The Conqueror's Tomb—a high-octane, pulse-pounding race to save the world from an ancient weapon."
— Julie McElwain, author of the Kendra Donovan Mystery Series

"A fun, new twist on the traditional adventure tale, Jay Stringer's Marah Chase and the Conqueror's Tomb updates and re-imagines the Indiana Jones-style treasure hunter narrative. Marah Chase is cunning, empowered, and queer, a Lara Croft for the 20th century. The action propels forward at a breathless pace, each chapter a cliff-hanger. A delight to read!"
— John Copenhaver, author of 'Dodging and Burning'

"A full-throated adventure that combines the politics of contemporary terrorism with ancient myths. With conspiracy theories and a sassy heroine, Marah Chase and the Conqueror's Tomb will keep you turning the pages to the very end."
— Tessa Lunney, author of 'April in Paris, 1921'

"In the best tradition of pure entertainment, obviously written by a writer writing for themselves. Beyond the action, thrills, and story, there's joy on every page."
— Eric Beetner, author of All The Way Down

"Ever wonder what Raiders of the Lost Ark would be like if it was set in the present day and Marian Ravenwood got to do all the cool stuff instead of Indiana Jones? Marah Chase and the Conqueror's Tomb gives you a chance to find out. Jay Stringer has given readers a ripping yarn with all the elements of a multi-dimensional spy adventure: a dangerous, high-stakes quest, formidable adversaries, international intrigue, love and lust, loyalty and betrayal, cliff-hanging suspense à la Dan Brown and, best of all, a cast of characters that will keep you thinking about them and wondering what they'll do next. Then there's Stringer's deliciously ambiguous approach to the potentially supernatural. Is it magic or technology? Read it and decide for yourself."
— Maya Kaathryn Bohnhoff, co-author of the New York Times bestselling 'The Last Jedi'
Pegasus Crime, 9781643130736, 320pp.
Publication Date: July 2, 2019
About the Author
Jay Stringer is the Anthony-nominated, McIlvanney-shortlisted author of the Eoin Miller trilogy, Ways to Die in Glasgow, and How to Kill Friends and Implicate People. He lives in Glasgow, Scotland.
or
Not Currently Available for Direct Purchase