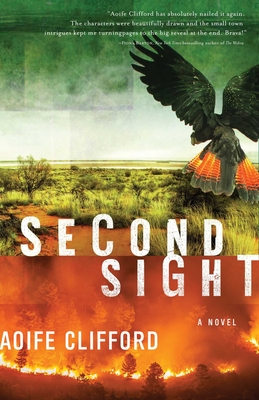 Second Sight
Hardcover

* Individual store prices may vary.
Other Editions of This Title:
Digital Audiobook (7/10/2018)
Paperback (5/12/2020)
MP3 CD (2/25/2020)
Compact Disc (2/25/2020)
Description
When Eliza Carmody returns to her small hometown after a destructive wildfire, she witnesses a crime that draws her back into the mysteries of a childhood she thought she'd left behind for good.

When the biggest legal case of her career brings Eliza Carmody back to Kinsale, the hometown she thought she had left forever, she witnesses an old friend commit a crime that sends her on a dangerous quest to uncover the mysteries of her childhood that the rest of the town seems willing to ignore.

With her friend on the run and the police investigating the bones of an unidentified dead body at a historic homestead near town, Eliza becomes convinced that the truth lies in her memories of the New Year's Eve years ago when her friend Grace disappeared from Kinsale forever.

While Eliza desperately explores the connections between the crimes of the present and those of the past, she begins to suspect that no one — even her own family — is telling the truth.
Praise For Second Sight…
"This brilliantly crafted, slow-burn crime novel slides with delicious subtlety from a story that begins in small-town reminiscences and regrets, moves into amateur investigation blended with personal history and deep secrets, and then takes a plunge into driving thriller territory. The author tugs hard at universal human emotions as she explores themes of grief and the unreliability of memory. Clifford is definitely a writer to watch."
— Publishers Weekly (starred)

"Fans of Jane Harper's mysteries will feel right at home."
— Booklist

"A thematically rich study in fragile memories and outright duplicity. And yes, it is utterly gripping."
— BookPage

"A gripping, gut-wrenching thriller. The novel moves at a tantalizing pace. Second Sight is an excellent, tense, slick mystery that investigates a small town's evil secrets."
— Foreword Reviews (starred)

"A riveting novel as both a mystery and a dissection of relationships, well written with superb characterizations, Second Sight is an insightful, entertaining read."
— New York Journal of Books

"A gripping and suspenseful novel."
— Pop Culture Association

"Incisive prose that establishes Clifford as something of a stylist. Trouble and teenagers are at the heart of this fine crime novel that introduces us to Melbourne lawyer Eliza Carmody, who has reluctantly returned to her home town to investigate the cause of a catastrophic bush fire two years earlier. Nice work."
— Sydney Morning Herald

"A gripping thriller. The tension is high, the pace rapid, and the plot primed to keep the pages turning. Clifford's interwoven themes let her tackle significant contemporary issues."
— The Australian

"Clifford absolutely nailed it again. The characters were beautifully drawn and the small town intrigues kept me turning pages to the big reveal at the end. Brava! "
— Fiona Barton, New York Times bestselling author of The Widow

"Aoife Clifford's Second Sight put me right there in Kinsale with Eliza Carmody. Heavy with secrets, twisty, propulsive, and beautifully written, it grabbed me from the first sentence and just didn't let go. Impossible to put down and even more impossible to shake after you're finished."
— William Boyle, author of The Lonely Witness and A Friend Is a Gift You Give Yourself

"Aoife Clifford is brilliant at showing how the past is a strong, pulsing stream that infects and directs the present. She's done it again with Second Sight, a pacy, gripping thriller with thick ropes of regret, trauma, misunderstood love and misdirected duty slithering beneath."
— Emily Maguire, author of An Isolated Incident and Fishing for Tigers

"Second Sight is a beautifully crafted tale of treachery, tangled perceptions, and family dysfunction. Clifford masterfully packages skewed realities and hard-held grudges in a ride that breathlessly picks up speed until its last shocking conclusion. Impossible to put down!"
— Julie McElwain, author of A Murder in Time

"I was addicted from page one and I read Second Sight like I was on fire. Perfect pacing. Aoife Clifford has painted a wonderful portrait of a town struggling under the weight of its secrets. I couldn't get enough of Eliza Carmody. "
— Sarah Bailey, author of The Dark Lake

"Skilfully plotted and intricate, Second Sight is another engrossing read by one of our most talented crime writers. Aoife Clifford's second novel explores how the impact of decisions made decades ago can reverberate, to devastating effect, in the present. A story shaped by the ravages of bushfire, the secrets of a small town, and a returned local's search for redemption. Highly recommended. "
— Anna George, author of The Lone Child and What Came Before

"Second Sight is a masterful intertwining of a just-occurred death with the crimes of the not-so-distant past. Clifford vividly portrays a small seaside Australian town whose residents are too quick to claim that all is well even as their own actions darkly hint at secrets—present and past—they'd like to keep buried. As Eliza closes in on the truth, we can't help but wonder how her dangerous discoveries will stagger her—and us. "
— David Krugler, author of the Ellis Voigt Thrillers

"With its shifting viewpoints and sharply observed characters, Second Sight is a shrewdly paced account of a young litigation lawyer's investigation into a suspicious fire and her own troubled history. "
— Garry Disher, author of Under the Cold Bright Lights and Bitter Wash Road

"With Second Sight, Aoife Clifford confirms herself as one of Australia's up-and-coming crime writers. A young lawyer's investigation into a lethal bushfire leads her into danger, and the truth about her own troubled past. A compelling story about secrets, small town loyalties, and lies."
— Emma Viskic, author of Resurrection Bay and Fire Came Down

"All These Perfect Strangers is a wonderful, gripping and compelling read that lingers long after the book is closed. Aoife Clifford creates a disturbing but compelling cast of characters, leaving the reader constantly guessing what's around the corner, and her cleverly woven plot shines a harsh spotlight on the question of whether the past can ever truly be left behind."
— Jane Harper, New York Times bestselling author of The Dry [Praise for All These Perfect Strangers]
Pegasus Crime, 9781643130767, 272pp.
Publication Date: July 2, 2019
About the Author
Aoife Clifford is the author of All These Perfect Strangers, which was long-listed for both the Australian Industry General Fiction Book of the Year and the Voss Literary Prize. Born in London of Irish parents, she grew up in New South Wales and now lives in Melbourne. Clifford has won two premier short story prizes for crime fiction in Australia, the Scarlet Stiletto and the S.D. Harvey Ned Kelly Award, among other prizes. She has also been shortlisted for the UK Crime Association's Debut Dagger.
or
Not Currently Available for Direct Purchase