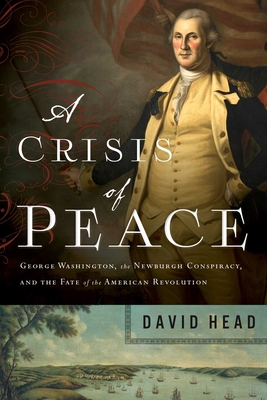 A Crisis of Peace (Hardcover)
George Washington, the Newburgh Conspiracy, and the Fate of the American Revolution
Pegasus Books, 9781643130811, 400pp.
Publication Date: December 3, 2019
Other Editions of This Title:
Compact Disc (3/3/2020)
Paperback (12/8/2020)
MP3 CD (3/3/2020)
* Individual store prices may vary.
Description
The dramatic story of George Washington's first crisis of the fledgling republic.

On March 15, 1783, General George Washington addressed a group of angry officers in an effort to rescue the American Revolution from mutiny at the highest level.

After the British surrender at Yorktown, the Revolution blazed on, and as peace was negotiated in Europe, grave problems surfaced at home. The government was broke, paying its debts with loans from France. Political rivalry among the states paralyzed Congress. The army's officers, encamped near Newburgh, NY, and restless without an enemy to fight, brooded over a civilian population seemingly indifferent to their sacrifices.

The result was the Newburgh Affair, a mysterious event in which Continental Army officers, disgruntled by a lack of pay and pensions, may have collaborated with nationalist-minded politicians such as Alexander Hamilton, James Madison, and Robert Morris to pressure Congress and the states to approve new taxes and strengthen the central government.

A Crisis of Peace provides a fresh look at the end of the American Revolution while speaking to issues that concern us still: the fragility of civil-military relations, how even victorious wars end ambiguously, and what veterans and civilians owe each other.
About the Author
A history professor at the University of Central Florida in Orlando, David Head's research has been supported by the National Endowment for the Humanities and by George Washington's Mt. Vernon. His prior academic books benefited from an Andrew W. Mellon Foundation Fellowship at the Library Company of Philadelphia and the Historical Society of Pennsylvania, a Gilder Lehrman Fellowship at the New-York Historical Society, and a Lord Baltimore Fellowship at the Maryland Historical Society. Head's previous work in the academic community has been honored with several awards and prizes, including Mystic Seaport Museum's John Gardner Maritime Research Award and the Society for Historians of the Early American Republic's Ralph D. Gray Article Prize.
Praise For A Crisis of Peace: George Washington, the Newburgh Conspiracy, and the Fate of the American Revolution…
This accessible history illuminates an obscure but significant chapter in American history.
— Publishers Weekly

"Head provides an authoritative, well-researched account of George Washington's role in resolving this near-crisis."
— Library Journal

"Meticulous and balanced, A Crisis of Peace lays out the vitally important circumstances that led to a critical moment in our nation's history and Washington's indispensable role in preserving the peace."
— Shelf Awareness

"This work is written in a flowing and engaging style that is accessible and yet maintains rigorous standards for scholarship. Head writes with a sense of humor that is sure to bring some extra delight to readers. For anyone interested in the end of the war and the social, political, and economic factors of the time, this book is a must read."
— Journal of the American Revolution

"Vividly written. Captures the perilous period when Washington's fundamental decency meant more to the nation than more glorious qualities might have."
— David O. Stewart, bestselling author of The Summer of 1787

"A superb historian who writes in beautiful detail about the heat of political competition. With a rich cast of characters, this book delivers a keen chronicle of a much-vaunted 'conspiracy.'"
— Andrew Burstein, Charles P. Manship Professor of History, Louisiana State University

"David Head tells the story masterfully with new details and expert drama, putting the crisis in both a contemporary context and showing its relevance for all ages."
— Douglas Bradburn, President and CEO, George Washington's Mount Vernon

"A thoroughly original take on one of the most critical moments in history that would determine no less than the success or failure of the American Revolution."
— Craig Bruce Smith, author of American Honor: The Creation of the Nation's Ideals during the Revolutionary Era

"A masterful job telling the story of how the American Revolution ended. Thoroughly researched and superbly written, keeping the reader engaged until the end. A must have book."
— Brian Mack, The Fort Plain Museum, Fort Plain, NY

"With an energetic pen and a are for a good phrase, David Head recounts in intimate detail one of the United States' most perilous moments."
— Philip Levy, author of Where The Cherry Tree Grew: The Story of Ferry Farm, George Washington's Boyhood Home