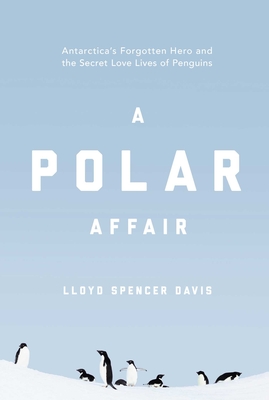 A Polar Affair
Antarctica's Forgotten Hero and the Secret Love Lives of Penguins
Hardcover

* Individual store prices may vary.
Other Editions of This Title:
Digital Audiobook (5/18/2020)
Compact Disc (5/19/2020)
Paperback (10/13/2020)
MP3 CD (5/19/2020)
Description
A captivating blend of true adventure and natural history by one of today's leading penguin experts and Antarctic explorers.

George Murray Levick was the physician on Robert Falcon Scott's tragic Antarctic expedition of 1910. Marooned for an Antarctic winter, Levick passed the time by becoming the first man to study penguins up close. His findings were so shocking to Victorian morals that they were quickly suppressed and seemingly lost to history.

A century later, Lloyd Spencer Davis rediscovers Levick and his findings during the course of his own scientific adventures in Antarctica. Levick's long-suppressed manuscript reveals not only an incredible survival story, but one that will change our understanding of an entire species.

A Polar Affair reveals the last untold tale from the Heroic Age of Antarctic Exploration. It is perhaps the greatest of all of those stories—but why was it hidden to begin with? The ever-fascinating and charming penguin holds the key. Moving deftly between both Levick's and Davis's explorations, observations, and comparisons in biology over the course of a century, A Polar Affair reveals cutting-edge findings about ornithology, in which the sex lives of penguins are the jumping-off point for major new insights into the underpinnings of evolutionary biology itself.
Praise For A Polar Affair: Antarctica's Forgotten Hero and the Secret Love Lives of Penguins…
"Davis combines history and science seamlessly in this enthralling look at pioneering scientist George Murray Levick and his discoveries about the diversity of animal sexuality. Davis injects his own research findings into the narrative, producing a biography/popular science book that will appeal equally to polar expedition buffs and zoology enthusiasts."
— Kirkus Reviews

"Fascinating. How does Levick's work alter our canonical stories of polar exploration? And are penguins really so different from human beings? Insightful and bawdy. Davis offers an absorbing history of his own Antarctic fieldwork and a glimpse into the private lives of Levick and several important polar explorers of the era. A timely illumination of a mysterious and vital ecosystem."
— The New York Times Book Review

"Davis serves it all up with wit and a wry, irrepressible sense of humor, while imparting everything there is to know about penguins."
— BookPage (starred)

"In A Polar Affair, an interesting blend of polar history and natural history, a penguin biologist weaves his own story with that of George Murray Levick, Capt. Robert Falcon Scott's top penguin man. In these pages, one sees human knowledge inching forward. Gripping. The reader marvels at what the human spirit can endure."
— Wall Street Journal

"Striking and audacious."
— The Globe and Mail (Praise for Lloyd Spencer Davis)

"An engaging detective story, Davis' search for the truth also enfolds the social history of the Victorian era, changing theories in the fields of evolution and animal behavior, the human side of scientific research, and tales of Antarctica."
— Booklist

"Victorian morals, the sex lives of penguins and Antarctic exploration combine in this unusual natural history and travelogue."
— Shelf Awareness

"A gonzo-journalistic retelling of the Antarctic expeditions of the early twentieth century. The climax of what might otherwise have been routine field work is a harrowing trek…intercut with evolutionary insights Davis gleaned from his own observations. A welcome look behind the scenes, representing Levick as a brilliant explorer and a keen observer of nature."
— Natural History Magazine

"A rip-roaring read on research at the edge."
— Nature

"An expansive and entertaining historical tour through events of the great age of polar exploration, this work successfully unites the quest for scientific knowledge with personal curiosity. Davis does not disappoint. Thoroughly researched and replete with many splendid photographs, this is an engaging work of unusual merit. Enthralling."
— Choice
Pegasus Books, 9781643131252, 392pp.
Publication Date: September 24, 2019
About the Author
Lloyd Spencer Davis received the PEN (NZ) Best First Book Award for Nonfiction for Penguin: A Season in the Life of the Adelie Penguin. He is the author of Looking For Darwin, which won the CLL Writer's Award, New Zealand's most significant nonfiction award. Lloyd has been a recipient of a Fulbright Fellowship, an Anzac Fellowship, and a Prince and Princess of Wales Science Award.
or
Not Currently Available for Direct Purchase