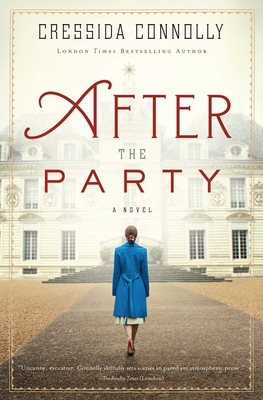 After the Party
A Novel
Hardcover

* Individual store prices may vary.
Description
A captivating novel of manners that tells the story of a dark and disturbing period of British history, by a master storyteller.

It is the summer of 1938 and Phyllis Forrester has returned to England after years abroad. Moving into her sister's grand country house, she soon finds herself entangled in a new world of idealistic beliefs and seemingly innocent friendships. Fevered talk of another war infiltrates their small, privileged circle, giving way to a thrilling solution: the appointment of a great and charismatic new leader who will restore England to its former glory.

At a party hosted by her new friends, Phyllis lets down her guard for a single moment, with devastating consequences. Years later, Phyllis, alone and embittered, recounts the dramatic events which led to her imprisonment and changed the course of her life forever.

Powerful, poignant, and exquisitely observed, After the Party is an illuminating portrait of a dark period of British history which has yet to be fully acknowledged.
Praise For After the Party: A Novel…
"Wonderful, tragicomic, beautifully researched."
— Times (London)

"Cressida Connolly's flawless new novel After the Party, for all its darkness, seems suffused with the 'soft, buttery' light of an English summer afternoon. But in June of 1938, infernal shadows lengthen. Ms. Connolly is a master, revealing character while sustaining an effect of lightness and ease. We follow Phyllis through an indolent prewar season beautifully conjured, often in heady, sensual detail. A seed of unease, planted early, grows stealthily. Ms. Connolly is too astute and compassionate a novelist to provide neat conclusions. The novel leaves us with the mysterious sense of having inhabited a time and a life whose emotional gravity holds us still. Here, as in her previous novel, My Former Heart, she gently infiltrates that private realm to reveal those innermost secrets."
— The Wall Street Journal

"Eye-opening. Connolly skillfully chronicles some of the little-known consequences to those opposed to Britain's involvement in WWII, resulting in a vivid, introspective tale."
— Publishers Weekly

"Connolly expertly evokes a changing nation, and a woman whose life is altered forever."
— Vogue UK

"A wonderfully subtle and interesting account of the Mosley women, with a compelling voice."
— Linda Grant, Booker Prize nominated author of 'The Clothes on Their Backs'

"Connolly's novel achieves the rare feat of at once summoning that foreign country, the past, then returning us, uncomfortably, to a contemporary Britain with a burgeoning fatherland complex."
— Will Self

"Profound and moving and completely original, with a storyline that is completely satisfying. It'll be one of those novels that stays in my mind forever. It's a work of art."
— Craig Brown, New York Times bestselling author of 'Ninety-Nine Glimpses of Princess Margaret'
Pegasus Books, 9781643131269, 272pp.
Publication Date: May 7, 2019
About the Author
Cressida Connolly writes for Vogue, the Daily Telegraph, the Spectator, the Guardian, and numerous other journals. She is the author of three books: The Happiest Days, which won the MacMillan/PEN Award; The Rare and the Beautiful; and My Former Heart. Cressida is the daughter of writer Cyril Connolly. She lives in England.
or
Not Currently Available for Direct Purchase