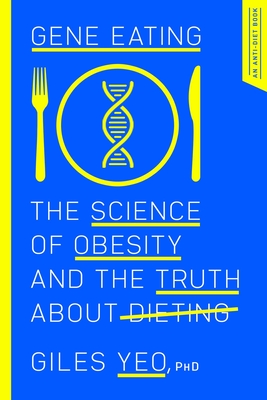 Gene Eating
The Science of Obesity and the Truth About Dieting
Hardcover

* Individual store prices may vary.
Other Editions of This Title:
Compact Disc (6/4/2019)
Paperback (10/13/2020)
MP3 CD (6/4/2019)
Description
An indispensable, groundbreaking look at the way our genetic makeup influences our relationship with food.

In an age of misinformation and pseudo-science, the world is getting fatter and the diet makers are getting richer. So how do we break this cycle that's literally killing us all?

Drawing on the very latest science and his own genetic research at the University of Cambridge, Dr. Giles Yeo has written the seminal "anti-diet" diet book. Exploring the history of our food, debunking marketing nonsense, detoxifying diet advice, and confronting the advocates of clean eating, Giles translates his pioneering research into an engaging, must-read study of the human appetite.

In a post-truth world, Gene Eating cuts straight to the data-driven facts. Only by understanding the physiology of our bodies, their hormonal functions, and their caloric needs can we overcome the mis- information of modern dieting trends, empower ourselves to make better decisions, and achieve healthy relationships with food, our bodies, and our weight.

Inspiring and revelatory, filled with lively anecdotes and fascinating details, Gene Eating is an urgent and essential book that will change the way we eat.
Praise For Gene Eating: The Science of Obesity and the Truth About Dieting…
"Entertaining and fact-filled."
— Booklist

"Perhaps most importantly, Yeo tells readers to view food as something to work with, not to fear. His well-informed survey will leave health-conscious readers both entertained and with plenty of food for thought."
— Publishers Weekly (starred)

"Gene Eating, by Dr. Giles Yeo, is a very enjoyable read by someone who knows what they are writing about. It is rare to find a book, written by a world class scientist, that is both informative and entertaining. Giles not only delves into the science of obesity but, with honesty and great precision, skewers many of the more foolish fad diets out there."
— Michael Mosley, #1 New York Times bestselling author of 'The Fast Diet'

"Giles Yeo makes so much sense, and cuts through the confusion about diet and health with refreshing directness. His excellent book Gene Eating busts myths and homes in on what you really need to know. It's been a genuine help to me and I'm sure it will be to everyone who reads it."
— Hugh Fearnley-Whittingstall

"Dr. Yeo is a leading scientist in the field of obesity and one of our best science communicators. Everyone worried about their weight ought to read this book to digest its message about the importance of genetics."
— Robert Plomin, author of Blueprint: How DNA Makes Us Who We Are
Pegasus Books, 9781643131276, 368pp.
Publication Date: June 4, 2019
About the Author
Giles Yeo, PhD, is a geneticist with over twenty years of experience dedicated to researching obesity and the brain control of food intake. He obtained his PhD from the University of Cambridge and assisted with the pioneering research that uncovered key pathways in how the brain controls food intake. His current research focuses on understanding how these pathways differ from person to person, and the influence of genetics in our relationship with food and eating habits. He is based at the MRC Metabolic Diseases Unit, where he is director of Genomics. Giles also moonlights as science presenter for the BBC. He lives in Cambridge, England.