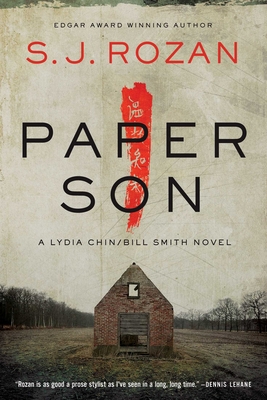 Paper Son
A Lydia Chin/Bill Smith Novel (Lydia Chin/Bill Smith Mysteries)
Hardcover

* Individual store prices may vary.
Other Editions of This Title:
Digital Audiobook (9/30/2019)
Paperback (12/8/2020)
Description
The latest Lydia Chin/Bill Smith mystery takes the acclaimed detective duo into the Deep South to investigate a murder within the Chinese community.

The Most Southern Place on Earth: that's what they call the Mississippi Delta. It's not a place Lydia Chin, an American-born Chinese private detective from Chinatown, NYC, ever thought she'd have reason to go. But when her mother tells her a cousin Lydia didn't know she had is in jail in Clarksdale, Mississippi—and that Lydia has to rush down south and get him out—Lydia finds herself rolling down Highway 61 with Bill Smith, her partner, behind the wheel.

From the river levees to the refinement of Oxford, from old cotton gins to new computer scams, Lydia soon finds that nothing in Mississippi is as she expected it to be. Including her cousin's legal troubles—or possibly even his innocence. Can she uncover the truth in a place more foreign to her than any she's ever seen?
Praise For Paper Son: A Lydia Chin/Bill Smith Novel (Lydia Chin/Bill Smith Mysteries)…
"Outstanding. Lydia and Bill were last seen in 2011's Ghost Hero, but Rozan's intricate plotting and affinity for characterization is seamless, making the reader remember how much we missed spending time with these private detectives. Rozan uses the historical footnote of Chinese grocers as a springboard for a rich, deeply satisfying mystery."
— Oline Cogdill

"A triumphant return of this sorely missed franchise."
— Kirkus Reviews

"Stellar. As usual, Rozan is adept at devising a plausible but intricate mystery for her leads. She also presents a nuanced look at the experiences of Chinese immigrants in the U.S. Her superior prose and characterizations will make even newcomers hope for a shorter wait for the next book in the series."
— Publishers Weekly (starred)

"Once again, S. J. Rozan proves why she is the consummate pro. Not only is Paper Son one hell of a detective book, the story also takes on a hidden gem of Southern culture—Chinese history in the Mississippi Delta. Rozan continues to entertain with this wonderful series by taking us deep into the most unexpected and fascinating worlds. I have no doubt she's walked these Mississippi backroads."
— Ace Atkins, New York Times bestselling author of 'The Sinners' and 'Robert B. Parker's Old Black Magic'

"P. I. Lydia Chin is taken out of her urban comfort zone in New York's Chinatown when her mother informs her that a distant cousin she's never even heard of has been accused of murder and needs help. The catch? Jefferson Tam is a Mississippi Delta native, a place completely alien to Lydia. Fortunately, Bill Smith, her occasional partner, was raised in the south and tags along to act as her translator and cultural guide. The two are soon entangled in complexities of race, family loyalties, and family history. S.J. Rozan writes with verve and humor while avoiding the usual cliches outsiders often succumb to. She even gets the dialect and speech patterns right!"
— Margaret Maron, awardwinning author of the Deborah Knott and Sigrid Harald mystery series

"Rozan's detective stories have won every prize in the book, so expect mystery lovers to flock to this one."
— Library Journal

"Rozan's remote Coahoma County is as atmospheric as her New York City, and the Chinese-American traditions of 'paper sons' and their shop-keeping history in the South are craftily revealed in her trademark elegant prose. This new title in an award-winning and critically acclaimed series will be welcomed by fans. And what will they make of the big surprise in the final chapter?"
— Booklist (starred)

"Blood and the blues are cooking down on the Delta in the triumphant return of Lydia Chin and Bill Smith. Rozan's Paper Son is crawfish pie full of surprises served up by this master of the PI genre."
— Reed Farrel Coleman, New York Times bestselling author of 'What You Break'

"Rozan skillfully weaves this history [of paper sons] into her narrative, adding texture and nuance to what is already a cracking good mystery."
— BookPage (starred)

"It's been long since we've entered the world of Lydia Chin and Bill Smith, and Paper Son doesn't disappoint. But instead of the proverbial mean streets of Manhattan, Lydia and her partner find themselves in the Mississippi Delta, seeking the truth behind the homicide arrest of a distant cousin Lydia never knew she had. In the course of investigating this possible crime, Lydia Chin uncovers old crimes and family secrets, and the fascinating, little-known tale of Chinese immigrants moving to the Deep South to start a new life. Filled with twists, turns, and sudden surprises, Paper Son is highly recommended."
— Brendan DuBois, award-winning and New York Times bestselling author

"S. J. Rozan's charming gumshoe duo Lydia Chin and Bill Smith take a detour down south, entering the evocative world of the Chinese in the Mississippi Delta. Through this narrative, we dive into the rich history of paper sons and Chinese immigrants who first moved to the area after the Civil War, opening grocery stores in African-American communities, and how those ancient tangled roots can turn out to have deadly consequences generations later. Old secrets, racial tensions, the ultimate meaning of family—Rozan weaves these threads together in a compelling narrative with her characteristic moxie and humor. Read this now."
— Cheryl Lu-Lien Tan, author of the international bestselling novel 'Sarong Party Girls'

"Welcome back Lydia Chin, Bill Smith, and S. J. Rozan. Let's hope we won't have to wait another eight years for the next book in this consistently outstanding series."
— Deadly Pleasures

"Rozan elegantly weaves the web of old secrets, the complexities of race, family loyalties and family history, ancient tangled roots that can turn out to have deadly consequences generations later, into a dazzling narrative. Paper Son is as compelling as it is entertaining. This is the triumphant return of a consummate pro."
— Open Letters Review

"A strong, interesting read that does a skillful job of crafting a fictional world and illustrating a long-overlooked chapter of Chinese-American history."
— Strand Magazine

"A strong, interesting read that does a skillful job of crafting a fictional world and illustrating a long-overlooked chapter of Chinese-American history."
— Strand Magazine

"An impressively original, exceptionally compelling, deftly crafted, and thoroughly entertaining read from first page to last, Paper Son showcases author S. J. Rozan's literary talents and master of the mystery/suspense genre complete with more unexpected plot twists and turns than a Disneyland roller coaster."
— Midwest Book Review
Pegasus Crime, 9781643131290, 352pp.
Publication Date: July 2, 2019
About the Author
S. J. Rozan has won multiple awards for her fiction, including the Edgar, Shamus, Anthony, Nero, and Macavity, the Japanese Maltese Falcon, and the Private Eye Writers of America Lifetime Achievement Award. S. J. was born and raised in the Bronx and now lives in lower Manhattan.
or
Not Currently Available for Direct Purchase