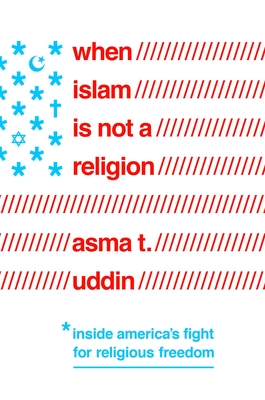 When Islam Is Not a Religion
Inside America's Fight for Religious Freedom
Hardcover

* Individual store prices may vary.
Other Editions of This Title:
Digital Audiobook (12/30/2019)
MP3 CD (12/31/2019)
Paperback (4/6/2021)
Compact Disc (12/31/2019)
Description
A galvanizing look at constitutional freedoms in the United States through the prism of attacks on the rights of American Muslims.

American Muslim religious liberty lawyer Asma Uddin has long considered her work defending people of all faiths to be a calling more than a job. Yet even as she seeks equal protection for Evangelicals, Sikhs, Muslims, Native Americans, Jews, and Catholics alike, she has seen an ominous increase in attempts to criminalize Islam and exclude Muslim Americans from those protections.

Somehow, the view that Muslims aren't human enough for human rights or constitutional protections is moving from the fringe to the mainstream—along with the claim "Islam is not a religion." This conceit is not just a threat to the First Amendment rights of American Muslims. It is a threat to the freedom of all Americans.

Her new book reveals a significant but overlooked danger to our religious liberty. Woven throughout this national saga is Uddin's own story and the stories of American Muslims and other people of faith who have faced tremendous indignities as they attempt to live and worship freely.

Combining her experience of Islam as a religious truth and her legal and philosophical appreciation that all individuals have a right to religious liberty, Uddin examines the shifting tides of American culture and outlines a way forward for individuals and communities navigating today's culture wars.
Praise For When Islam Is Not a Religion: Inside America's Fight for Religious Freedom…
"Asma Uddin, the preeminent defender of religious freedom for American Muslims, has for years been patiently explaining why her faith is no threat to non-Muslims. When Islam Is Not a Religion is an eloquent plea for tolerance, weaving astute legal analysis with a compelling personal story. Prejudice cannot survive her testimony."
— Tom Gjelten, Religion and Belief Correspondent, NPR

"A reasoned yet impassioned argument for religious liberty for all. The author laces her work with personal stories of growing up and living as a Muslim in America, explaining it as a source of empowerment despite the prevalence of bigotry and suspicion from fellow citizens. An intriguing and heartfelt read."
— Kirkus Reviews

"A must read—especially for conservative Christians like me—to better understand the scope and the stakes of the religious liberty debate. I hope it starts a long-overdue conversation among believes. It stands to be a landmark in the religious freedom discussion."
— Rod Dreher, author of the NEW YORK TIMES bestseller THE BENEDICT OPTION

"A reasoned, approachable book. She starts with a masterful takedown of the claim from anti-Islam fearmongers that Islam is not a religion. Uddin's thorough research, formidable intelligence, and eloquent prose are evident throughout. Her cogent arguments will be appreciated by readers willing to listen, as the work provides an accessible introduction to key Islamic concepts alongside a clarion call for the protection of everyone's religious rights. Readers will find much to ponder in Uddin's excellent work."
— Publishers Weekly (starred)

"Uddin pushes back forcefully on anti-Muslim sentiment in this reasoned, approachable book. Uddin's thorough research, formidable intelligence, and eloquent prose are evident throughout, and she persuasively dismantles misconceptions about American Muslims. The work provides an accessible introduction to key Islamic concepts alongside a clarion call for the protection of everyone's religious rights. Readers interested in the current political struggles of Muslim Americans or the legal issues surrounding religious liberties will find much to ponder in Uddin's excellent work."
— Publishers Weekly (starred)

"Asma Uddin has written a terrific book. It is all at once a primer on the very American commitment to religious freedom, a history of the discrimination that Muslims in America have endured since 9/11 and a window into the life of a leading American Muslim intellectual. It is both deeply researched and a joy to read. I give it my highest recommendation."
— Eboo Patel, author of 'Out of Many Faiths: Religious Diversity and the American Promise'

"A bold exploration of Islam's legal place in U.S. society, as well as a deeply personal glimpse into one American family's Muslim faith. Uddin's efforts to counter ignorance with grace and humility are ever-present in this well-researched first book. She presents the reader with thought-provoking examples of religious persecution that ultimately threaten to compromise the religious freedom of all Americans, not just Muslims."
— Shelf Awareness

"I have been waiting for this book a long time. It is written by a young American scholar and lawyer who has fought for religious liberty for all, who also just happens to practice Islam. This is a must read for anyone who wants to understand religious freedom and how it relates to American Muslims. This could be the most important book written so far on the challenges Islam faces in the United States. You don't have to agree with everything but you should respect the thought process and the person writing it."
— Bob Roberts, Jr., Founding Pastor, Northwood Church, Founder of Glocal.net, and author of BOLD AS LOVE

"A powerful book examining how modern discourse has tried to put Islam and Muslims into a small box of political identity. As Asma Uddin demonstrates, Islam is a vast corpus of ideas and Muslims incredibly diverse in the way they approach their faith. This book is a necessity at a time when American society is deeply divided. Perhaps in learning to recognize and appreciate the diversity within Islam, we can learn to transcend the differences we have with each other."
— Kamran Pasha, author of 'Mother of the Believers and Shadow of the Swords'

"A stirring defense of religious freedom, which, try as we might, is inseparable from human freedom. As Uddin writes: 'It's not our beliefs that religious liberty protects—it protects us, the humans who hold those beliefs. Put another way, religious liberty protects believers, not beliefs.'"
— Washington Post

"Brilliantly paced and rigorously detailed. This book will resonate and be in demand by those seeking to understand the erosion of religious freedom in America."
— Library Journal (starred)

"The freedom to practice and cultivate one's faith is the bedrock of America's founding principles. People have come to our country to escape religious persecution, but there has been a rising tide of discrimination right here at home. Ms. Uddin is a leader for religious freedom and calls our attention to the challenges facing First Amendment rights in the post-9/11 world."
— Senator Orrin G. Hatch, former President pro tempore of the United States Senate

"Uddin details the evolution over recent years of the shocking slander that one of the world's three Abrahamic faiths, is not a religion; and therefore that its American adherents are not entitled to the protections enjoyed by citizens of all other faiths under the US Constitution. Drawing on her extensive career as a lawyer in religious freedom cases she examines the current landscape of the law. Even more, she describes the effect of bigotry and otherization on the human heart, calling on her experience as listener, feminist, mother and daughter."
— Meryl Chertoff, Executive Director of The Aspen Institute's Justice and Society Program

"A compelling examination of the nation's ongoing efforts to balance religious freedom with civil liberties – and where, in the 21st century, those efforts are falling short, particularly for Muslims but also for other non-majority communities. Uddin avoids heated rhetoric in favor of an insightful examination of modern-day Islam in the U.S. and worldwide, and argues persuasively that the United States' commitment to religious liberty must not be derailed by animus toward those who distort Islam and use it as a mechanism of intolerance, political terrorism and violence. If you want to think seriously about the future of freedom of religion, this is a must-read."
— Gene Policinski, a founding editor of USA Today and COO of the Freedom Forum Institute

"In the age of Donald Trump, American Muslims face a graver threat to their religious freedom than any other group. Everyone who cares about American freedom should grasp the danger and rally to their cause. In her remarkable book, Asma Uddin explains how."
— Peter Beinart, Professor of Journalism and Political Science, City University of New York, contributor to 'The Atlantic' and CNN

"Asma Uddin's book explores a critical and unknown dimension of Islamophobia—the false claim that Islam is not a religion—as well as the danger of this claim to American religious freedom as we know it. It is required reading for anyone who cares about the future and health of our democracy."
— Dalia Mogahed, coauthor of 'Who Speaks for Islam? What a Billion' Muslims Really Think
Pegasus Books, 9781643131313, 336pp.
Publication Date: July 9, 2019
About the Author
Asma T. Uddin is a religious liberty lawyer who has worked on cases at the U.S. Supreme Court, federal appellate courts, and federal trial courts. She is the founding editor-in-chief of altmuslimah.com and was an executive producer for the Emmy and Peabody-nominated docu-series, The Secret Life of Muslims. She has written for the New York Times, the Washington Post, and Teen Vogue. Asma lives in Washington, DC.
or
Not Currently Available for Direct Purchase