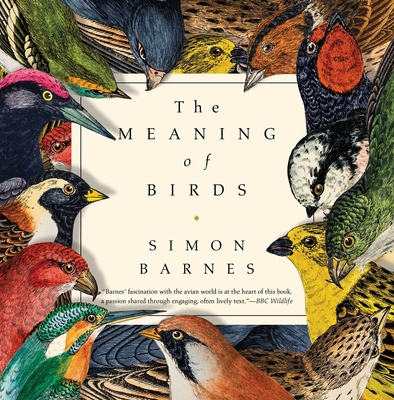 The Meaning of Birds (Paperback)
Pegasus Books, 9781643131399, 336pp.
Publication Date: May 14, 2019
Other Editions of This Title:
Hardcover (1/2/2018)
* Individual store prices may vary.
Description
One of our most eloquent nature writers offers a passionate and informative celebration of birds and their ability to help us understand the world we live in. As well as exploring how birds achieve the miracle of flight; why birds sing; what they tell us about the seasons of the year and what their presence tells us about the places they inhabit, The Meaning of Birds muses on the uses of feathers, the drama of raptors, the slaughter of pheasants, the infidelities of geese, and the strangeness of feeling sentimental about blue tits while enjoying a chicken sandwich.From the mocking-birds of the Galapagos who guided Charles Darwin toward his evolutionary theory, to the changing patterns of migration that alert us to the reality of contemporary climate change, Simon Barnes explores both the intrinsic wonder of what it is to be a bird—and the myriad ways in which birds can help us understand the meaning of life.
About the Author
Simon Barnes is a multi-award-winning former writer for The Times (London). He is also a novelist, nature writer and horseman, and the author of over twenty books, including the bestselling How to be a Bad Birdwatcher.
Praise For The Meaning of Birds…
Passionate, inviting, even lyrical. Barnes provides a companionable view of why we love birds, their lives, and futures.

Barnes infuses this playful, conversational exploration of the relationship of birds to humanity with a sense of well-informed wonder. He demonstrates patient attention to the world around him, combining thoughtful scholarship with a skill for conveying particulars in accessible language. A generous volume.

Glowing praise for birds from the prolific nature writer and novelist, who is filled with great affection and admiration for our feathered friends. The core message of this delightful book will appeal to birders everywhere.

A celebration, an exploration, and an exhibition. A cornucopia of facts, ruminations and appreciations—beautifully illustrated with multiple line drawings—The Meaning of Birds educates, entertains, and sends hearts soaring as Barnes shares his knowledge of and devotion to his subject, his eloquence and his wisdom.


Barnes' fascinating with the avian world is at the heart of this book, a passion shared through engaging, often lively and always conversational text. 

[Barnes's] premise is that people need birds, and if we pay attention to them, they can help us understand the world we share. Illustrated with stunning black-and-white illustrations.

A wise and witty celebration of birds.

An eclectic and often witty volume that aims to show how birds live their lives and in doing so, how they've touched on ours.

A celebration of birds and how they help us understand the world we live in. 

Barnes explores our fascination with birds and the importance they have played in our understanding of the world, from Darwin's finches to the intercontinental migration of birds.