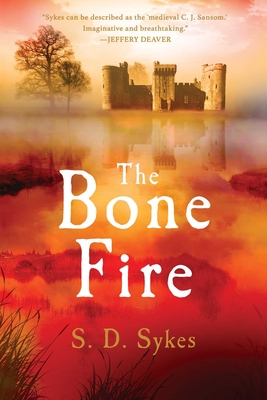 The Bone Fire
A Somershill Manor Mystery (Somershill Manor Mysteries)
Hardcover

* Individual store prices may vary.
Description
In the new Somershill Manor Mystery, Oswald de Lacy brings his family to a secluded island castle to escape the Black Death, but soon a murder within the household proves that even the strongest fortresses aren't free from terror in fourteenth-century England.



When the Black Death reappears in England in 1361, Oswald de Lacy knows that the safest place for his wife and young son is the island-fortress of Eden, where his eccentrically pious friend Godfrey has invited the family to stay to wait out the plague during the long, dark winter. But Oswald has barely had time to settle in when a brutal murder shocks the household and it soon becomes clear that the castle is not the stronghold of security that he was so desperately looking for.

Oswald knows the castle isn't safe, but escaping to the plague-infested countryside outside its walls is not an option. His only hope is to solve the mystery of the murder before the killer strikes again. With a cast of characters like something out of Chaucer—a lord and lady, a knight, a religious radical, a court jester, a drunk, and a couple of traveling craftsmen are just some of the suspects Oswald must reckon with—and the all-consuming threat of the plague hovering just outside the castle walls, the newest novel in the Somershill Manor Mysteries is the most brilliant and frightening yet.
Praise For The Bone Fire: A Somershill Manor Mystery (Somershill Manor Mysteries)…
"Sykes can be described as the 'medieval C. J. Sansom.' Off-the-charts imaginative and breathtaking."
— New York Times bestselling author Jeffery Deaver

"It's no fun reading a medieval mystery if it isn't steeped in filth, squalor and pestilence. S. D. Sykes gets right to the point, which serves it all up in vivid detail, from the noxious smells to an actual burial pit, heaped with the putrefying bodies of plague victims. A clever plot."
— Marilyn Stasio, New York Times Book Review [Praise for the Somershill Manor Mysteries]

"Sykes' fourth is anchored in a grimly evocative first-person narrative reminiscent of Poe."
— Kirkus Reviews

"Deft characterization introduces new readers to the members of the de Lacy family without slowing the pace with excessive explanation of previous events. This claustrophobic mystery full of medieval atmosphere will be as engrossing as an entry point to the series as it will be to returning fans."
— Shelf Awareness

"Ms. Sykes does a skillful job of making her forward-thinking but all-too-human protagonist both believable and likeable, and in bringing to life an epoch when 'science' was often as dangerous as superstition."
— Wall Street Journal [Praise for the Somershill Manor Mysteries]

"A brilliant conceived and deftly scripted medieval mystery of the first order, The Bone Fire by S. D. Sykes is an inherently fascinating and compulsive page turner of a read from cover to cover."
— Midwest Book Review

"Sykes's gamble in putting Oswald in unfamiliar terrain pays off, as she again blends a detailed immersion in the time period with a clever mystery plot line."
— Publishers Weekly (starred) [Praise for the Somershill Manor Mysteries]

"We are plunged into Sykes' rich soup of Venetian intrigue; period detail; and increasingly intricate plotting, all with the deeply realized character of Lord Somershill fighting his own demons while investigating. A brilliant addition to the Somershill Manor Novels."
— Booklist (starred) [Praise for the Somershill Manor Mysteries]

"With political intrigue and the social barriers of the Middle Ages in play, Sykes adds an intricate and intriguing debut to the ever-widening pool of medieval-era mysteries. Thrilling plot twists and layered characters abound in this rich tale of murder and mystery in 14th-century Kent."
— Library Journal [Praise for the Somershill Manor Mysteries]

"A classic and confounding locked-room mystery, with several promising suspects to choose from before the big reveal."
— BookPage

"Oswald is an interesting sleuth; quite modern in some of his views … The plot moves along at a swift pace. The setting is suitably gloomy and claustrophobic, and a clever ending ties everything together. Historical mystery fans should enjoy this trip to the Middle Ages."
— Historical Novels Review
Pegasus Crime, 9781643131979, 320pp.
Publication Date: September 3, 2019
About the Author
S. D. Sykes received an MA in Writing from Sheffield Hallam in England and is the author of Plague Land, The Butcher Bird, and City of Masks, all available from Pegasus Crime. She lives in England.


or
Not Currently Available for Direct Purchase