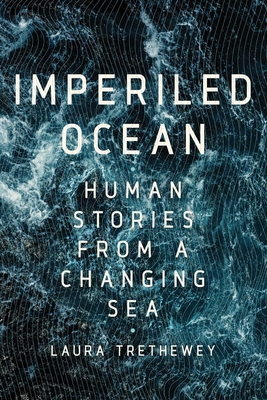 Imperiled Ocean
Human Stories from a Changing Sea
Hardcover

* Individual store prices may vary.
Other Editions of This Title:
MP3 CD (2/11/2020)
Compact Disc (2/11/2020)
Description
An exploration of the earth's last wild frontier, filled with high-stakes stories that explores a vast territory undergoing tremendous change and the people and places facing an uncertain future.

On a life raft in the Mediterranean, a teenager from Ghana wonders whether he will reach Europe alive. A young chef disappears from a cruise ship, leaving a mystery for his friends and family to solve. A water-squatting community battles eviction from a harbor in a Pacific Northwest town, raising the question of who owns the water.

Imperiled Ocean is a deeply reported work of narrative journalism that follows people as they head out to sea. What they discover holds inspiring and dire implications for the life of the ocean, and for all of us back on land.

As Imperiled Ocean unfolds, battles are fought, fortunes made, and lives are lost. Behind this human drama, the ocean is growing ever more unstable, threatening to upend life on land. We meet a biologist tracking sturgeon who is unable to stop the development and pollution destroying the fish's habitat, he races to learn about the fish before it disappears. Sturgeon has survived more than 300 million years on earth and could hold important truths about how humanity might make itself amenable to a changing ocean. As a fisher and scientist, his ability to listen to the water becomes a parable for today. By eavesdropping on an imperiled world, he shows a way we can move forward to save the oceans we all share.
Praise For Imperiled Ocean: Human Stories from a Changing Sea…
"Drawing on Nancy Mitford's own poignant childhood memories from her exuberant novel The Pursuit of Love, Laura Thompson vividly evokes the swarm of brilliant and beautiful sisters, and their lone brother, growing up carefree in a succession of country houses in Gloucestershire and Oxfordshire."
— New York Times Book Review

"Three million US citizens work on the ocean — in fishing, oil and gas, tourism and other industries and services. The global figure is three billion. Journalist Laura Trethewey set out in 2015 on 'an extended listening tour' to hear some of their stories... The vivid result—her debut—persuades us that 'the ocean's story is also our own.'"
— Nature Magazine

"Laura Trethewey's The Imperiled Ocean . . . flourishes. The most frightening of these chapters is an account of the author's volunteer work for Ocean Legacy, in cleaning waste plastic from a remote British Columbia shoreline. There, in a lush wetland, "nature's cathedral," Ms. Trethewey finds that "plastic carpeted the ground. Plastic bottles, plastic buoys, Styrofoam everywhere, like someone had Photoshopped a garbage dump onto the forest." Ms. Tretheway writes that, "The most common motivation for going to sea, unsurprisingly, was money." Indeed, for reasons of money, migrants die, cruise ships steer around the law, and plastic is made, sold and discarded much faster than it can be collected and disposed of. We're enriching ourselves—some of us—into the sort of madness where our id boils up and consumes us."
— Richard Adams Carey

"The Imperiled Ocean will appeal to both seafaring types and broader audiences looking for personal stories about universal human experiences."
— Physics Today
Pegasus Books, 9781643131986, 304pp.
Publication Date: November 12, 2019
About the Author
Laura Trethewey is an ocean journalist and the senior writer and editor at Ocean.org, a multi-media story-telling site run by the Vancouver Aquarium. She has been published in Smithsonian Magazine, Courier International, The Walrus, The Globe and Mail, Hakai Magazine, and Canadian Geographic. She lives in Vancouver and this is her first book.