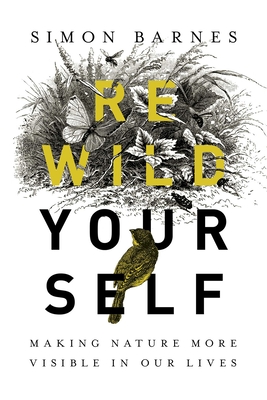 Rewild Yourself
Making Nature More Visible in our Lives
Hardcover

* Individual store prices may vary.
Description
For those readers who want to get closer to the nature all around them and bring it back into focus within their lives, this book is the ideal companion.

We're not just losing the wild world. We're forgetting it. We're no longer noticing it. We've lost the habit of looking and seeing and listening and hearing.

But we can make hidden things visible, and this book features numerous spellbinding ways to bring the magic of nature much closer to home.

Mammals you never knew existed will enter your world. Birds hidden in treetops will shed their cloak of anonymity. With a single movement of your hand you can make reptiles appear before you. Butterflies you never saw before will bring joy to every sunny day. Creatures of the darkness will enter your consciousness. And as you take on new techniques and a little new equipment, you will discover new creatures and, with them, new areas of yourself that had gone dormant. Once put to use, they wake up and start working again. You become wilder in your mind and in your heart. Once you know the tricks, the wild world begins to appear before you.
Praise For Rewild Yourself: Making Nature More Visible in our Lives…
"Barnes reminds readers to take time out to pay full attention to their natural surroundings in this earnest and accessible how-to guide. Barnes offers sound advice and educational information. Informative and useful, his manual should prove a valuable resource for any novice nature-philes interested in reveling in the 'wildness in us all.'"
— Publishers Weekly

"Passionate, inviting, even lyrical. Barnes provides a companionable view of why we love birds, their lives, and futures." [praise for The Meaning of Birds]
— New York Times Book Review [praise for The Meaning of Birds]

"This fanciful yet grounded book is Barnes's clarion call for rediscovering the wild world of nature through simple actions and a reframed perspective. The short chapters and approachable tone should appeal to any nature lover, but especially for the budding naturalist."
— Booklist

"Barnes infuses this playful, conversational exploration of the relationship of birds to humanity with a sense of well-informed wonder. He demonstrates patient attention to the world around him, combining thoughtful scholarship with a skill for conveying particulars in accessible language. A generous volume." [praise for The Meaning of Birds]
— Publishers Weekly (starred) [praise for The Meaning of Birds]

"A celebration, an exploration, and an exhibition. Educates, entertains, and sends hearts soaring as Barnes shares his knowledge of and devotion to his subject, his eloquence and his wisdom." [praise for The Meaning of Birds]
— The Richmond Times-Dispatch [praise for The Meaning of Birds]

"[Barnes's] premise is that people need birds, and if we pay attention to them, they can help us understand the world we share." [praise for The Meaning of Birds]
— Birdwatching [praise for The Meaning of Birds]

"Barnes explores our fascination with birds and the importance they have played in our understanding of the world, from Darwin's finches to the intercontinental migration of birds." [praise for The Meaning of Birds]
— Book Riot [praise for The Meaning of Birds]

"Glowing praise for birds from the prolific nature writer and novelist, who is filled with great affection and admiration for our feathered friends. The core message of this delightful book will appeal to birders everywhere." [praise for The Meaning of Birds]
— Kirkus Reviews [praise for The Meaning of Birds]
Pegasus Books, 9781643132167, 208pp.
Publication Date: October 1, 2019
About the Author
Simon Barnes is a multi-award-winning former writer for The Times (London). He is also a novelist, nature writer and horseman, and the author of over twenty books, including the bestselling How to be a Bad Birdwatcher.