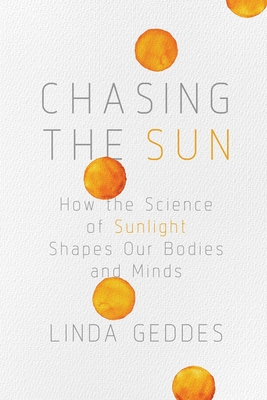 Chasing the Sun
How the Science of Sunlight Shapes Our Bodies and Minds
Hardcover

* Individual store prices may vary.
Other Editions of This Title:
Digital Audiobook (5/22/2019)
Digital Audiobook (12/16/2019)
MP3 CD (12/17/2019)
Compact Disc (12/17/2019)
Description
A fascinating look at how humans' relationship with the sun continues to shape our bodies, attitudes, and societies.

Our biology is set up to work in partnership with the sun. Little wonder then that humans have long worshipped and revered our nearest star: life itself arose on earth because its relationship with the sun was a special one, and that relationship still affects us well into the era of electric lighting, indoor workdays, and vitamin D supplements.

What we are losing when we sever this ancient biological tie to the sun by spending more and more time inside during the day and surrounded by screens at night? Informed by cutting-edge scientific research and sparkling with memorable characters — from the modern druids who worship at Stonehenge each solstice to the Amish farmers who may have the right idea about healthy sleep patterns — Linda Geddes's Chasing the Sun analyzes all aspects of our relationship to the sun, which continues to shape our bodies and minds in the twenty-first century.

The fascinating stories, innovative science, and unique perspectives in this book make it clear that the ancients were right to put the sun at the center of our world, and it is crucial that we remember this bond as we shape our lives today.
Praise For Chasing the Sun: How the Science of Sunlight Shapes Our Bodies and Minds…
"Linda Geddes shows in her illuminating "Chasing the Sun: How the Science of Sunlight Shapes Our Bodies and Minds," our nearest star still dominates our lives in all sorts of unexpected ways. Ms. Geddes also makes a compelling case that not getting enough sunlight is worse than getting too much."
— Wall Street Journal

"An engaging and informative reminder of the sun's centrality to human evolution, biology, and daily life."
— Booklist

"Geddes comprehensively and comprehensibly looks at how sunlight and darkness influence human health. This clearly written book will leave readers better informed and, hopefully, better rested."
— Publishers Weekly

"A sparkling story about how we can forge a healthier relationship with light."
— Kirkus Reviews

"A sparkling and illuminating study, one of those rare books that could genuinely improve your life."
— The Sunday Times (London)

"Readable and frequently fascinating. Geddes's lovely book will fill you with longing for bright summer days, blue skies, and a baking hot sun dispensing vitamin D and happiness to all who bask in its glow."
— The Times (London)

"Dazzling. Geddes is at her best when explaining complexities in accessible terms."
— New Scientist

Geddes's reflections help bring a sense of wonder to this fact-filled book.
— The Guardian

A fascinating and deeply researched study into the surprising importance of sunlight for our health and well-being. Geddes will convince even the most committed sofa sloths to step outside into the sun.
— Gaia Vince, author of Adventures in the Anthropocene
Pegasus Books, 9781643132174, 256pp.
Publication Date: October 1, 2019
About the Author
Linda Geddes is a science journalist who specializes in biology, medicine, and technology. She is the author of one previous book, Bumpology, has worked as both an editor and reporter for New Scientist magazine, and has received numerous awards for her journalism, including the Association of British Science Writers' award for Best Investigative Journalism. She lives in England.