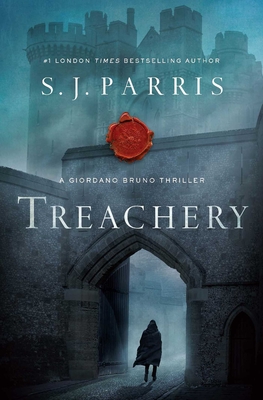 Treachery (Hardcover)
A Novel (Giordano Bruno Thriller)
Pegasus Books, 9781643132242, 592pp.
Publication Date: December 3, 2019
* Individual store prices may vary.
Description
The new historical thriller featuring Giordano Bruno, heretic, philosopher, and spy, perfect for fans of C. J. Sansom and The Name of the Rose.
August, 1585. A relentless enemy. A treacherous conspiracy. Elizabethan England is on the brink of war. 
Sir Francis Drake is preparing to launch a daring expedition against the Spanish when a murder aboard his ship changes everything.
Giordano Bruno agrees to hunt the killer down, only to find that more than one deadly plot is brewing in Plymouth's murky underworld. And as he tracks a murderer through its dangerous streets, he uncovers a conspiracy that threatens the future of England itself.
About the Author
S. J. Parris is the pseudonym of Stephanie Merritt. Since graduating from Cambridge, she has worked as a critic for a variety of newspapers and magazines as well as for radio and television. She currently writes for the Guardian in London and is the author of five novels in the Giordano Bruno mystery series. Visit S.J. Parris at www.sjparris.com.
Praise For Treachery: A Novel (Giordano Bruno Thriller)…
Excellent. This is historical mystery fiction at its finest.

A masterful work that deserves a place on all public-library historical-fiction shelves, and that should be recommended to Phillipa Gregory fans.

Hugely enjoyable. It's played straight, but never humourlessly so, and there's just enough 'proper' history amid the intrigue to keep purists on side.

One of my favorite authors, and she is unquestionably our greatest living writer of historical thrillers. Few novelists inhabit a setting—any setting—with such confidence and command; fewer still devise plots of such cunning and craft. If Hilary Mantel, John Le Carré, and Michael Connelly were to join forces, they might gift us with a novel as atmospheric, intelligent, and addictive as Treachery—or indeed any of Parris's books featuring monk-turned-spy Giordano Bruno.

— A. J. Finn, #1 New York Times bestselling author of The Woman in the Window

Vivid characterizations, careful description, and lively dialogue.

An evil bookseller and a terrifying brothel lie ahead; what's not to like? Gripping and fun.

With its twisting plot and vivid scene-setting, Treachery confirms Parris's growing reputation as a writer of historical thrillers.


Parris's Giordano Bruno series has been a joy. Her Elizabethan England is loud, pungent, and blessedly free of some of the genre's more egregious clichés. She wears her research lightly: at home with the detail of the period, she is quite happy to engage in a little creative anachronism to bring the story home.

There are echoes of C. J. Sansom's here. Her prose is taut and compelling. Her wielding of the historical material is always convincing but never overwhelming.