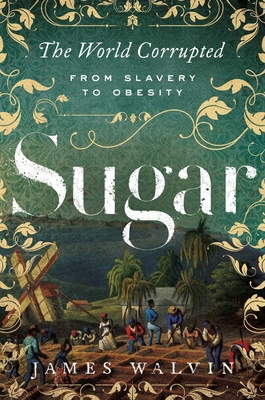 Sugar (Paperback)
Pegasus Books, 9781643132303, 352pp.
Publication Date: September 10, 2019
Other Editions of This Title:
Hardcover (4/3/2018)
* Individual store prices may vary.
Description
How did sugar grow from prize to pariah? Acclaimed historian James Walvin looks at the history of our collective sweet tooth, beginning with the sugar grown by enslaved people who had been uprooted and shipped vast distances to undertake the grueling labor on plantations. The combination of sugar and slavery would transform the tastes of the Western world. Prior to 1600, sugar was a costly luxury, the domain of the rich. But with the rise of the sugar colonies in the New World over the following century, sugar became cheap, ubiquitous, and an everyday necessity. Less than fifty years ago, few people suggested that sugar posed a global health problem. And yet today, sugar is regularly denounced as a dangerous addiction, on a par with tobacco. Masterfully insightful and probing, James Walvin reveals the relationship between society and sweetness over the past two centuries— and how it explains our conflicted relationship with sugar today.
About the Author
James Walvin is the author of several books on slavery and modern social history. including Crossings and A Jamaican Plantation. He is a Fellow of the Royal Society of Literature and in 2008 he was awarded an OBE for services to scholarship. He lives in England.
Praise For Sugar…
A roller-coaster ride through 500 years of history. Sugar is an entertaining, informative and utterly depressing global history of an important commodity. By alerting readers to the ways that modernity's very origins are entangled with a seemingly benign and delicious substance, Sugar raises fundamental questions about our world.


Walvin's tone is brisk and informative, particularly in chapters on the gradual intertwining of sugar and sociability.

Walvin provides a concise and engaging overview of the history of sugar, exploring its societal and environmental impact from its presence in the human diet dating back millennia to its substantial role in the global obesity crisis.

This thoroughly researched exploration of a cherished commodity begins with sugar's roots in the Middle East and chronicles its dissemination via trade and colonialism. Walvin's expertise shines in his handling of the sugar economy.

There's something crazy about the modern relationship with sugar. We demonize it, and yet we can't seem to stop gorging on it. Few plants can have caused more human misery than sugar cane, first through slavery and now through obesity, tooth decay and Type 2 diabetes. Yet when we see something sugary—a ball of cotton candy, some salted-caramel ice cream, a chocolate fudge cake—most of us still react only with joy, as if greeting a dear old friend. Despite everything we now know about the harm caused by sugar—and other modern sweeteners, such as high-fructose corn syrup—it never stops being sweet. A brilliant and thought-provoking history of sugar and its ironies. Mr. Walvin writes with fresh and righteous shock.

Shocking and revelatory.  No other product has so changed the world, and no other book reveals the scale of its impact.
— David Olusoga, author of The Kaiser's Holocaust and host of the BBC's "Civilization"
or
Not Currently Available for Direct Purchase