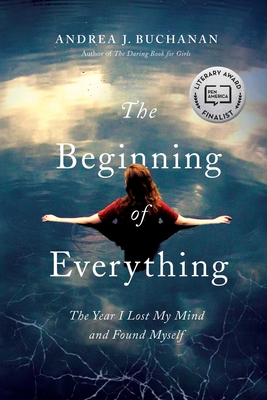 The Beginning of Everything
Paperback

* Individual store prices may vary.
Other Editions of This Title:
Digital Audiobook (5/6/2019)
Hardcover (4/3/2018)
MP3 CD (6/4/2019)
Compact Disc (6/4/2019)
Pre-Recorded Audio Player (6/4/2019)
Description
Andrea Buchanan lost her mind while crossing the street one day. Suffering from a horrible cough, she inhaled the cold March air, and choked. She was choking on a lot that day. A sick child. A pending divorce. The guilt of failing, as a partner, as a mother. Relieved when the coughing abated, she thought it was over. She could not have been more wrong.When Andrea coughed that day, a small tear was ripped in her dura mater, the membrane that covers the brain and spinal cord. But she didn't know that yet. Instead, she went on with her day, unaware that her cerebrospinal fluid was already beginning to leak out of that tiny tear.What followed was nine months of pain and confusion as her brain—no longer cushioned by a healthy waterbed of fluid—sank to the bottom of her skull. There was brain fog and cognitive impairment to the point where she could not even make sense of the most basic concepts. At a time when she needed to be as clear-thinking as possible, she was trapped by her brain.The mind-brain connection is one of the greatest mysteries of the human condition. In some folklore, the fluid around the brain is where consciousness begins. Here, in the pages of The Beginning of Everything, Andrea seeks to understand: Where was "I" when I wasn't there?
Praise For The Beginning of Everything…
Buchanan chronicles a year of physical and mental anguish in this disturbing memoir of an enigmatic illness. Buchanan is uncannily adept at describing pain and charting the snail's pace of recovery; a former classical pianist, she takes up playing again, her practice becoming a brain-training method. Readers will be fascinated by this introspective medical journey and heartened by the simultaneous healing of a family.

Andrea J. Buchanan's The Beginning of Everything explores the abrupt derailment of her ability to function and to think, due to an under-diagnosed disorder that can happen to anyone. The story of her difficult journey through diagnosis and treatment, and her inspiring self-designed rehab, is compelling for patients, caregivers, and readers alike.

— Connie Deline, MD, Spinal CSF Leak Foundation

Andrea J. Buchanan writes of being an unreliable narrator, but you will trust her with your life as she guides you through her perilous journey and shares her stunning meditations on mind and self and pain and time. The Beginning of Everything is truly 'music emanating from a broken place,' a breathtaking, life-affirming, gorgeously composed marvel.

— Gayle Brandeis, author of The Art of Misdiagnosis and The Book of Dead Birds

" I found The Beginning of Everything to be unputdownable, emotionally gripping, and devastatingly honest. It plunged me into the shock and aloneness of this sudden capsizing of a life, and the agony and confusion that followed; but ultimately it delivered me to a new understanding of body and mind and new hope. I felt deep sympathy throughout, and almost joyful relief at the end.

— Rachel Simon, author of The Story of Beautiful Girl

Buchanan documents the anxiety and thrill of new motherhood in a way that's as entertaining as it is brave.

Buchanan writes in a graceful, down-to-earth style.

Potently honest. Buchanan's capacity for self-reflection paves the path for all
mothers to explore the complex feelings.                 
Pegasus Books, 9781643132358, 352pp.
Publication Date: October 8, 2019
About the Author
Andrea J. Buchanan is a New York Times bestselling author whose latest book is the multimedia young adult novel Gift. Her other work includes the bestselling The Daring Book for Girls, Mother Shock, and six other books. Before becoming a writer, Andrea trained as a pianist, at the Boston Conservatory of Music and received her master's from the San Francisco Conservatory. Her last recital was at Carnegie Hall's Weill Recital Hall. She lives with her family in Philadelphia.