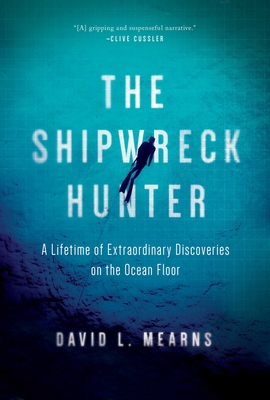 The Shipwreck Hunter (Paperback)
A Lifetime of Extraordinary Discoveries on the Ocean Floor
Pegasus Books, 9781643132457, 416pp.
Publication Date: February 11, 2020
Other Editions of This Title:
Hardcover (6/5/2018)
MP3 CD (6/26/2018)
Compact Disc (6/26/2018)
Compact Disc (6/26/2018)
* Individual store prices may vary.
Description
This memoir by the world's foremost marine geologist is an enthralling blend of maritime history, popular science, and Clive Cussler–style adventure.
David L. Mearns has discovered some of the world's most fascinating and elusive shipwrecks. From the mighty battleship HMS Hood (sunk in a pyrrhic duel with the Bismarck) to solving the mystery of HMAS Sydney, to the crumbling wooden skeletons of Vasco da Gama's sixteenth-century fleet, Mearns has searched for and found dozens of sunken vessels in every ocean of the world.
The Shipwreck Hunter chronicles his most intriguing finds. It describes the extraordinary techniques used, the detailed research and mid-ocean stamina (and courage) required to find a wreck thousands of feet beneath the sea, as well as the moving human stories that lie behind each of these oceanic tragedies. Combining the adventuring derring-do of Indiana Jones with the precision of a scientist, The Shipwreck Hunter opens an illuminating porthole into the shadowy depths of the ocean.
About the Author
David L. Mearns, a Britain-based scientist and deep-sea shipwreck hunter, has found some of the world's most notorious shipwrecks, many of which had once been deemed unable to be found. Over his twenty-five-year career, he has led the research and discovery of twenty-two major shipwrecks, and his company Blue Water Recoveries has been awarded three Guinness World Records, including one for the deepest shipwreck ever found. He has been the subject of Discovery Channel documentaries and was recently featured in National Geographic's "Best Job Ever" series. He is a fellow of the Explorers Club and the Royal Geographical Society. This is his first book to be published in America.
Praise For The Shipwreck Hunter: A Lifetime of Extraordinary Discoveries on the Ocean Floor…
For Mearns, setting world records and recovering centuries-old treasures is just another day at the office—or ocean, rather.

Mearns's thoughtful and detailed account chronologically traces each shipwreck, sharing vivid stories of every vessel from design to demise. The rich historical details and singular characters offer at least one chapter for everyone: from the murderous plot aboard MV Lucona to the World War II battles of HMAS Sydney. Equal parts a suspenseful story, a lesson in hard work, and a compelling argument for the modern importance of discovering and documenting shipwrecks.


The underwater worlds of past and present collide in the
depths of the ocean in this gripping and suspenseful narrative
by David Mearns, a true expert on mysteries of the deep sea.
— Clive Cussler

Famed shipwreck hunter Mearns provides an engrossing collection of his most exciting undersea finds. Highly entertaining. Required reading for any maritime enthusiast.

Mearns's unique perspective on the art and science of locating shipwrecks makes for fascinating reading.