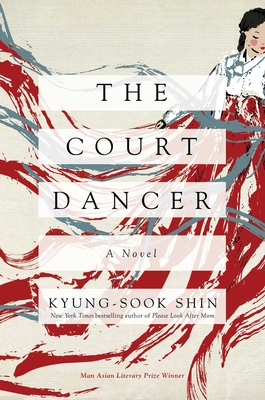 The Court Dancer (Paperback)
Pegasus Books, 9781643132525, 336pp.
Publication Date: December 10, 2019
Other Editions of This Title:
MP3 CD (8/7/2018)
Compact Disc (8/7/2018)
Hardcover (8/7/2018)
* Individual store prices may vary.
Description
When a novice French diplomat arrives for an audience with the Emperor, he is enraptured by the Joseon Dynasty's magnificent culture, then at its zenith. But all fades away when he sees Yi Jin perform the traditional Dance of the Spring Oriole. Though well aware that women of the court belong to the palace, the young diplomat confesses his love to the Emperor, and gains permission for Yi Jin to accompany him back to France.A world away in Belle Epoque Paris, Yi Jin lives a free, independent life, away from the gilded cage of the court, and begins translating and publishing Joseon literature into French with another Korean student. But even in this new world, great sorrow awaits her. Betrayal, jealousy, and intrigue abound, culminating with the tragic assassination of the last Joseon empress—and the poisoned pages of a book.Rich with historic detail and filled with luminous characters, Korea's most beloved novelist brings a lost era to life in a story that will resonate long after the final page.
About the Author
Kyung-Sook Shin is one of South Korea's most widely read and acclaimed novelists. She is the author of I'll Be Right There and Please Look After Mom, which was a New York Times bestseller and a Man Asian Literary Prize winner.
Praise For The Court Dancer…
Inspired by the true story of a late-19th-century court dancer, Shin's novel explores themes of exoticism, assimilation and identity. By placing Korean history beside a Western narrative, Shin highlights the disparity between Europe and the more isolated Asian nation. At its core, The Court Dancer examines what countries lose in identity in exchange for technological advancement.


A meditation on the social changes that force people to confront the double-edged swords of tradition and modernism. Shin is a distinctive and engaging writer whose work richly deserves a wide American audience.

Sorrow threads itself through the pages of The Court Dancer, yet there is a richness both to the period and the narrative as beautiful as any silk fan. Kyung-Sook Shin has become one of South Korea's most popular authors, and for good reason. Her deep understanding of the subtleties of the human heart effortlessly crosses borders and informs her portrait of a different place and a faraway time.


A gorgeous epic that seamlessly combines history and fiction to create a hybrid masterpiece. The court dancer's latest journey west should command substantial, eager audiences.

A fascinating and lyrical portrayal of a woman and a country at the crossroads of history. Beautifully and evocatively written, the moving and ultimately tragic story of Yi Jin's life resonates like the melodic sound of the Korean flute and lingers hauntingly in your mind. Highly recommended.

An absolute pleasure. Shin has shown us the heart of pre-modern Korea with all the heart and mind she herself always lends to her writing.