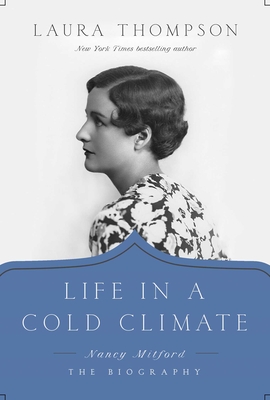 Life in a Cold Climate
Nancy Mitford; The Biography
Hardcover

* Individual store prices may vary.
Other Editions of This Title:
Paperback (5/1/2004)
Paperback (8/10/2021)
Description
New York Times bestselling author Laura Thompson turns her eye to the iconic and enigmatic Nancy Mitford.

Nancy Mitford was, in the words of her sister Lady Diana Mosley, "very complex." Her highly autobiographical early work, the biographies and novels of her more mature French period, her journalism, and the vast body of letters to her family, to friends such as Evelyn Waugh, and to the great love of her life, Gaston Palewski, all tell an intriguing story.

Drawing from these, as well as conversations with Mitford's two surviving sisters, acquaintances, and colleagues, prizewinning author Laura Thompson has fashioned a portrait of a contradictory and courageous woman. Approaching her subject with wit, perspicacity, and huge affection, Thompson makes her serious points lightly, eschewing clichés about the eccentricities of the Mitford clan. Life in a Cold Climate is full of the sound of Mitfordian laughter; but also tells the often paradoxical and complex story beneath the smiling and ever-elegant façade.
Praise For Life in a Cold Climate: Nancy Mitford; The Biography…
"Drawing on Nancy Mitford's own poignant childhood memories from her exuberant novel The Pursuit of Love, Laura Thompson vividly evokes the swarm of brilliant and beautiful sisters, and their lone brother, growing up carefree in a succession of country houses in Gloucestershire and Oxfordshire."
— New York Times Book Review

"Thompson evocatively depicts English writer Nancy Mitford in this stylish account. This sparkling and probing biography will please Mitford's many fans."
— Publishers Weekly (starred)

"Thompson (The Six: The Lives of the Mitford Sisters, 2016) focuses here on the eldest daughter, writing eloquently and with deep understanding about the Mitford family dynamics. Whether it was estrangement from her parents, conflicts with her sisters, or damaging romantic relationships, Thompson succeeds brilliantly in revealing how every aspect of Mitford's life was processed and dealt with in her writing. Thompson employs witty humor and uses it seamlessly, as Mitford did when she wrote about fascism, the Nazis, sexual orientation, adulthood, and beliefs."
— Booklist

"The combination of poetic prose and dedicated research makes this an accessible a delightful read."
— Library Journal

"This irresistible biography dives beneath Nancy Mitford's quelling elegance and slashing wit to reveal the brave and romantic woman she truly was."
— Shelf Awareness (starred)

"There are excellent biographies of Nancy Mitford but Laura Thompson's sparkling study is the gold standard."
— Wall Street Journal

"A triumph. No other biography of Christie that I've read so powerfully summons up the atmosphere of Christie's own writing: that singular blend of menace and the mundane."
— NPR's Fresh Air (Praise for Agatha Christie)

"Thompson mines this trove for clues not only to the writer's inner life but also to her fiction's recurring themes and enduring appeal. The woman who emerges in this elegant biography—shrewd, elusive, practical, romantic—cannot be defined by the era she immortalized."
— The Wall Street Journal (Praise for Agatha Christie)

"A splendid biography. Thompson artfully demonstrates how Christie revealed in the Westmacott novels her pain about her collapsed first marriage, her difficult relationship with Rosalind, and her overwhelming love for her mother. Christie, in essence, was the Elena Ferrante of her day [and] Christie's flame burns extra bright in the present."
— The Washington Post (Praise for Agatha Christie)

"A tour-de-force, this thorough and eminently readable book will delight current Christie fans while also engaging new ones. Ideal for all collections. Meticulously researched and painstakingly crafted. Christie is revealed as an imaginative, hardworking woman who loved life but who also shunned publicity."
— Library Journal (starred review) (Praise for Agatha Christie)
Pegasus Books, 9781643133034, 448pp.
Publication Date: December 3, 2019
About the Author
A writer and freelance journalist, Laura Thompson won the Somerset Maugham award for her first book, The Dogs, and is also the author of The Six: The Lives of the Mitford Sisters, and Agatha Christie: A Mysterious Life, also available from Pegasus Books.