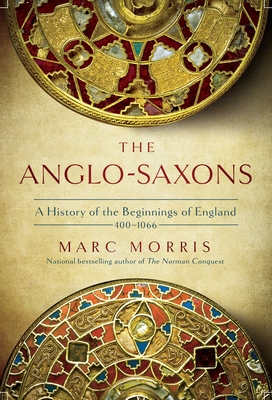 The Anglo-Saxons (Hardcover)
The Making of England: 410 - 1066
Pegasus Books, 9781643133126, 452pp.
Publication Date: May 4, 2021
* Individual store prices may vary.
Description
A definitive, ground-breaking history of the Anglo-Saxons by national bestselling author Marc Morris.

Sixteen hundred years ago, Britain parted company with Europe. As the Roman legions withdrew, the economy that had supported them collapsed. A world that had been peaceful, prosperous and predictable became dangerously insecure. Rich and poor huddled together for protection in ancient hill-forts, unoccupied since the Iron Age. Learning and literacy were lost; it is no exaggeration to call this a Dark Age.

Into this ruined world came a new people—foreigners from beyond the Empire's northern frontier, collectively known as the Anglo-Saxons. Some were warriors, drawn into the internecine struggles between Britain's new tribal rulers. Most were economic migrants, in search of land to farm and a happier future. Arriving on the shores of southern and eastern Britain, in the centuries that followed they spread northwards and westwards, eventually occupying every lowland part of the island, and in the process they gradually built a new civilization.

The Anglo-Saxons is a quest for England's origins. It takes us from an alien world of slaves, temples, villas, druids, and amphorae, to a familiar landscape of shires and boroughs; from the worship of vanished gods like Thor and Woden to the veneration of saints who are still well-known; from a population who spoke Latin and Celtic to one whose language was recognizably the ancestor of the English that is spoken today.

Marc Morris's invigorating narrative asks what we can really know of life in this lost age, and tackles controversial questions: Did the Anglo-Saxons drive the Romano-British into the fringes of the island, as traditional argued, or peacefully absorb them, as revisionist historians claim? It also explores the later legends that arose to fill the void, such as what truth is there, if any, in the tales of a British resistance led by a hero called Arthur?
About the Author
Marc Morris is a historian specializing in the Middle Ages. He is the author of A Great and Terrible King; King John; and the Wall Street Journal and USA Today bestselling The Norman Conquest. He lives in England.
Praise For The Anglo-Saxons: The Making of England: 410 - 1066…
"Stunning in its action and drama, this book illuminates fully what turns out to have been a tangled and violent passage in history."
— Kansas City Star, A Best Book of the Year (Praise for The Norman Conquest)

"Meticulous and absorbing. Where Morris' book really excels is in its understanding of the conquest's ramifications for the nation's demographics, language, and ruling elite."
— Providence Journal, A Best Book of the Year (Praise for The Norman Conquest)

"A historian who specializes in the Middle Ages, especially that period's monarchies and aristocracy, Morris takes thoroughness to new heights as he compares all the available sources in this valuable text. A thoroughly enjoyable book from an historian's historian who can write for the masses."
— Kirkus Reviews (starred) (Praise for The Norman Conquest)