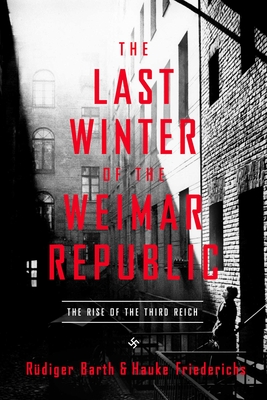 The Last Winter of the Weimar Republic (Hardcover)
The Rise of the Third Reich
Pegasus Books, 9781643133331, 384pp.
Publication Date: February 4, 2020
* Individual store prices may vary.
Description
A thrilling day-by-day account of the final months of the Weimar Republic, documenting the collapse of democracy in Germany and Hitler's frightening rise to power. 
November 1932. With the German economy in ruins and street battles raging between rival political parties, the Weimar Republic is on its last legs. In the halls of the Reichstag, party leaders scramble for power and influence as the elderly president, Paul von Hindenburg, presides over a democracy pushed to the breaking point. Chancellors Franz von Papen and Kurt von Schleicher spin a web of intrigue, vainly hoping to harness the growing popularity of Adolf Hitler's Nazi Party while reining in its most extreme elements. These politicians struggle for control of a turbulent city where backroom deals and frightening public rallies alike threaten the country's fragile democracy, with terrifying consequences for both Germany and the rest of the world.
In The Last Winter of the Weimar Republic, Barth and Friedrichs have drawn on a wide array of primary sources to produce a colorful, multi-layered portrait of a period that was by no means predestined to plunge into the abyss, and which now seems disturbingly familiar.  
About the Author
Born in 1972 in Saarbrücken, Rüdiger Barth studied contemporary history and general rhetoric at the University of Tübingen. After fifteen years as a journalist for the German weekly Stern, he now works as a freelance author. He lives in Germany.

Born in 1980 in Hamburg, Hauke Friederichs studied social and economic history and wrote his PhD thesis on piracy in the Mediterranean. He has worked for publications including Die Zeit, Stern, Geo, Epoche and P.M. History. He lives in Germany.
Praise For The Last Winter of the Weimar Republic: The Rise of the Third Reich…
A sharply focused study of the many poor decisions that ended with Hitler taking power. An expert and highly disheartening history of a dictator's early rise.

Based on a deep reading of primary sources, the authors effectively employ a nonfiction narrative style of short headlines and paragraphs. The result is a gripping day-to-day account.

An
exciting piece of history that is often menacingly current and has rarely been
told so close to the reality of life.

An
unusual, important book whose depth of research makes you
gasp.

Brilliantly
written: rich in facts, varied, and entertaining.