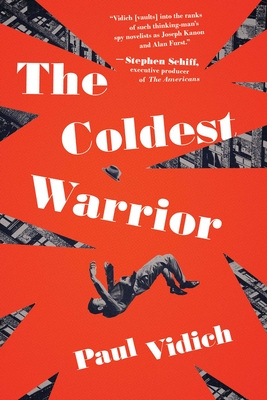 The Coldest Warrior
A Novel
Hardcover

* Individual store prices may vary.
Other Editions of This Title:
Digital Audiobook (4/1/2020)
Digital Audiobook (4/27/2020)
Paperback (1/1/2021)
Compact Disc (4/28/2020)
MP3 CD (4/28/2020)
Description
The new novel by acclaimed espionage author Paul Vidich explores the dark side of intelligence, when a CIA officer delves into a cold case from the 1950s—with fatal consequences.

In 1953, Dr. Charles Wilson, a government scientist, died when he "jumped or fell" from the ninth floor of a Washington hotel. As his wife and children grieve, the details of the incident remain buried for twenty-two years. With the release of the Rockefeller Commission report on illegal CIA activities in 1975, the Wilson case suddenly becomes news again. Wilson's family and the public are demanding answers, especially as some come to suspect the CIA of foul play, and agents in the CIA, FBI, and White House will do anything to make sure the truth doesn't get out.

Enter agent Jack Gabriel, an old friend of the Wilson family who is instructed by the CIA director to find out what really happened to Wilson. It's Gabriel's last mission before he retires from the agency and his most perilous. Key witnesses connected to the case die from suspicious causes, and Gabriel realizes that the closer he gets to the truth, the more his entire family is at risk.

Following in the footsteps of spy fiction greats like Graham Green, John Le Carré, and Alan Furst, Paul Vidich presents a tale—based on the unbelievable true story told in Netflix's Wormwood—that doesn't shy away from the true darkness in the shadows of espionage.
Praise For The Coldest Warrior: A Novel…
"A terse and convincing thriller. Vidich proved his talent for noirish spy fiction in two earlier books. This stand-alone work reaches a new level of moral complexity and brings into stark relief the often contradictory nature of spycraft."
— Tom Nolan

"Based on the real-life case of biological warfare scientist Frank Olson, Vidich's lean, crisp third CIA novel recreates, then reimagines, the circumstances of Olson's still-unexplained death. Vidich, a former media industry executive with no spycraft background, writes with the nuanced detail and authority of a career spook. With this outing, Vidich enters the upper ranks of espionage thriller writers."
— Publishers Weekly (starred)

"A richly detailed work of investigative crime writing perfect for fans of procedurals and spy fiction alike."
— LitHub

"In the manner of Charles Cumming and recent le Carré, Vidich pits spies on the same side against one another in a kind of internal cold war."
— Booklist

"Reveals a shameful instance of postwar conduct and the arrogance of the powerful. A worthwhile thriller and a valuable exposé."
— Kirkus Reviews

"Vidich presents a fast-paced, historically accurate thriller, placing him alongside other great spy authors such as John le Carre´ and Alan Furst. Readers of the genre will want this slow-burn chiller that shows how far government will go to keep secrets."
— Library Journal (starred)

"The Coldest Warrior reads like a le Carre novel for the postwar American moment. Vidich's writing is as assured as ever, and his handling of difficult, charged material is truly admirable, and a pleasure to read."
— CrimeReads ("9 Novels You Should Read in February")

"The book spins quickly into risk and danger, and the final chapters, fast-paced and dark with threat, provide one of the best manhunt and intended escape sequences of current espionage fiction."
— New York Journal of Books

"Trench coats and fedoras abound in this old-school spy novel exploring one of the most infamous incidents in CIA history. Paul Vidich is on territory close to home here, because it's inspired by the death of his uncle, Frank Olson, a biological warfare scientist who died under mysterious circumstances in 1953. The Netflix series Wormwood also covered the case, but Vidich's novel stands on its own feet. Vidich perfectly captures the era's paranoid mood."
— The Times (London)

"A sizzling and troubling tale. The Coldest Warrior is more than mesmerizing, it is an eye opener about the underbelly of the CIA whose clandestine movements are executed in the name of the nation's best interest."
— WBAI

"Vidich is quickly establishing himself as one of the best proponents of the Cold War espionage thriller and his new novel reinforces his position in this crowded field. A gripping tale of mixed morals, ruthless politics shrouded by all the ambiguities of the erstwhile Cold War. Both a gripping thriller and a testimony to the integrity of some of the actors of the drama who are only now being recognised."
— Crime Time (UK)

"The Coldest Warrior is a terrifically paced page-turner with convincing red herrings and a surprise ending. These feats are not to be understated . . . Without ever slowing the pace or detracting from the novel's central mystery or action, Vidich still manages to carve out time in his taut narrative to provide snapshots of men trapped in personal cold wars of their own making."
— Shelf Awareness

"If there's a better spy novel this year espionage fiction fans will be able to count themselves very lucky indeed. The best spy stories are always about emotions, love and grief and other powerful motivators of our behaviour. That depth puts this novel up there with works by le Carré, McCarry, and the very best spy writers. The emotional intensity and fierce intelligence of this tale make it a tense read, it is a thought provoking drama."
— NB (UK)

"The inner workings of the US's actual deep state during the cold war—most of all, the CIA—is evocatively portrayed in The Coldest Warrior. Justly praised by his peers, Vidich is an espionage novelist who deserves to be more widely known. His noir cold war spy stories are laced with echoes of Graham Green and Eric Ambler. A finely written, taut novel."
— Financial Times

"Compelling. The Coldest Warrior is more than an entertaining and well-crafted thriller; Vidich asks questions that remain relevant today."
— Jefferson Flanders, author of The Republic of Virtue and of the Cold War First Trumpet trilogy (one of his top spy novels of 2020)

"Inspired by the true story of the death of Frank Olson, The Coldest Warrior is at once a breathless Cold War thriller in the mode of John le Carré, a cold-case mystery, and a tale of moral accountability. Although historical—set in the '50s and the '70s—its central theme is strikingly relevant: the personal suffering that results when our government agencies and politicians conceal their crimes, when political self-preservation outweighs public interest. A chilling read, indeed."
— John Copenhaver, author of Dodging and Burning

"In Paul Vidich's page-turning and well-written latest novel of espionage, he takes a hard look at how far people will go and which lines will be crossed in defense of the Holy Grail known as national security. Filled with action, haunting details and compelling characters. Highly recommended."
— Brendan DuBois, award-winning and New York Times bestselling author

"Spring 1975: The once-invincible CIA cringes as its long-buried secrets are exhumed and denounced by the public, press and Congress. Inspired by real CIA malfeasance, Vidich memorably and vividly depicts the agency's inner circle, implacable men blind to the consequences of their pitiless actions, past and present, to wage the Cold War. A spy novel of the highest caliber, The Coldest Warrior could well be shelved in the history section, so masterful is Vidich's blending of fact and fiction."
— David Krugler, author of the Ellis Voigt Thrillers

"The tale Paul Vidich tells in The Coldest Warrior—based on true events—could not be more chilling. Though the action of the book takes place nearly half a century ago, it reads as an allegory and a reminder for our time, a story about what is possible for bad people to accomplish if good people look away."
— S. J. Rozan, bestselling author of Paper Son

"The Coldest Warrior takes a true story of political/espionage intrigue and fictionalizes it in such a way that it reads like a deadly serious spy novel from the Cold War era. Taut, tense, and fascinating."
— Raymond Benson, author of Blues in the Dark and the five-book The Black Stiletto serial

"If we're going to choose a 21st century Graham Greene, I nominate Paul Vidich. Mysterioso, funny, elegant, noir . . . you name it, Greene wrote it. And so does Vidich. If you like your narrator-cum-investigator to throw in a few quotes from Shakespeare in the middle of his hardboiled take on American realpolitik, Vidich is your man."
— Mitch Silver, author of The Bookworm and The Apollo Deception

"I loved The Coldest Warrior. On one level it's a straightforward spy thriller; halls of mirrors, spare prose, a hero with nowhere to turn. But like the best spy fiction it's also about other stuff—above all a family tragedy and how resolving it might help a lost America find its way. Shades of Charles McCarry and Joseph Kanon, even classic post-Watergate conspiracy thrillers like James Grady's Six Days of the Condor. Great stuff."
— Dominick Donald, author of Breathe, the London Sunday Times Crime Book of the Year 2018

"Compelling."
— John Dugdale

The Coldest Warrior succeeds on two levels. First, Vidich's story has momentum and never flags. In addition, Vidich raises vexing moral issues through his storytelling. To what extent should we view questionable CIA activities from the 1950s in the context of the time? Do we have an obligation to deal with the misdeeds of our past? To attempt to right wrongs? And can we achieve these goals without a public reckoning?
— National Book Review
Pegasus Crime, 9781643133355, 224pp.
Publication Date: February 4, 2020
About the Author
Paul Vidich is the acclaimed author of The Mercenary, The Coldest Warrior, An Honorable Man, and The Good Assassin, and his fiction and nonfiction have appeared in the Wall Street Journal, LitHub, CrimeReads, Fugue, The Nation, Narrative Magazine, Wordriot, and others. He lives in New York City.
or
Not Currently Available for Direct Purchase