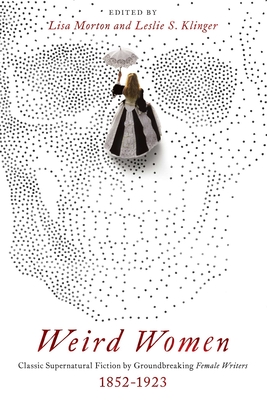 Weird Women
Classic Supernatural Fiction by Groundbreaking Female Writers: 1852-1923
Hardcover

* Individual store prices may vary.
Description
From two acclaimed experts in the genre, a brand-new volume of supernatural stories showcasing the forgotten female horror writers from 1852–1923.

While the nineteen-year-old Mary Shelley may be hailed as the first modern writer of horror, the success of her immortal Frankenstein undoubtedly inspired dozens of female authors who wrote their own evocative, chilling tales. Weird Women, edited by award-winning anthologists Lisa Morton and Leslie S. Klinger, collects some of the finest tales of terror by authors as legendary as Louisa May Alcott, Frances Hodgson Burnett, and Charlotte Gilman-Perkins, alongside works of writers who were the bestsellers and critical favorites of their time—Marie Corelli, Ellen Glasgow, Charlotte Riddell—and lesser known authors who are deserving of contemporary recognition.

As railroads, industry, cities, and technology flourished in the mid-nineteenth century, so did stories exploring the horrors they unleashed. This anthology includes ghost stories and tales of haunted houses, as well as mad scientists, werewolves, ancient curses, mummies, psychological terrors, demonic dimensions, and even weird westerns. Curated by Klinger and Morton with an aim to presenting work that has languished in the shadows, all of these exceptional supernatural stories are sure to surprise, delight, and frighten today's readers.
Praise For Weird Women: Classic Supernatural Fiction by Groundbreaking Female Writers: 1852-1923…
"Morton and Klinger refute the popular misconception that the early horror genre had few femalewriters—in reality, as they show, women writers were forerunners of the genre, often supportingtheir families through their work and gaining fame, only to be allowed to drift into obscurity andout of print. The two editors bring these authors back into the spotlight here...These tales were written by women with streaks ofindependence—some of them writing under pen names, some of them queer—and theirrebellion shines through the subtext...Feminist and horror-genre readers will jump on this compelling and spooky collection, as LouisaMay Alcott writes of seeds found in a mummy's chamber and as gorgeous women werewolvesand mad scientists haunt these pages."
— Booklist (starred)

"Horrors and mysteries abound here, with well-known writers like Charlotte Perkins Gilman published alongside less recognized names like Marie Corelli, an early-1900s author who outsold "contemporaries like Rudyard Kipling and Arthur Conan Doyle," and whose "admirers included Oscar Wilde." If the difficulties of enforced domestic life take their toll, it might be worth reading the supernatural dread and unexplained occurrences women recalled, and imagined, from an earlier time of homebound life."
— Alfred Hitchcock Mystery Magazine

"It is an absolute must-own for those interested in the women who helped shape the horror genre...What I love most about this collection–and other collections like it–is when I am introduced to works and authors I have not read before...Weird Women ultimately works because of the stories and authors Klinger and Morton chose. They present a cross-section of the women who published during the time period, focusing on tales that are not only well-written but are also genuinely creepy."
— Waylon Jordan

"Weird Women presents a brilliant and wide-ranging selection of stories. . . . All of them challenge literary scholars and popular readers alike in new and exciting ways to see connections and tensions in and across the genre of the supernatural story."
— Supernatural Studies
Pegasus Books, 9781643134161, 384pp.
Publication Date: August 4, 2020
About the Author
Leslie S. Klinger is one of the world's foremost authorities on Sherlock Holmes. He is the editor of the three-volume The New Annotated Sherlock Holmes. The first two volumes, The Complete Short Stories, won the Edgar for Best Critical/Biographical work. He is also the editor of the hugely successful The New Annotated H. P. Lovecraft. Klinger is a member of the Baker Street Irregulars and lives in Malibu, California.

Lisa Morton is a screenwriter, author, anthologist, and the editor of the acclaimed Ghosts: A Haunted History. She is a six-time winner of the Bram Stoker Award, a recipient of the Black Quill Award, and winner of the 2012 Grand Prize from the Halloween Book Festival. A lifelong Californian, she lives in North Hills, California, and can be found online at www.lisamorton.com.