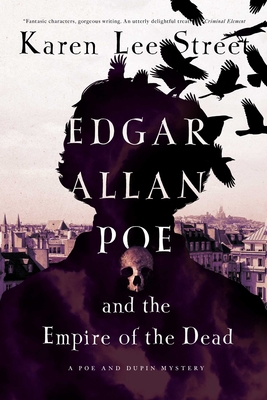 Edgar Allan Poe and the Empire of the Dead
A Poe and Dupin Mystery
Hardcover

* Individual store prices may vary.
Description
A thrilling historical mystery about mesmerism and magic, the shadows of the past, and the endurance of love—the third novel in the author's acclaimed Poe and Dupin series.

"And I prayed that I would find a way to tell my most honorable friend, the Chevalier C. Auguste Dupin, the truth about how I had finally been murdered and by whom."—EAP

Summer, 1849. When Edgar Allan Poe travels to Paris to help his dear friend hunt down the elusive criminal who bought the Dupin family to ruin during the French Revolution, the sleuthing duo are engaged by the prefect of police to recover the stolen letter of an infamous Parisian salonnière.

Is the thief one of the French literary greats who attend her salons, or might it be Dupin's own enemy who is scheming to become the Emperor of France? Poe and Dupin are quickly embroiled in a deadly cat and mouse game that takes them to the treacherous tunnels of the city's necropolis, where few who venture into the notorious Empire of the Dead manage to return from the darkness…

The third in the author's critically acclaimed Edgar Allan Poe series, Empire of the Dead is a thrilling historical mystery about alchemy, mesmerism and magic, the shadows of the past, and the endurance of love.
Praise For Edgar Allan Poe and the Empire of the Dead: A Poe and Dupin Mystery…
"Edgar Allan Poe essentially invented the detective story in 1841, with the first of his tales involving the French investigator C. Auguste Dupin. The premise of Karen Lee Street's series of Poe-narrated novels—the latest being Edgar Allan Poe and the Empire of the Dead—is that Dupin was a real person and a close friend of Poe's, and that the two shared several adventures. Ms. Street evokes Poe's unique sensibility through passages of inspired prose, in a narrative that preserves the spooky penumbra surrounding Poe's enduring legend."
— Tom Nolan, The Wall Street Journal

"The terrific concluding volume of Street's Poe trilogy. Street fulfills the promise of the tantalizing opening with a twisty and nail-biting plot. Fans of other superior fictional treatments of Poe will be enthralled."
— Publishers Weekly (starred)

"In a brisk, vivid narrative that includes magic, alchemy, metempsychosis (the transfer of souls between bodies), and the pain of loss, Street details new life for Dupin, and for Poe, a reunion with his beloved. Superlative historical mystery, capturing the tone of the time and Poe's lasting literary legacy."
— Booklist (starred)

"A juicy gothic potboiler."
— Kirkus Reviews

"A feast for all the senses; Karen Lee Street is a painter with a palette of exciting, unusual, and provocative words. A historical mystery that will entice readers into exploring Paris's magical, mysterious past and will no doubt eventually lead them to revisit Poe's literary masterpieces."
— Criminal Element

"Edgar Allan Poe once again plays detective in Street's excellent sequel. Street enhances the Grand Guignol plot with a plausible and empathetic portrayal of her lead."
— Publishers Weekly (starred) [praise for the Poe and Dupin Series]

"Street excels at seamlessly joining history and fiction, displaying a literary style not unlike Poe's, complete with touches of the macabre and melodramatic."
— Library Journal [praise for the Poe and Dupin Series]

"Street's slightly self-deprecating and occasionally darkly humorous narrative echoes Poe's style and fashions him as the somewhat unwilling hero of his own story."
— BookPage [praise for the Poe and Dupin Series]

The twists and turns of the plot are cunningly weaved, and Street's expertly crafted prose and dialogue could easily have come from the pen of Poe himself. I really enjoyed this novel, found it very easy to get into (I do sometimes find period-style writing to be difficult to warm to), and genuinely didn't want to put it down. I found myself emotionally invested into Poe and Dupin's battle against their respective nemeses and even though I'd not read the previous books in this series, I was able to get straight into the story. Whether you're a fan of Poe himself, or just detective stories, this is one series to get onto your book shelf (or e-book reader of choice).
— Matthew Johns

Edgar Allan Poe and the Empire of the Dead is a brilliant historical whodunit. The prose is perfectly Poe—at once drenched with wonder and dread. Poe's presentation as a wounded, sorrowful, intelligent, and complicated man is believable and alluring. The story's opening is a cataclysm of promise. It's a promise that is kept by the twisty, surprising, and suspense-filled plot, not to mention the perfect climax that answers every question with style. Empire of the Dead is everything a reader of traditional mysteries or an admirer of Edgar Allan Poe could possibly want.
— Benjamin Boulden

This is a wonderful and imaginative climax to Karen Lee Street's trilogy featuring Edgar Allan Poe, novelist, poet, editor and critic, a central figure of American literature and regarded by many as the inventor of detective fiction.In an exciting and wonderfully atmospheric read.
— John Cleal
Pegasus Crime, 9781643134222, 352pp.
Publication Date: May 5, 2020
About the Author
Karen Lee Street was born in America but has lived in London for most of her adult life. She recently moved to Australia. Edgar Allan Poe and the London Monster is her first novel.
or
Not Currently Available for Direct Purchase