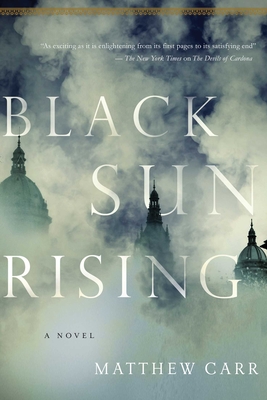 Black Sun Rising
A Novel
Hardcover

* Individual store prices may vary.
Other Editions of This Title:
Digital Audiobook (7/27/2020)
Description
A riveting thriller combining real historical events and characters with a sinister detective story of eugenics, racism, and nationalist paranoia.

Barcelona, summer 1909.

When the scientist and explorer Randolph Foulkes is blown up in a random terrorist bomb attack, private detective Harry Lawton is hired by the man's widow to identify the beneficiary of a large payment Foulkes had made shortly before his death. Lawton's arrival in the Catalan capital coincides with a series of unusual killings that appear to have been carried out by a blood-drinking animal in the Ramblas district and adds another element of instability to a city already teetering on the brink of insurrection. Lawton soon meets and teams up with Esperanza Claramunt, a young anarchist whose lover was one of the victims of the "beast of the Ramblas," and the Catalan crime reporter Bernat Mata, who has begun investigating these crimes.

So what begins as a straightforward investigation into presumed marital infidelity turns into something far more sinister, as Lawton probes Foulkes' connections to the mysterious Explorers Club, the Barcelona political police, and an eccentric Austrian hypnotist. Adrift in a city gripped by rebellion and lawlessness, Lawton enters a labyrinth of murder, corruption, political conflict, and crazed racial pseudo-science where no one's survival is guaranteed.
Praise For Black Sun Rising: A Novel…
Harry Lawton—an ex-boxer, ex-soldier and ex-police detective—is working as a private investigator in London in 1909 at the start of Matthew Carr's richly detailed historical thriller "Black Sun Rising" (Pegasus). At times 'Black Sun Rising' displays the action of a vintage Richard Harding Davis adventure. Other passages exude the spookiness of an Edgar Allan Poe tale. The novel is thick with intrigue and incident, balanced by flashes of lyricism. Most impressive perhaps is its flawed yet persistent hero: hobbled by fits of epilepsy but so devoted to his work and his new friends that "he would not leave Barcelona until justice was done.
— Tom Nolan

"A superior mystery. Carr excels at incorporating early 20th-century Spanish political developments into a suspenseful and clever plot line. Philip Kerr fans will be pleased."
— Publishers Weekly (starred)

"Carr combines fiction with fact (including historical characters). The result is a vivid portrayal of Barcelona's 'Tragic Week' of political and social conflict, a skillfully crafted account that is ultimately as much history as mystery."
— Booklist

"A thrilling quest for justice. As exciting as it is enlightening from its first pages to its satisfying end."
— The New York Times Book Review [Praise for 'The Devils of Cardona']

"Full of engaging male and female characters, with a great sense of time and place. A treat."
— Kate Mosse, New York Times bestselling author [Praise for 'The Devils of Cardona']

"Carr recreates for us a dramatic time and place filled with complex characters and issues that resonate powerfully with our own time."
— Matthew Pearl, #1 New York Times bestselling author of 'The Dante Club' [Praise for 'The Devils of Cardona']

"Fans of Philip Kerr and politically tinged historical detective fiction should keep an eye out for this one. Black Sun Rising is a richly complex read, a well-balanced, multicourse meal in a world of fatty, fast-food reads, fascinating and provocative, as bracing (and often eye-opening) as it is entertaining."
— Kevin Burton Smith

Roiling with action, real historical figures, and proto-Nazi villains, Black Sun Rising is as exciting and vibrant as historical crime fiction gets.
— Lisa Henricksson
Pegasus Crime, 9781643134246, 368pp.
Publication Date: June 2, 2020
About the Author
Matthew Carr is a novelist, journalist, blogger, and lifelong Hispanophile. Matt has written for various publications including the New York Times, the Observer, and the Guardian. His nonfiction is published by The New Press: Fortress Europe; Soldiers, Civilians, and the American Way of War; and The Savage Frontier. This is Matt's second novel, following the acclaimed The Devils of Cardona (Riverhead), which was a New York Times Book Review Editors' Choice. He blogs regularly at: www.infernalmachine.co.uk.