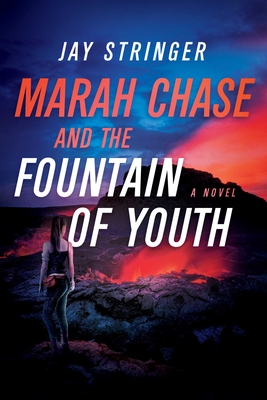 Marah Chase and the Fountain of Youth
A Novel
Hardcover

* Individual store prices may vary.
Other Editions of This Title:
MP3 CD (7/7/2020)
Compact Disc (7/7/2020)
Description
Adventurer Marah Chase can't resist one last globe-trotting quest to rescue a friend and discover a legendary locale.

Marah Chase has everything she wanted. Her academic career is back on track, she's moved into a Manhattan apartment, and a dream job is waiting at the American Museum of Natural History. So why can't she seem to stop slipping into her old ways, traveling the world in search of lost relics and buried treasure?

Back out in the field, Chase finds the lost Ark of the Covenant, a discovery that could trigger a holy war, as religions and nations argue over ownership of the sacred item. The Ark also brings Chase into conflict with another legendary relic runner, August Nash, a clash the entire underground smuggling community has been waiting for, and not one that will end anytime soon.

Upon returning home, Chase is hired by US soda billionaire Lauren Stanford to find the Fountain of Youth. At first, Chase dismisses this idea. But then Stanford tells her that an old friend found some information on the Fountain's location and is now missing. Chase agrees to take the job—but only to find her friend—and enlists allies along the way on a trail from New York to London, and then on to Glasgow. Behind the myth, they find, lies a much older secret, and now they're in a race to find the Fountain ahead of Nash and his nefarious cohorts. Whoever gets there first will have control over the future of humanity.

Marah Chase and the Fountain of Youth is a tense, exciting, and epic adventure novel, spanning three continents and broadening the world of the Marah Chase series, placing Chase in the unique position to confront questions of identity, faith, imperialism, and appropriation.
Praise For Marah Chase and the Fountain of Youth: A Novel…
"The nonstop action goes hand in hand with the breezy style."
— Publishers Weekly

"Stringer, author of the Sam Ireland and Eoin Miller mysteries, has a winner here with Marah Chase—pulse-pounding adventure, in the best Indiana Jones tradition, with a charismatic gay woman fueling the action."
— Booklist (starred) [praise for 'Marah Chase and the Conqueror's Tomb']

"This action-packed adventure, fast paced from page one, will remind readers of the drama of Indiana Jones and James Bond as Marah and Joanna try to save the world from a radical group. Fans of car chases, flawed, courageous protagonists, and save-the-world adventures should grab this exciting page-turner featuring two take-charge women. Their dangerous quest is as daunting and riveting as any in movies or thrillers."
— Library Journal (starred review, Pick of the Month) [praise for 'Marah Chase and the Conqueror's Tom

"A fun ride."
— Publishers Weekly [praise for 'Marah Chase and the Conqueror's Tomb']

"Stringer effortlessly weaves a complex web of espionage and betrayal around a rip-snorting, larger-than-life adventure in the spirit of Indiana Jones."
— Antony Johnston, creator of 'Atomic Blonde' and 'The Exphoria Code' [praise for 'Marah Chase and the Conqueror's Tomb']

"Ever wonder what Raiders of the Lost Ark would be like if it was set in the present day and Marian Ravenwood got to do all the cool stuff instead of Indiana Jones? Marah Chase and the Conqueror's Tomb gives you a chance to find out. Jay Stringer has given readers a ripping yarn with all the elements of a multi-dimensional spy adventure: a dangerous, high-stakes quest, formidable adversaries, international intrigue, love and lust, loyalty and betrayal, cliff-hanging suspense à la Dan Brown and, best of all, a cast of characters that will keep you thinking about them and wondering what they'll do next. Then there's Stringer's deliciously ambiguous approach to the potentially supernatural. Is it magic or technology? Read it and decide for yourself."
— Maya Kaathryn Bohnhoff, co-author of the New York Times bestselling 'The Last Jedi' [praise for 'Marah Chase and the Conqueror's Tomb']

While this second book in the series has as much fast-paced action as its predecessor, Marah Chase and the Conqueror's Tomb, there's more depth to the story. The action-packed narrative touches on issues of cultural appropriation, identity, history, and environmental change, which featuring a variety of LGBTQ characters. Fans of Indiana Jones or the Marvel action series will appreciate this cinematic adventure.
— Jay Stringer
Pegasus Crime, 9781643134307, 336pp.
Publication Date: July 7, 2020
About the Author
Jay Stringer is the Anthony-nominated, McIlvanney-shortlisted author of the Eoin Miller trilogy, Ways to Die in Glasgow, and How to Kill Friends and Implicate People. He lives in Glasgow, Scotland.
or
Not Currently Available for Direct Purchase