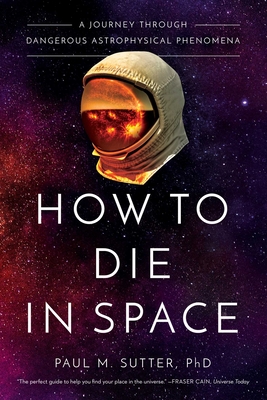 How to Die in Space
A Journey Through Dangerous Astrophysical Phenomena
Hardcover

* Individual store prices may vary.
Other Editions of This Title:
Digital Audiobook (8/31/2020)
Paperback (5/11/2021)
Compact Disc (9/1/2020)
MP3 CD (9/1/2020)
Description
A brilliant and breathtakingly vivid tour of the universe, describing the physics of the dangerous, the deadly, and the scary in the cosmos.

So you've fallen in love with space and now you want to see it for yourself, huh? You want to witness the birth of a star, or visit the black hole at the center of our galaxy? You want to know if there are aliens out there, or how to travel through a wormhole? You want the wonders of the universe revealed before your very eyes?

Well stop, because all that will probably kill you.

From mundane comets in our solar backyard to exotic remnants of the Big Bang, from dying stars to young galaxies, the universe may be beautiful, but it's treacherous. Through metaphors and straightforward language, it breathes life into astrophysics, unveiling how particles and forces and fields interplay to create the drama in the heavens above us.
Praise For How to Die in Space: A Journey Through Dangerous Astrophysical Phenomena…
"Sutter's tone is suffused with enthusiasm for his topic and with disarming humor. Funny and informative, Sutter's gleefully bleak interstellar survey will foster a greater appreciation for humanity's home, and a deeper understanding of space."
— Publishers Weekly (starred)

"Sutter's macabre humor and lucid science writing make this an entertaining read with mass appeal."
— Kirkus Reviews

"The tongue-in-cheek alarmist tone offsets Sutter's deep fascination, and his joy of discovery is infectious. This accessible overview of our bizarre universe will encourage readers to delve deeper and learn more."
— Booklist

"This excellent resource celebrates the wonders of space. Sutter's brisk, often humorous writing and gift for clear explanations make this the perfect choice for readers looking to understand the universe."
— Publishers Weekly (starred) [Praise for Paul M. Sutter, PhD]

"Brings the cosmos down to earth and shows that you don't have to be an astrophysicist to enjoy the wonder of it all."
— Tariq Malik, Space.com [Praise for Paul M. Sutter, PhD]

"Imagine sitting around a campfire with an astrophysicist who doesn't just recount the history of cosmology, but also answers your questions. This is a wonderful read for those who are curious about big ideas."
— Seth Shostak, senior astronomer, SETI Institute [Praise for Paul M. Sutter, PhD]
Pegasus Books, 9781643134383, 336pp.
Publication Date: June 2, 2020
About the Author
Paul Sutter, PhD, is the is the author of Your Place in the Universe: Understanding Our Big, Messy Existence. He spent three years at the Paris Institute of Astrophysics as the Postdoctoral Fellow in Next-Generation Cosmic Probes and currently is a Visiting Scholar at Ohio State University's Center for Cosmology and Astro-Particle Physics in Columbus, Ohio, where he hosts the popular podcast "Ask a Spaceman!"