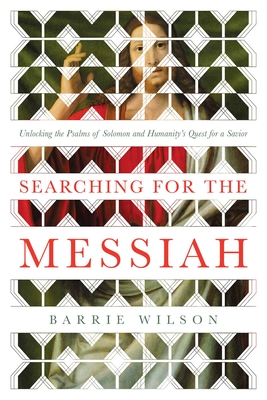 Searching for the Messiah
Unlocking the "Psalms of Solomon" and Humanity's Quest for a Savior
Hardcover

* Individual store prices may vary.
Description
An award-winning historian of religion examines the role a "messiah" plays in Western culture, from its pre-Christian roots to modern interpretations of a savior.


Over the centuries, people have longed for a messiah, whether a religious figure such as Jesus, a political leader, or even in popular culture. The messianic quest emerges most acutely during difficult times when people experience a sense of powerlessness and desperation. But the concept of a messiah—a savior—has its root in the writings of ancient Judaism and early Christianity, evolving from an anointed leader to universal savior. Wilson turns to a little understood pre-Christian text, "The Psalms of Solomon," which set the stage for messianic expectation just prior to the birth of Jesus.

Known today only to a handful of scholars—in marked contrast to the "Song of Solomon"—these important pslams were composed not by a King, but by a devout 1st century BCE Jew who witnessed terrible atrocities under brutal Roman rule. This crucial work encourages us to ask: what is a messiah? Who is a messiah? How would we recognized one should he or she appear? And what is a messiah supposed to do?

In his own lifetime, Jesus directed his followers to search for "the messiah within" in his parables. Later, Paul changed the concept of "the messiah," to "the Christ," when presenting his message to Gentiles instead of Jews. Jesus was no longer a Jewish messiah but a Hellenistic divine avatar.

In Searching for the Messiah, Wilson reveals how this collective search for messiahs throughout modern human history has been fundamentally flawed. Jesus himself rejected the idea of an external fixer, instead formulating his teachings to focus on the role of the individual, their choices, and their actions.

Searching for the Messiah is revelatory and illuminating work of scholarship that will challenge and inspire.
Praise For Searching for the Messiah: Unlocking the "Psalms of Solomon" and Humanity's Quest for a Savior…
"Wilson explores the meaning of messiahship in this entertaining and challenging study. He begins with an apparently simple question: what makes for a messiah?It's not such a simple question. Digging deep…Wilson examines how messiahship became a global rather than a local concept. Historians and lay readers alike will appreciate Wilson's ingenuity and deep scholarship."
— Publishers Weekly

"A serious historical analysis of what a messiah is, from the time of King David, through Jesus, Paul and on into modern times with pop culture rescuers. The book challenges us to think critically about what it means to be a messiah, how we would identify one should one appear. Wilson's use of biblical evidence flows naturally and offers a comprehensive perspective of messianic expectations and demands. Detailed and enjoyable. Of especial interest are the number of female saviors he identifies along the way. Full of insights, well written and serious readers will come away with a better understanding of who is—and who is not—a messiah. The ending is surprising…and shocking!"
— Dr. Carla Ionescu, Trent University, Peterborough, Ontario

"Wilson recruits his wide-ranging knowledge of Christianity,and admirable literary writing skills to lead us to his surprising conclusion. His analysis of the supposedly messianic biblical figures, showing they are just powerful political charismatic human beings; his engagement with the earthly King-Messiah in the Psalms of Solomon, as well as with modern political Saviours and film super-heroes, carries us to the book's thought-provoking final sermon. Important and relevant."
— Rivka Nir, Open University, Tel Aviv, and author of The First Christian Believer: In Search of John the Baptist

"Brimming with sharp insights, Barrie Wilson explores the philosophical and cultural differences between Messiahs as understood by first century Jews, apocalyptic saviors such as Jesus, modern demagogues, political cults, and fictional superheroes. The savior syndrome, he argues, has led to a modern world starting to spiral out of control. Is there a modern Messiah who can rise above the politics and turn things around? His answer might surprise you. Wilson ably guides the reader through the relevant Jewish scriptures, second temple Jewish literature, the reactions of Paul and the evangelists, and the templates they provide for modern cultural debates."
— Gary Greenberg, JD, author of The Judas Brief and The Case for a Proto-Gospel: Recovering the common written source behind Mark and John.

"Dr. Barrie Wilson again demonstrates his skill as a thorough, precise, articulate historian. In this book, he clarifies first, what Jews looked for by way of a messiah before the birth of Jesus, second what Christians mean when speaking of Jesus as a Messiah (Christos), and third, why the idea of a savior resonates so clearly in contemporary political and pop-cultural contexts. He ends the book with insightful analysis of how our unconscious search for a Messiah divides us."
— Robert W. North, Ph.D, Counselor and Ex-Jesuit Scripture Scholar.

"A significant and sensational work of scholarship. Truly religious dynamite."
— The Globe and Mail (Praise for HOW JESUS BECAME CHRISTIAN)

"Groundbreaking and sure to provoke considerable attention."
— Prof. Patrick Gray, University of Toronto (Praise for HOW JESUS BECAME CHRISTIAN)

"Beyond a doubt one of the most significant works on early Christianity to appear in decades. Jews, Christians, Muslims, and secularists will all find much of fascination and value in this provocative and important work."
— James D. Tabor, chair of the department of Religious Studies at the University of North Carolina at Charlotte, author of The Jesus Dynasty (Praise for HOW JESUS BECAME CHRISTIAN)
Pegasus Books, 9781643134505, 288pp.
Publication Date: August 4, 2020
About the Author
Barrie Wilson is a professor emeritus of religious studies at York University in Toronto, where he specializes in early Christianity. His book How Jesus Became Christian was longlisted for the Cundill International Prize in History and won the Joseph and Faye Tanenbaum Award. He is the co-author of The Lost Gospel, with Simcha Jacobovici. Wilson lives in Toronto.
or
Not Currently Available for Direct Purchase