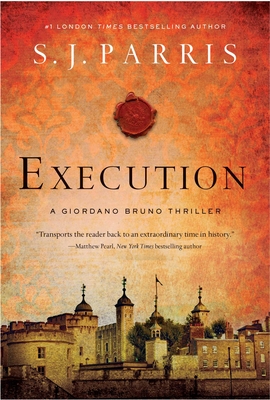 Execution
A Giordano Bruno Thriller (Giordano Bruno Mysteries)
Hardcover

* Individual store prices may vary.
Other Editions of This Title:
Digital Audiobook (4/29/2020)
Paperback (12/14/2021)
Description
The new historical thriller featuring Giordano Bruno - heretic, philosopher, and spy - which finds Bruno going undercover to prevent an assassination plot on Queen Elizabeth.

England, 1586. A treasonous conspiracy . . .

Giordano Bruno, a heretic turned spy, arrives in England with shocking information for spymaster Sir Francis Walsingham. A band of Catholic Englishmen are plotting to kill Queen Elizabeth and spring Mary Queen of Scots from prison to take the English throne in her place.

A deadly trap . . .

Bruno is surprised to find that Walsingham is aware of the plot - led by the young, wealthy noble Anthony Babington - and is allowing it to progress. He hopes that Mary will put her support in writing - and condemn herself to a traitor's death.

A queen in mortal danger . . .

Bruno is tasked with going undercover to join the conspirators. Can he stop them before he is exposed? Either way a queen will die; Bruno must make sure it is the right one.
Praise For Execution: A Giordano Bruno Thriller (Giordano Bruno Mysteries)…
"From the moment the perceptive and courageous Bruno agrees to go undercover, the story fairly races along, filled with murders, kidnapping, political intrigue, ciphers, romance, and a spot of torture. Those who enjoy a ripping yarn as well as history buffs who demand accuracy in the details will be satisfied."
— Publishers Weekly

"Intrigue, subterfuge, machinations and assassinations, plus power struggles between queens: sounds like a great weekend of reading right there."
— Omnivoracious's Weekend Reading, The Amazon Book Review

"Excellent. This is historical mystery fiction at its finest."
— Publishers Weekly (starred)[praise for S. J. Parris]

"A masterful work that deserves a place on all public-library historical-fiction shelves, and that should be recommended to Phillipa Gregory fans."
— Booklist (starred)[praise for S. J. Parris]

"Hugely enjoyable. It's played straight, but never humourlessly so, and there's just enough 'proper' history amid the intrigue to keep purists on side."
— The Guardian (UK)[praise for S. J. Parris]

"One of my favorite authors, and she is unquestionably our greatest living writer of historical thrillers. Few novelists inhabit a setting - any setting - with such confidence and command; fewer still devise plots of such cunning and craft. If Hilary Mantel, John Le Carré, and Michael Connelly were to join forces, they might gift us with a novel as atmospheric, intelligent, and addictive as Treachery - or indeed any of Parris's books featuring monk-turned-spy Giordano Bruno."
— A. J. Finn, #1 New York Times bestselling author of The Woman in the Window [praise for S. J. Parris]

"An evil bookseller and a terrifying brothel lie ahead; what's not to like? Gripping and fun."
— The Observer (London)[praise for S. J. Parris]

"With its twisting plot and vivid scene-setting, Treachery confirms Parris's growing reputation as a writer of historical thrillers."
— The Sunday Times (London)[praise for S. J. Parris]

"Parris's Giordano Bruno series has been a joy. Her Elizabethan England is loud, pungent, and blessedly free of some of the genre's more egregious clichés. She wears her research lightly: at home with the detail of the period, she is quite happy to engage in a little creative anachronism to bring the story home."
— The Daily Telegraph (UK)[praise for S. J. Parris]

"There are echoes of C. J. Sansom's here. Her prose is taut and compelling. Her wielding of the historical material is always convincing but never overwhelming."
— The Times (London)[praise for S. J. Parris]

Giordano Bruno, the Italian philosopher-sleuth in this sumptuous series, goes undercover as a Jesuit priest to thwart the assassination plot before it can bring down the monarchy and throw the nation into anarchy.

But first, he must solve the exceptionally cruel murder of a much-loved woman whose abused body is discovered in an abandoned graveyard, "a pit of sluts, criminals and suicides." The ferocity of that killing is fair warning of what's ahead: scenes of prison torture (think: "strappado," "scold's bridle" and "the heretic's fork"), culminating in a public execution so intense that it might cause one to toss one's cookies.
— Marylin Stasio
Pegasus Crime, 9781643134543, 496pp.
Publication Date: June 25, 2020
About the Author
S. J. Parris is the pseudonym of Stephanie Merritt. Since graduating from Cambridge, she has worked as a critic for a variety of newspapers and magazines as well as for radio and television. She currently writes for the Guardian in London and is the author of five novels in the Giordano Bruno mystery series. Visit S. J. Parris at www.sjparris.com.
or
Not Currently Available for Direct Purchase