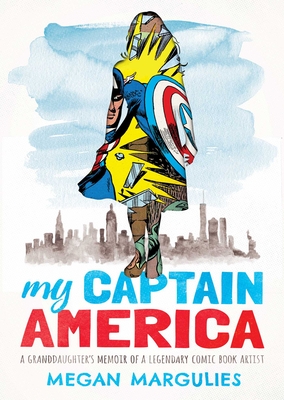 My Captain America
A Granddaughter's Memoir of a Legendary Comic Book Artist
Hardcover

* Individual store prices may vary.
Other Editions of This Title:
Digital Audiobook (8/3/2020)
Description
A finely wrought coming-of-age memoir about the author's relationship with her beloved grandfather Joe Simon, cartoonist and co-creator of Captain America.

In the 1990s, Megan Margulies's Upper West Side neighborhood was marked by addicts shooting up in subway stations, frequent burglaries, and the "Wild Man of 96th Street," who set fires under cars and heaved rocks through stained glass church windows. The world inside her parents' tiny one-bedroom apartment was hardly a respite, with a family of five—including some loud personalities—eventually occupying the 550-square-foot space.

Salvation arrived in the form of her spirited grandfather, Daddy Joe, whose midtown studio became a second home to Megan. There, he listened to her woes, fed her Hungry Man frozen dinners, and simply let her be. His living room may have been dominated by the drawing table, notes, and doodles that marked him as Joe Simon the cartoonist. But for Megan, he was always Daddy Joe: an escape from her increasingly hectic home, a nonjudgmental voice whose sense of humor was as dry as his farfel, and a steady presence in a world that felt off balance.

Evoking New York City both in the 1980s and '90s and during the Golden Age of comics in the 1930s and '40s, My Captain America flashes back from Megan's story to chart the life and career of Rochester-native Joe Simon, from his early days retouching publicity photos and doing spot art for magazines, to his partnership with Jack Kirby at Timely Comics (the forerunner of Marvel Comics), which resulted in the creation of beloved characters like Captain America, the Boy Commandos, and Fighting American.

My Captain America offers a tender and sharply observed account of Megan's life with Daddy Joe—and an intimate portrait of the creative genius who gave us one of the most enduring superheroes of all time.
Praise For My Captain America: A Granddaughter's Memoir of a Legendary Comic Book Artist…
"A tender and heart-aching account of coming-of-age, and of aging, and of a vanishing New York City, as well as a much-needed corrective to myths concerning the origins of some of our most iconographic pieces of 20th-century popular culture. Thank you, Megan Margulies, for getting it all so right."
— Jonathan Lethem, New York Times bestselling author and winner of the National Book Critics Circle Award

"We all need to have a Captain America in our life, especially these days. They can take many different forms. Fortunately for us, Megan Margulies' grandfather was the creator of the original Captain America and shares a poignant and touching portrait of not just a seminal practitioner of the art form of comics, but a loving and unconventional grandfather."
— Al Roker, Today Show co-host

"Read Megan's memoir if you care about Captain America and Joe Simon's other other-worldly heroes from Comics' Golden Age. Read it for a granddaughter's stirring love poem to her Daddy Joe. Read it for writing as compelling as the storytelling. Read it because you, like me, need an escape today, and this is one that'll transport you to an uplifting setting and moment."
— Larry Tye, author of "Superman: The High-Flying History of America's Most Enduring Hero"

"Megan Margulies's beautifully rendered chronicle of a charmed friendship brims with the illustrative skills that she so admired in her grandfather. Painting with the indelible details of city dwelling—gurgling coffeemakers, wooden taborets, and rooftop stargazing—she brings to marvelous life the bonds of three generations of restless, complicated New Yorkers, with and without their shields."
— Sean Howe, author of "Marvel Comics: The Untold Story," a New York Times bestseller

"My Captain America is the best and truest kind of love story: one with a thousand tendrils that come together to create a rich symphony of love letters to family, a city, history, and—maybe most importantly—the author herself. In this cinematic memoir of growing up in New York City with a grandfather who'd invented the character Captain America, Megan Margulies deftly explores familial bonds, the lasting power of the smallest (and deceptively simplest) of acts, and the way in which the deepest and most transformative grief forms from the most profound of bonds. This marvelous book drew me in and kept me enthralled in its evocations of a vibrant childhood and a fascinating family history, and moved me to tears with its sensitivity, compassion, and depth."
— Eva Hagberg, author of "How to Be Loved: A Memoir of Lifesaving Friendship"

"Megan Margulies's My Captain America was a compelling read from start to finish. Margulies has crafted a touching and relatable coming-of-age story, a nuanced and accurate portrait of New York City in the 1990s, and, most importantly, a beautiful heart at the center of the book—Daddy Joe, Joe Simon, creator of Captain America. At turns moving, funny, and cinematic, I tore through these pages and enjoyed every moment."
— Erin Khar, author of "Strung Out: One Last Hit and Other Lies that Nearly Killed Me"

"Megan Margulies tells the story of a national treasure through the loving eyes of a granddaughter. Joe Simon invented superheroes like Captain America and also lent his daughter a hand helping to raise his granddaughter Megan during her complicated 1990s New York City adolescence. In Daddy Joe, as she called him, Megan had a true champion and a loving reflection of the grown up she could become. Margulies writes her story with vulnerability and honesty. As a narrator, she is definitely someone you want to be friends with and the portrait she paints of her grandfather makes you really want to be friends with him, too. She helps us see that this creator of a superhero, actually kind of was one."
— Joselin Linder, author of "The Family Gene"

"With writing by turns gritty, raw, and poignant, Megan Margulies' memoir interweaves stories from the Golden Age of comics, New York City in two iconic eras, and a girl's love for her grandfather. It's a compelling read, and a testament to how family bonds so often shape us into the person we will become."
— Teresa Lust, author of "A Blissful Feast" and "Pass the Polenta"

"There are too few books that explore the importance of a loving relationship between a grandchild and grandparent. Oozing with love for her grandfather, this memoir plays tribute to Margulies's grandfather, the cartoonist Joe Simon, who provides the foundational love for the author growing up in New York City. Margulies gives us a portrait of the artist as an old man— energetic, open-hearted, wise—whose last decades of life were most meaningful to the first decades of the author's life. A tender story about what we inherit, what we hope to pass on, and how the man who created the superhero Captain America plays a real-life guardian angel to his granddaughter. A book to cherish."
— Tory Bilski, author of "Wild Horses of the Summer Sun"

"It is a peculiar thing to belong to someone who belongs to everyone, but in My Captain America, Megan Margulies accomplishes a telescopic feat: This is at once an intimate, finely observed rendering of a single, beloved man and a compelling portrait of a public figure and his legendary work. Even with a larger-than-life, possibly immortal Nazi-fighting superhero in nearly every frame, Margulies shows, through confidently drawn and lovingly rendered scenes, that true heroes are the altogether mortal, everyday humans who love us generously, quietly, and durably."
— Andrea Avery, author of "Sonata"

"Episodic memoir recounting the close relationship between grandfather and grandchild—and an unusual grandfather at that. [Joe] Simon was always ready for adventure, and he emerges as quite a character. Fans of comic book history will enjoy this affectionate look backward."
— Kirkus Reviews
Pegasus Books, 9781643134642, 242pp.
Publication Date: August 4, 2020
About the Author
Megan Margulies grew up in New York City. Her essays have appeared in various publications, including the Washington Post, New York Magazine, Woman's Day, and LitHub. She now lives outside Boston with her husband and two daughters.