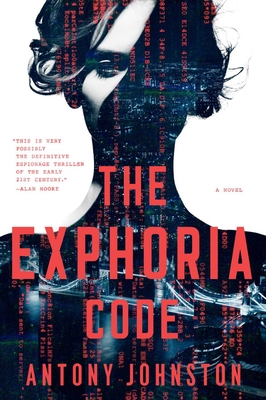 The Exphoria Code
A Novel
Hardcover

* Individual store prices may vary.
Description
Award-winning and bestselling author Antony Johnston introduces a major new techno-thriller series featuring an MI6 cyber-espionage specialist.

Brigitte Sharp is a brilliant but haunted young MI6 hacker who has been deskbound and in therapy for three years after her first field mission in Syria went disastrously wrong. Despite her boss's encouragement, Bridge isn't ready to go back in the field.

But now one of her best friends has been murdered, and Bridge believes his death is connected to strange "ASCII art" posts appearing on the internet that carry encrypted hidden messages. On decoding the messages, she discovers evidence of a mole inside a top-secret Anglo-French military drone project—an enemy who may also be her friend's killer. Her MI6 bosses force her back into the field, sending her undercover in France to find and expose the mole. But the truth behind the Exphoria code is worse than anyone imagined, and soon Bridge is on the run, desperate and alone, as a terrorist plot unfolds and threatens everything she has left to live for.

Drawing on cutting edge technology and modern global threats, Brigitte Sharp is a highly credible female spy in a truly original and contemporary story.
Praise For The Exphoria Code: A Novel…
"In The Exphoria Code, Antony Johnston delivers a crackling fuse-wire of a book with a plot torn from next year's headlines and an understanding of contemporary spy-craft that will make your head spin. This is very possibly the definitive espionage thriller of the early 21st century."
— Alan Moore

"Antony Johnston is a talent to look out for and this, his latest entry into the world of espionage, is a treat."
— Anthony Horowitz

"Johnston does for hackers what le Carré did for short, fat office managers—turn them into spies you can root for."
— Spywrite

"A really great, page-turning read."
— BBC Radio Ulster

"Sharp turns out to be quite resourceful, physically and mentally, and thrilling action scenes keep the pages turning..."
— Publishers Weekly

"A fast-paced and cleverly constructed story that uses many of the familiar spy-novel tropes but does so in exciting new ways. Johnston makes good use of jargon and technical terminology to give the story an air of realism, although the story pushes itself right to the edge of plausibility, cleverly adding to the suspense. A rousing success."
— Booklist

"Readers will thrill to the chase in this kickoff to a techno-thriller series that has at its center a hacker with a heart of gold—and nerves of steel."
— BookPage
Pegasus Crime, 9781643135274, 416pp.
Publication Date: October 6, 2020
About the Author
Antony Johnston is an award-winning, New York Times bestselling graphic novelist, author, and games writer. He has written more than thirty graphic novels, comic series, and books, and his graphic spy thriller The Coldest City was made into the multi-million-dollar blockbuster Atomic Blonde, starring Charlize Theron and James McAvoy. He lives in England.