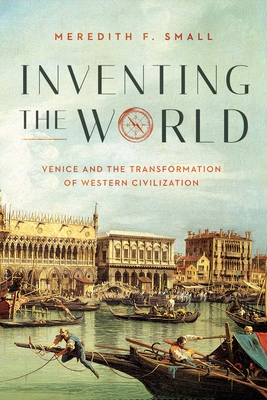 Inventing the World
Venice and the Transformation of Western Civilization
Hardcover

* Individual store prices may vary.
Description
An epic cultural journey that reveals how Venetian ingenuity and inventions—from sunglasses and forks to bonds and currency—shaped modernity.

How did a small, isolated city—with a population that never exceeded 100,000, even in its heyday—come to transform western civilization? Acclaimed anthropologist Meredith Small, the author of the groundbreaking Our Babies, Ourselves examines the the unique Venetian social structure that was key to their explosion of creativity and invention that ranged from the material to social.

Whether it was boats or money, medicine or face cream, opera, semicolons, tiramisu or child-labor laws, these all originated in Venice and have shaped contemporary notions of institutions and conventions ever since. The foundation of how we now think about community, health care, money, consumerism, and globalization all sprung forth from the Laguna Veneta.

But Venice is far from a historic relic or a life-sized museum. It is a living city that still embraces its innovative roots. As climate change effects sea-level rises, Venice is on the front lines of preserving its legacy and cultural history to inspire a new generation of innovators.
Praise For Inventing the World: Venice and the Transformation of Western Civilization…
"Venice does not lack admirers, but this is an inventive addition. An anthropologist at Cornell, Small emphasizes the city's social structure as she describes "how one small place had an outsized influence on the development of Western culture." Venice lovers already familiar with plaudits by other travelers and historians will enjoy this different perspective."
— Kirkus Review

"Small catalogs a dizzying array of Venetian innovations in this illuminating account. Small enlivens her research with personal anecdotes about her love for Venice, and moves fluidly from one topic to the next. The result is a delightful and informative cabinet of wonders."
— Publishers Weekly
Pegasus Books, 9781643135380, 336pp.
Publication Date: December 1, 2020
About the Author
Meredith F. Small is a professor of anthropology at Cornell University and the author of Our Babies, Ourselves; What's Love Got to Do with It?; and Female Choices. She has written for Natural History Magazine, Discover, Scientific American, and is a commentator for National Public Radio's All Things Considered. She lives in Philadelphia.