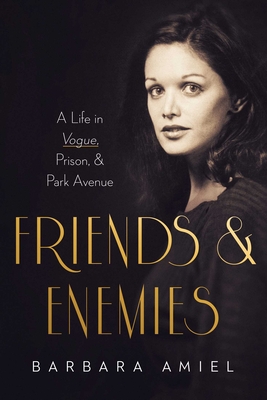 Friends and Enemies
A Life in Vogue, Prison, & Park Avenue
Hardcover

* Individual store prices may vary.
Other Editions of This Title:
Paperback (1/11/2022)
Description
Shockingly honest, richly detailed, and pulling no punches, Friends and Enemies traverses the highs and lows of Barbara Amiel's storied life in journalism and high society.

From her early childhood in London during the Blitz to emigrating to North America and her rise to the top rungs of journalism; to her four husbands and other assorted beaus both famous and not; and right up to her marriage to Conrad Black and their prolific legal battles against the powerful and vengeful American justice system, Barbara Amiel's life has been as dramatic as it is glamorous. She has been called every conceivable name in the book by the media (and authors of unauthorized biographies about her), pilloried for her extravagant lifestyle and sometimes regrettable quotes to the press ("My extravagance knows no bounds," for instance, to Vogue), not to mention her outspoken conservative political views as stated in her weekly newspaper columns around the world. It's no surprise she remains to this day a subject of utter fascination after over four decades in the public eye.

But until now, very few people actually know her real story—the break-up of her family when she was a child, her bouts of debilitating depression and other chronic health issues, her thoughts on feminism and #MeToo, her travels with the international jet set and A-list celebrities, and, of course, her unvarnished views on the trial and conviction (since overturned) of Conrad Black and the iron-clad bond they have shared since they were married in 1992.

Whether you are an admirer or critic of Amiel's, you will be completely engrossed in her operatic life, one that seems ripped from the pages of a scandalous novel. She also distinguishes herself as a woman well ahead of her time—the first female editor of a national newspaper in Canada, she challenged the sexual mores of society while also angering the feminist establishment. She has certainly had many friends and enemies over the years—Henry and Nancy Kissinger, Elton John, Tom Stoppard, David Frost, Anna Wintour, Oscar de la Renta, Margaret Thatcher, Princess Diana, Marie Jose Kravis, to name but a few—and she brings these personalties into the spotlight in this larger-than-life memoir that is sure to cause a sensation with readers everywhere.
Praise For Friends and Enemies: A Life in Vogue, Prison, & Park Avenue…
"Barbara Amiel has robustly led more colourful lives than the most exotic Cheshire Cat."
— Elton John

"Ms. Amiel leaves no score unsettled in this waspish, often scandalous, gossipy, vengeful, intimate chronicle of her tumultuous life... It's also disarmingly frank, funny and very well written."
— Moira Hodgson

"Amiel dishes on affluent society in this scorching memoir, settling scores with those she thinks betrayed her and her husband, former media baron Conrad Black...This arch, over-the-top lambasting will captivate political junkies and society watchers alike."
— Publishers Weekly

"Memoirs can make for tedious reading: the minutiae of someone else's life, the juicy tidbits left out, the worthy commentary left in. But then along comes Barbara Amiel, the wife of the former media tycoon Conrad Black, with Friends and Enemies: A Memoir, 608 gloriously indiscreet pages of elegant vitriol. It could equally well be called Sex and Spite in High Society. Mostly, though, she's taking a very public revenge on the friends who deserted her after the downfall of her husband, and she's clearly enjoying it. And don't get her started on what she thinks about grasping lawyers, unscrupulous art dealers and faithless hairdressers."
— Air Mail

"More enemies than friends take center stage in Amiel's fiery recollections of her eventful life. An observant and unforgiving account of a life that 'has always been a precarious mix of gutter and ballroom, of intense work and absolutely unhealthy play.' Packed with enough memorable characters, household moves, dinner parties, and jewelry shopping excursions to fill at least three typical memoirs. A celebrity memoir with an uncompromising kick."
— Kirkus Review

"This is undoubtedly the autobiography of the decade. Barbara Amiel's searing—and sometimes brutal—honesty, both about herself and others, leaves the reader staggered. How one person could have lived so many starkly different lives—bikini model, gangster's moll, first female editor, TV provocateur, multi-married sexual adventuress, proud Zionist, poet's muse, Cold War warrior, titled society hostess, assiduous prison visitor, and more—is truly extraordinary. No one expected a discreet memoir from Barbara Amiel, but few could possibly have imagined that it would be quite this powerfully, dangerously, profoundly self-revelatory."
— Andrew Roberts

"Stabbing at these enemies with her nib, Amiel is superb, furious and, best of all, funny. Say what you like about her—and many have—but the Black Lady can write."
— The Times (London)

"[T]he astonishing, salacious, bitchy and utterly unputdownable inside account of her life inside the global super-rich club and subsequent fall into (very relative) penury..."
— Tom Sykes

"In the end, though, Friends and Enemies is a great memoir because it recounts honestly what one possibly uncommonly complex human life was like. Amiel summarizes it herself at the end: 'I had stardust, that ephemeral something that defies explanation, but not enough.' And again, 'It's a popular truism to say the more you know, the more you realize how little you know. I don't feel that way. The more I know, the more I realize how much I have thrown away.' "
— Commentary Magazine
Pegasus Books, 9781643135601, 608pp.
Publication Date: October 13, 2020
About the Author
Barbara Amiel has been a columnist for The Times of London, The Daily Telegraph, and Maclean's; a senior political columnist for The Sunday Times of London; Editor of the Toronto Sun (first woman to edit a major Canadian daily paper); VP-Editorial for Hollinger newspapers; and co-author of the Mystery Writers of America Edgar-winner By Persons Unknown. She has many Chanel jackets, cannot cook, owns large Hungarian Kuvasz dogs, and is married to Conrad Black. They live together near Toronto.
or
Not Currently Available for Direct Purchase