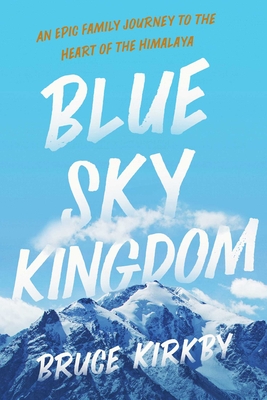 Blue Sky Kingdom
An Epic Family Journey to the Heart of the Himalaya
Hardcover

* Individual store prices may vary.
Other Editions of This Title:
Paperback (7/12/2022)
Description
A warm and unforgettable portrait of a family letting go of the known world to encounter an unfamiliar one filled with rich possibilities and new understandings.

Bruce Kirkby had fallen into a pattern of looking mindlessly at his phone for hours, flipping between emails and social media, ignoring his children and wife and everything alive in his world, when a thought struck him. This wasn't living; this wasn't him. This moment of clarity started a chain reaction which ended with a grand plan: he was going to take his wife and two young sons, jump on a freighter and head for the Himalaya.

In Blue Sky Kingdom, we follow Bruce and his family's remarkable three months journey, where they would end up living amongst the Lamas of Zanskar Valley, a forgotten appendage of the ancient Tibetan empire, and one of the last places on earth where Himalayan Buddhism is still practiced freely in its original setting.

Richly evocative, Blue Sky Kingdom explores the themes of modern distraction and the loss of ancient wisdom coupled with Bruce coming to terms with his elder son's diagnosis on the Autism Spectrum. Despite the natural wonders all around them at times, Bruce's experience will strike a chord with any parent—from rushing to catch a train with the whole family to the wonderment and beauty that comes with experience the world anew with your children.
Praise For Blue Sky Kingdom: An Epic Family Journey to the Heart of the Himalaya…
"Kirkby deftly and emotionally describes the stakes. Raw and moving, it is the family's interior journey, and Bodi's especially, that displays the curative powers of adventure."
— The New York Times Book Review

I was blown away by the audaciousness of this epic family voyage, desperately wishing I was there with them. Kirkby's writing offers a vivid exploration of culture, geography and relationships, but also, more urgently, of how we choose to live- and whether that's possible to change.
— Alex Hutchinson

"An uplifting travelogue. Poignant and gently provocative."
— Publishers Weekly (starred)

Family adventure doesn't begin to describe what transpires in these pages. Kirkby and his remarkable family have built a bridge between the Rockies and the Himalaya, and in so doing spanned the gap between autism and Buddhism. In addition to being a manifestation of deepest love and devotion, this book is a time-bending journey through a landscape and culture that filled me with envy and sorrow by turns, while showing me things I have never seen described in a lifetime of reading. We are lucky to have someone as brave, generous, and open as Bruce Kirkby abroad in the world.
— John Vaillant

"As it explores an ancient—and dying—Tib etan Buddhist culture, this delightful book also tells a timely, heartwarming story of a family's search for peace away from the din of modern culture. Soul-refreshing reading for armchair travelers and spiritual questers alike."
— Kirkus Review

Bruce Kirkby's chronicle of living in a remote Buddhist monastery with his family is by turns hilarious and enchanting. What a beautiful ode to impermanence, to the families we choose and the families we find and to the complicated wonders of a different, and fast-disappearing way of life.
— Kate Harris

In an era when countless demands make it increasingly easy to ignore people and engage instead with devices, Blue Sky Kingdom provides a much-needed call back to the physical world.
— Darcy Gaechter

A rollicking journey, full of insights on cultivating a nourishing, fully present life amidst so much noise and distraction.
— BRAD STULBERG

By any standards, it's a big adventure to travel the slow way across the world to a remote corner of the Himalaya and live there for months in a spartan Buddhist monastery—but taking young children along ramps it up to another level. Written with zest and clarity, Bruce's account is compelling, moving, funny and above all honest, sharing hardships and frustrations along with the joys and ultimate rewards.
— Maria Coffey, author of Where the Mountain Casts its Shadow

Insightful and adventurous, Blue Sky Kingdom offers a road map on how to learn from the world ... There is wisdom in this book. Open it and let your imagination soar.
— Conrad Anker

"Bruce Kirkby has lived the dream of the modern globe-trotting adventurer: crossing Arabian sand seas, sea-kayaking Iceland and Borneo, traversing Northern Mongolia on horseback. In Blue Sky Kingdom, Kirkby's wife and two young sons join him for a different kind of journey—to an isolated Buddhist monastery, yes, but also to the elusive and fragile heart of wisdom that we all hope to glimpse in this lifetime. What a heartfelt, lovely and kind book this is."
— Daniel Duane, author of Caught Inside

In Blue Sky Kingdom, Bruce Kirkby not only takes us far across the world and deep inside a rarely seen culture, but also allows us an intimate view of his family, all while writing with tender honesty, penetrating insight and a delightful lack of bra-vado. Kirkby gently reminds us to breathe, embrace the unfamiliar and celebrate even the smallest of moments.
— Jill Fredston
Pegasus Books, 9781643135687, 352pp.
Publication Date: October 6, 2020
About the Author
Bruce Kirkby is a Canadian writer, photographer and adventurer whose journeys span 80 countries and include traversing Iceland by foot, Mongolia by horseback, Arabia by camel and the Blue Nile Gorge by raft. Along the way he's been shot at in Borneo, taken hostage in Ethiopia, and imprisoned by Myanmar's army. His writing has appeared in publications including The New York Times, Wall Street Journal, and Outside Magazine. He is listed among 'the nation's top modern day explorers' by Canadian Geographic.