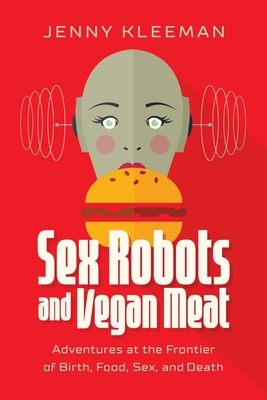 Sex Robots and Vegan Meat
Adventures at the Frontier of Birth, Food, Sex, and Death
Hardcover

* Individual store prices may vary.
Other Editions of This Title:
Digital Audiobook (11/30/2020)
Compact Disc (12/1/2020)
Compact Disc (12/1/2020)
MP3 CD (12/1/2020)
Description
A timely investigation into the forces that are driving innovation in the four core areas of human experience: birth, food, sex, and death.

In Sex Robots & Vegan Meat, award-winning journalist and documentary-maker Jenny Kleeman takes us on a journey into the world of the people who are changing what it means to be human. Focusing on the central pillars of the human experience–birth, food, sex, and death—Kleeman examines the people who are driving some truly amazing (and perhaps worrying) innovations. We are on the brink of seismic changes in the ways we live and die, from babies grown in artificial wombs to lab-produced meat; from sex robots able to hold polite conversation (and otherwise) to being able to choose to end our days with the perfect, painless, automated death. Our journey from cradle to grave is developing in ways which involve more and more technology, and less and less human interaction. Might these advances in technology serve to rob us of our humanity?

In this book Jenny Kleeman takes a profound look at what the future might have in store—and asks some provocative questions along the way. Jenny Kleeman places these scientists front and center and asks what is driving and motivating them? Are they entrepreneurs in it for the greater good of human advancement, or might there be more sinister—i.e. monetary—motivations in play? Kleeman is a skilled and subtle interrogator and travels with the reader on a fascinating exploration of the changes afoot, their implications for who we are as a society—and as human beings. It's an immersive, eye-opening, and hugely entertaining journey into a world of extraordinary visionaries on the frontline of a social revolution.
Praise For Sex Robots and Vegan Meat: Adventures at the Frontier of Birth, Food, Sex, and Death…
"In Sex Robots and Vegan Meat, Jenny Kleeman looks toward the future from a very different vantage point. Kleeman is interested in technologies of sex, reproduction, gender and death; she also takes on food, investigating the cluster of start-ups that are engineering artificial meat. She approaches the future as a reporter firmly grounded in the present; her method is to journey to the frontier and take a long look around. Kleeman's capacious curiosity opens up a kaleidoscopic view. She recognizes that technology has the power to shape human life, of course, but she is also interested in interrogating that power, and understanding who exactly gets to wield it."
— Amanda Hess

Journalist and documentary filmmaker Kleeman debuts with a funny yet disturbing report on the science, technology, and marketing strategies reshaping some of the most basic human urges and drives...Kleeman researches the "biobag," an artificial womb used to gestate lamb fetuses—which may eventually make giving birth, even for humans, "as simple as opening a Ziploc bag." Readers will be fascinated by this preview of the possible future of sex, birth, and food.
— Publishers Weekly

"Intriguing updates from the protean worlds of food, companionship, death, and beyond. Behind Kleeman's profiles and research lies the belief that life can be vastly enriched with the aid of technology and without discomfort, inconvenience, or sacrifice even as these modernizations remain in development. Fans of Mary Roach will be pleased. Provocative, exuberant perspectives on the 'disrupting technologies' primed to enhance the human experience."
— Kirkus Reviews

Thoroughly entertaining and written with humor and sly intuition, Sex Robots and Vegan Meat is an account of the future that will have you questioning whether technology is helping or hindering human progress.
— Sarojini Seupersad

"This eye-opening debut is a compelling investigation into the implications of the cutting-edge technologies that aim to deliver the perfect partner, the perfect gestation, the perfect meat and the perfect death. The sceptical Kleeman makes a witty and tenacious guide."
— Caroline Sanderson

"A fascinating examination of what the future holds, and of what it means to be human. Jenny Kleeman writes with wit and a wealth of knowledge that ensures you will never look at a chicken nugget in quite the same way again."
— Elizabeth Day, author of How to Fail and The Party

"An unforgettable journey into the near future by a fabulously gifted writer."
— Will Storr, author of Selfie and The Science of Storytelling

"The future is a fairly scary place, but there is no better guide to it than Jenny Kleeman. By turns alarming, funny, thought-provoking and fascinating, this is a book that brilliantly shows us where much of our life (and death) is heading."
— Stig Abell, author of How Britain Really Works

"A brilliant, thought-provoking book full of strange details, fascinating people and challenging ideas. A necessary book that wears its wealth of research lightly. As Jenny Kleeman says, this isn't science fiction, and yet some of the images will haunt me for years to come."
— Nell Frizzell, author of The Panic Years
Pegasus Books, 9781643135724, 272pp.
Publication Date: September 1, 2020
About the Author
Jenny Kleeman is a journalist and documentary filmmaker who travels the world finding eye-catching, thought-provoking stories and compelling characters. Her articles appear regularly in the Guardian and also in the Sunday Times (London), The Times of London, The New Statesman and VICE. She has reported for BBC One's Panorama and HBO's VICE News Tonight. She won the One World Media Television Award for her work on Unreported World and was nominated for the Amnesty International Gaby Rado Award. She lives in England.