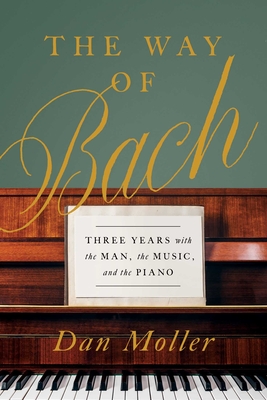 The Way of Bach
Three Years with the Man, the Music, and the Piano
Hardcover

* Individual store prices may vary.
Description
A tale of passion and obsession from a philosophy professor who teaches himself to play Bach on the piano.

Dan Moller grew up listening to heavy metal in the Boston suburbs. But something changed when he dug out his mother's record of The Art of the Fugue, inexplicably wedged between 16 ABBA Hits and Kenny Rogers. Moller became fixated on Bach and his music, but only learned to play it for himself as an adult.

In The Way of Bach, Moller draws us into the strange and surprisingly funny world of the composer and his scene. Did you know The Goldberg Variations contain a song about having to eat too much cabbage? Or that Handel nearly died in a duel he fought while conducting an opera?

Along the way, Moller takes up such questions as, just what is so special about Bach's music? What can Americans—steeped in pop culture—learn from European craftsmanship? And why do some people see a connection between Bach's music and God?

By turns witty and thought-provoking, Moller infuses The Way of Bach with insights into music, culture, and philosophy alike.
Praise For The Way of Bach: Three Years with the Man, the Music, and the Piano…
"Intellectual rigor yielding pure musical art. Will move anyone seeking to grasp the power of music in human existence."
— Booklist, starred review

"Moller's encounter with Bach's music faces him off with an entity as stubborn and searching as he is. In this confrontation, the piano becomes a tool of spiritual and physical struggle, a glorious contraption that elicits from its player philosophical reflections not just on music but on work, art, love, teaching, learning, God, humanity, life and death. Moller packs these and other big ideas into wisecracks and freewheelingly erudite comparisons and cultural references. He reveals much of himself while struggling with Bach's fugues at the keyboard and away from it: stretches of frustration lead to epiphanies; musical setbacks and successes interlock in counterpoint both comic and profound. The intelligence and beauty of Bach's works can never be fully explained, but Moller illuminates and inspires with his unique appreciation. We experience anew how this music can transform those unafraid of its intimate, yet far-reaching challenges."
— David Gaynor Yearsley, author of BACH AND THE MEANING OF COUNTERPOINT and BACH'S FEET

"A superb biographical vignette. Alternately scholarly and effusive. An eccentric, adoring tribute to Bach."
— Kirkus Reviews

"A bright, honest, and refreshing reminder that the most worthy pursuits in life are not those that come easily, but those that come from painstaking craftmanship and devotion. Anyone who has ever pursued a passion will find joy in this story."


— Audrey Wright, Associate Concertmaster, the Baltimore Symphony Orchestra

"Highly personal, beautifully written, hugely inspiring."
— Jerrold Levinson, professor Emeritus, University of Maryland, author of Musical Concerns
Pegasus Books, 9781643135809, 224pp.
Publication Date: November 3, 2020
About the Author
Dan Moller is a philosophy professor at the University of Maryland.