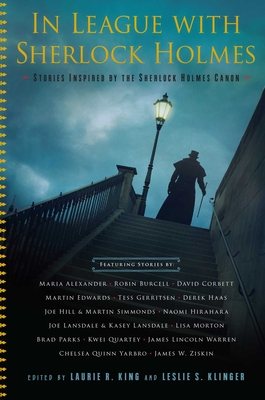 In League with Sherlock Holmes
Stories Inspired by the Sherlock Holmes Canon
Hardcover

* Individual store prices may vary.
Description
The latest entry in Laurie R. King and Leslie S. Klinger's popular Sherlock Holmes-inspired mystery series, featuring fifteen talented authors and a multitude of new cases for Arthur Conan Doyle's most acclaimed detective.

Sherlock Holmes has not only captivated readers for more than a century and a quarter, he has fascinated writers as well. Almost immediately, the detective's genius, mastery, and heroism became the standard by which other creators measured their creations, and the friendship between Holmes and Dr. Watson served as a brilliant model for those who followed Doyle. Not only did the Holmes tales influence the mystery genre but also tales of science-fiction, adventure, and the supernatural. It is little wonder, then, that when the renowned Sherlockians Laurie R. King and Leslie S. Klinger invited their writer-friends and colleagues to be inspired by the Holmes canon, a cornucopia of stories sprang forth, with more than sixty of the greatest modern writers participating in four acclaimed anthologies.

Now, King and Klinger have invited another fifteen masters to become In League with Sherlock Holmes. The contributors to the pair's next volume, due out in December 2020, include award-winning authors of horror, thrillers, mysteries, westerns, and science-fiction, all bound together in admiration and affection for the original stories. Past tales have spanned the Victorian era, World War I, World War II, the post-war era, and contemporary America and England. They have featured familiar figures from literature and history, children, master sleuths, official police, unassuming amateurs, unlikely protagonists, even ghosts and robots. Some were new tales about Holmes and Watson; others were about people from Holmes's world or admirers of Holmes and his methods. The resulting stories are funny, haunting, thrilling, and surprising. All are unforgettable. The new collection promises more of the same!
Praise For In League with Sherlock Holmes: Stories Inspired by the Sherlock Holmes Canon…
"A sharp, affectionate, light-footed collection."
— New York Times Book Review [praise for Laurie King and Leslie Klinger's Holmes series]

"Laurie R. King and Leslie Klinger continue to breathe new life into Sherlockian tales."
— LitHub [praise for Laurie R. King and Leslie S. Klinger's Sherlock Holmes series]

"Great fun for anyone who loves crime fiction. The collection is diverting, delightful, and best taken with a cup of hot tea."
— Hallie Ephron, bestselling author of 'Never Tell a Lie' [praise for Laurie R. King and Leslie S. Klinger's Sherlock Holmes series]

"Satisfy your Sherlock cravings with these superb stories."
— Book Riot [praise for Laurie R. King and Leslie S. Klinger's Sherlock Holmes series]

"An eclectic but accomplished group of novelists, primarily mystery and crime writers, take some intriguingly different looks at Holmes' legacy. The legacy of Sir Arthur Conan Doyle's work and his most famous character is on rich display here, and In the Company of Sherlock Holmes should be on the reading list of any Holmes fan."
— Bookreporter [praise for Laurie R. King and Leslie S. Klinger's Sherlock Holmes series]

"Every fan will find different reasons to cheer. And they'll all marvel at the inventive range of this salute to the greatest of all fictional detectives.''
— Kirkus Reiews [praise for Laurie R. King and Leslie S. Klinger's Sherlock Holmes series]

"Many of the stories are fascinating in their inventiveness. There's plenty of mystery, of course, but there are also elements of fantasy and sci-fi."
— Seattle Book Review [praise for Laurie R. King and Leslie S. Klinger's Sherlock Holmes series]
Pegasus Crime, 9781643135823, 368pp.
Publication Date: December 1, 2020
About the Author
Leslie S. Klinger is one of the world's foremost authorities on Sherlock Holmes. He is the editor of the three-volume The New Annotated Sherlock Holmes. The first two volumes, The Complete Short Stories, won the Edgar for Best Critical/Biographical work. He is also the editor of the hugely successful The New Annotated H. P. Lovecraft. Klinger is a member of the Baker Street Irregulars and lives in Malibu, California.

Laurie R. King is the New York Times bestselling author of numerous books, including the Mary Russell and Sherlock Holmes stories. She has been nominated for a multitude of prizes, and her fiction has won the Edgar, Creasy, Nero, Macavity, and Lambda Awards. She has been guest of honor at several crime conventions and is probably the only writer to have both an Edgar Award and an honorary doctorate in theology. She was inducted into the Baker Street Irregulars in 2010.