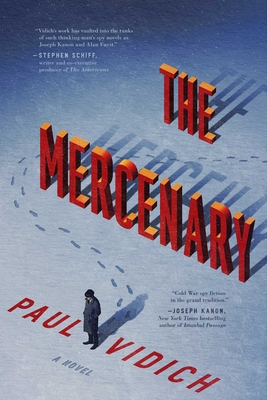 The Mercenary
A Novel
Hardcover

* Individual store prices may vary.
Description
From acclaimed spy novelist Paul Vidich comes a taut new thriller following the attempted exfiltration of a KGB officer from the ever-changing—and always dangerous—USSR in the mid-1980s.

Moscow, 1985. The Soviet Union and its communist regime are in the last stages of decline, but remain opaque to the rest of the world—and still very dangerous. In this ever-shifting landscape, a senior KGB officer—code name GAMBIT—has approached the CIA Moscow Station chief with top secret military weapons intelligence and asked to be exfiltrated. GAMBIT demands that his handler be a former CIA officer, Alex Garin, a former KGB officer who defected to the American side.

The CIA had never successfully exfiltrated a KGB officer from Moscow, and the top brass do not trust Garin. But they have no other options: GAMBIT's secrets could be the deciding factor in the Cold War.

Garin is able to gain the trust of GAMBIT, but remains an enigma. Is he a mercenary acting in self-interest or are there deeper secrets from his past that would explain where his loyalties truly lie? As the date nears for GAMBIT's exfiltration, and with the walls closing in on both of them, Garin begins a relationship with a Russian agent and sets into motion a plan that could compromise everything.
Praise For The Mercenary: A Novel…
"Paul Vidich has staked himself a claim as one of the foremost espionage novelists working today, and he's back this year with The Mercenary, an insightful and thought-provoking story about the attempted exfiltration of a KGB man from 1980s Moscow. Vidich's characters are always rich, well-developed, and just on the border of unknowable, a perfect balance of shifting identity and allegiance. In short, this promises to be one of the year's premier spy novels."
— CrimeReads, "The Most Anticipated Crime Books of 2021"

"Evoking without imitating classic le Carré . . . Vidich supplements the world-weariness we expect from cold warriors in the game too long by giving Garin a satisfyingly contrarian 'contempt for Agency puppetteers.'"
— Booklist

"[Vidich's] rare talent for repopulating history with complex and credible characters is fully on display in his fourth novel, The Mercenary."
— Mal Warwick's Blog on Books

"A terse and convincing thriller. Vidich proved his talent for noirish spy fiction in two earlier books. This standalone work reaches a new level of moral complexity and brings into stark relief the often contradictory nature of spycraft."
— Wall Street Journal [praise for THE COLDEST WARRIOR]

"Reads like a le Carre novel for the postwar American moment. Vidich's writing is as assured as ever, and his handling of difficult, charged material is truly admirable, and a pleasure to read."
— CrimeReads [praise for THE COLDEST WARRIOR]

"A terrifically paced page-turner with convincing red herrings and a surprise ending. These feats are not to be understated . . . Without ever slowing the pace or detracting from the novel's central mystery or action, Vidich still manages to carve out time in his taut narrative to provide snapshots of men trapped in personal cold wars of their own making."
— Shelf Awareness [praise for THE COLDEST WARRIOR]

"Justly praised by his peers, Vidich is an espionage novelist who deserves to be more widely known. His noir cold war spy stories are laced with echoes of Graham Green and Eric Ambler. A finely written, taut novel."
— Financial Times [praise for THE COLDEST WARRIOR]
Pegasus Crime, 9781643136202, 288pp.
Publication Date: February 2, 2021
About the Author
Paul Vidich is the acclaimed author of An Honorable Man and The Good Assassin, and his fiction and nonfiction have appeared in the Wall Street Journal, LitHub, CrimeReads, Fugue, The Nation, Narrative Magazine, Wordriot, and others. He lives in New York.